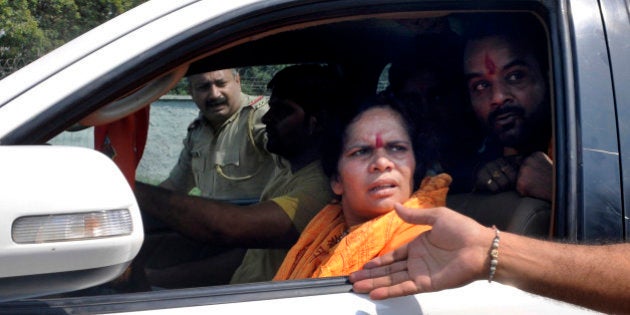 Sparking off a fresh controversy, VHP leader Sadhvi Prachi on Tuesday said it is time to make India free of Muslims. Known for courting controversies, the Sadhvi claimed the mission of a Congress-free India has already been "accomplished" and it is now time to rid the country of Muslims.
"Now that we have achieved the mission of making a Congress-free India, it is time to make India Muslim-free. We are working on that," she said in Roorkee where at least 32 people were injured last week in a clash between two communities over forcible evacuation of a scrap dealer's shop.
Khanpur MLA Kunwar Pranav Singh Champion's house was attacked by members of a community alleging their sacred book was also desecrated by his supporters. The Sadhvi claimed that the attack on Champion's house was part of a premeditated conspiracy. Champion, one of the nine Congress MLAs who revolted against Chief Minister Harish Rawat, recently joined BJP.
On the forthcoming Uttar Pradesh Assembly polls, she said if BJP projects Yogi Adityananth as its chief ministerial candidate, it was bound to win 300 seats in the state. Prachi had often been in the news for asking people to boycott films of Bollywood Khans and demanding a CBI probe into all Muslim educational institutions including Aligarh Muslim University and madrasas in Deoband to check anti-national activities.