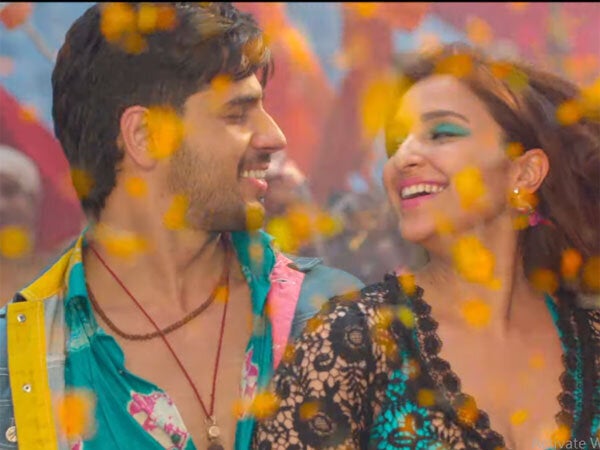 Among the many things unique to Bollywood, there's one trope that's peculiarly insipid. It involves the protagonist or any key character from a film going through an intense internal conflict which is visible only to the audience as if the character has forged a private relationship with people outside of the film's universe.
For instance, there'd be celebrations around and the protagonist would appear to be woefully disoriented but nobody, absolutely nobody, notices their very visible pain, as they go about their business with utmost normalcy.
In Prashant Singh's Jabariya Jodi, a romantic comedy starring Parineeti Chopra and Sidharth Malhotra, this trope is generously employed, especially when the two characters are getting married to different people. Everything slows down and both, Malhotra and Chopra stare at a distance with a melancholic gaze, as oblivious (or emotionally cold?) family members enthusiastically apply haldi on their arms.
Based on the bizarre real-life phenomenon where young men are abducted by the bride's family and then forcefully married - a practice highly prevalent in the Indian state of Bihar - Jabariya Jodi is based on a solid premise but fails to exploit it to the hilt. There was room for terrific satire, given how absurd the entire exercise is, but Singh's inept direction and Sanjeev Jha's wobbly, laborious screenplay weigh the film down, making it a tedious, boring watch.
Childhood sweethearts Abhay (Sidharth Malhotra) and Babli (Parineeti Chopra) are separated after the latter moves cities but are later reunited in adult life. While it isn't specified what Babli does, Abhay, son of an influential politician (Javed Jaffri) has grown up to be a local goon, who is hired by the families of young women for kidnapping potential grooms.
It's love at gunpoint, quite literally.
When Abay and Babli meet, sparks fly. She wants marriage. He's scared of commitment. Because? He has his father's blood running in his veins. And father didn't quite treat the wife well. "Baap ka khoon hai, par Maa ka doodh bhi to hoga?" Babli retorts and the audience's collective horror is reflected in Abhay's mournful face. Yep, this is the film that has dialogues so melodramatic, they often sound parodical except that they are said in earnest without any hint of irony.
Abhay sabotages his own happiness because he feels he's destined to disappoint his romantic partner, like his shady father. Babli owns up to her love for him but wants him to want her sincerely, not in a jabariya (forceful) way. So the rest of the film, which roughly takes an eternity to finish, is about Abhay and Babli devising various kinks to emotionally torture each other before they resign into romantic submission while the audience slowly slips into a state of coma.
It's hard to tell what the film really wants to be. It has several laugh-out-loud moments, one hilarious Bappi Lahiri joke and in many instances, the dialogues capture the delightfully absurd humour specific to Bihar's milieu quite well, but the film can't make up its mind. As a result of this, Jabariya Jodi wrestles with itself and oscillates between genres, its tone shifting so frequently that one cannot sift the humour from seriousness, heartfelt emotions from satirical moments, melodrama from self-aware hilarity.
What's even more annoying is the manner in which the film tries to forcefully insert progressive politics in random situations (a trans person is scolded when they say that they hope the couple has a baby boy). Parineeti Chopra's character is shown having autonomy over her life decisions and in more than one instance, she also calls out patriarchy with swag but these elements appear superficial as if they've been incorporated to give spunk to her character and not deliberate intent.
Because ultimately, the idea of marriage as a 'be all and end all' is central to everyone in the film. For all her mettle, Babli still weighs her self-worth on how and when she can get married, whether out of love or submission. Sure it's her choice but raised in a society as deeply patriarchal as Bihar, how real is that choice, given the absence of a career, a vocation, or literally any other aspiration? In sharp contrast, Abhay's ambition to be a politician is reinforced several times. For him, it's kursi (a political post) over bistar (bed used as a metaphor for womanising)
When Abhay refuses to marry, she abducts him and gets him to marry her when he's in a state of semi-unconsciousness, a deeply problematic device. Inverting the genders doesn't change the fact that it's still a messed up thing to do. Although the film recognises this failing towards the end but not compellingly enough.
If there's anything that makes the film worth watching, it's the supporting cast led by Sanjay Mishra who, as Babli's endearing father, is appropriately hilarious. Chandan Roy Sanyal, as Malhotra's sidekick, too is reliably good and so are the other actors that complete the ensemble. However, it's Aparshakti Khurana, who's tragically becoming another Jimmy Shergill, who is the most endearing in the film. His sincere performance gently reveals the character's tenderness and emotional vulnerability. Seriously, we need filmmakers to utilise Khurana's talents more robustly.
An ensemble of gifted supporting actors, however, cannot compensate for the dull, uninteresting performances by the lead cast. Malhotra's performance is arduous. He appears to be parroting his lines as if still in the rehearsal room. For a part that demanded earthy ruggedness and an effortless fluidity with dialect, Malhotra, who needed some serious de-poshing, carries an air of urban sophistication. Wooden and devoid of depth, it's hard to root for a character when you don't feel what he's feeling.
Chopra, the go-to Bollywood girl from spunksville, recycles traits and patterns seen in her past films such as ishaqzaade and Shuddh Desi Romance. Predictable and generic, there isn't any moment in the film where the actress, who seems to have become a victim of her own image, surprises or delights.
Nothing, though, prepares one for the mind-numbing climax which turns into such a colossal cluster-mess it's hard to think of a film that so rapidly went from being non-offensively boring to what-in-the-name-of-Jabariya-Jesus-is-going-on here. I'm convinced that the ending was improvised with characters doing as they pleased. In a scene where Malhotra's Abhay is getting brutally bashed up, Aparshakti Khurana just nods in disagreement. It's likely that he got so fed up, he fled the sets never to return again as he isn't seen later on.
Bullets fly and swords are unleashed as crisp Manyawar kurtas are slowly ripped apart. Then, all of a sudden, fighting stops and scheming, patriarchal Dads turn into woke bros extolling the virtues of organic love and romantic commitment. Whattttt?
Is this seriously not a parody?
"Let's make a social commentary but in a like, fun and entertaining way, what say?" the film's producer probably said, delighted by their own idea.
Now, that's an easy brief to give but a difficult one to live upto.
And that's Jabariya Jodi's problem. It's neither a well-made social commentary, nor an entertaining romantic comedy.
What it is is a Jabariya headache to sit through.