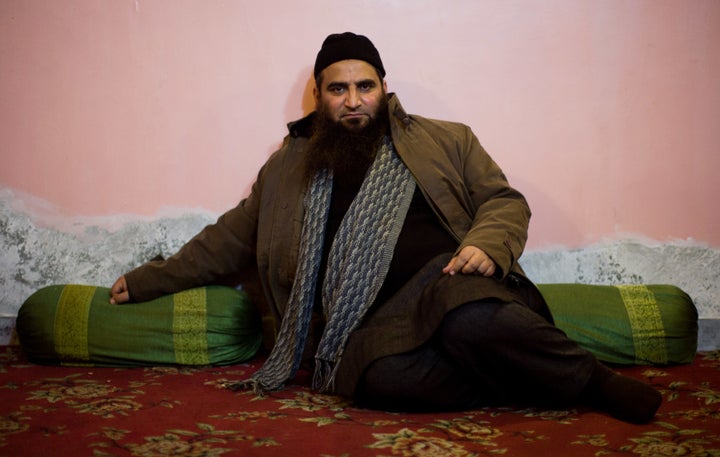 SRINAGAR, Jammu & Kashmir — Since, the summer of 1990, when Masrat Alam Bhat was first arrested in Srinagar, the 48-year-old politician has spent more than 23 years in jail in "preventive detention", in the anticipation that were he to walk free, he could, potentially, commit a crime.
Each round of imprisonment lasts for between six months and a year, but just as one term ends, the police apply for another prevention detention order, and then another, and then another, to the point where he is currently serving his 37th preventive detention order.
The exact nature of the potential crime that Alam's continued detention is preventing is unclear, and occasionally contradictory: One of the reasons for Alam's detention in 2003 was that he had "divided the Hurriyat Conference"; five years later, his 2008 detention order claimed Alam had "united the Hurriyat Conference."
Over the years, when the police have run out of excuses to detain Alam, they have named him in 50 different crimes — ranging from inciting protests to waging war against the state — but are yet to obtain a single conviction.
"Alam's decades long "preventive detention" is a stark indictment of how the Indian state apparatus continues to use a mixture of draconian laws and outright military violence to suspend basic constitutional rights of life and liberty in the troubled Kashmir valley."
When the Supreme Court facilitated his release in 2015, Prime Minister Narendra Modi stood on the floor of the Indian Parliament and described Alam's possible freedom as a "national outrage." Alam was arrested soon after for shouting pro-Pakistan slogans during a demonstration in which protesters were waving Pakistani flags, and thrown back into jail.
Alam's decades long "preventive detention" is a stark indictment of how the Indian state apparatus continues to use a mixture of draconian laws and outright military violence to suspend basic constitutional rights of life and liberty in the troubled Kashmir valley. It also points to how Indian citizens can be imprisoned indefinitely on flimsy grounds without trial.
In Kashmir, where civilians jostle to touch their hands to the feet of dead militants at funerals, and then rub their hands on their faces — a gesture usually performed at the shrines of saints —every passing year of detention has only heightened Alam's legend as a man so unyielding and incorruptible in his desire for an independent Kashmir that the Indian state cannot allow him to freely walk the streets of Srinagar.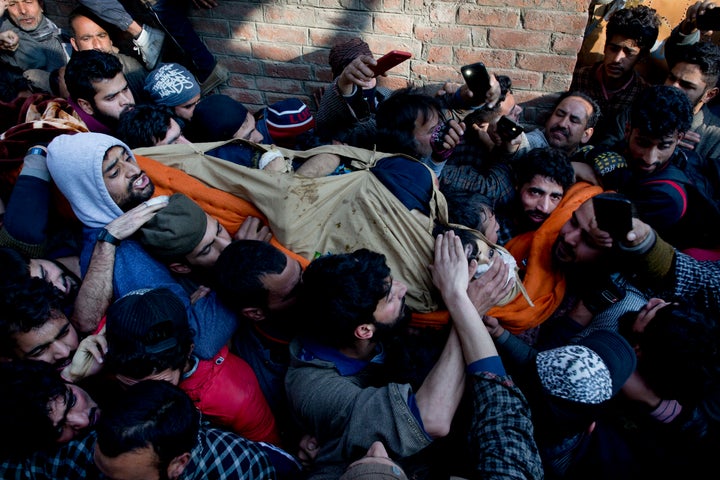 Who is Masrat Alam?
Masrat Alam was born to a family of prosperous traders who dealt in cloth and medicines in Zaindar Mohalla locality of old Srinagar in 1971, at a time when a struggle for a United Nations-monitored plebiscite for independence, led by Sheikh Muhammad Abdullah, was on the cusp of surrender. His father died while Alam was still a young boy, so he was raised by his grandfather and his two uncles.
He attended Tyndale Biscoe, the prestigious missionary school that was established in 1880 and boasts of several influential alumni including former Kashmir Chief Minister Farooq Abdullah, and the 2015 civil services topper, Athar Aamir-ul-Shafi Khan.
Alam studied science in school, occasionally got into trouble for "objecting to something", his uncle Farooq Ahmad said, and came of age at a time when the Kashmir conflict was poised to enter a spiral of protest, violence and state oppression that continues to this date.
In 1988, when Alam was 17, Kashmir was warming up for the insurgency that was to erupt two years later in protest against years of political manipulations and usurped rights, the most recent being the famously rigged election of 1987.
Two years later, in 1990, Alam was arrested for the first time when he was only 19. Since then, he has spent most of his adult life in prison.
To understand how the Indian state has kept Alam in jail for decades without convicting him of a single crime, one must first understand the Jammu & Kashmir Public Security Act of 1978, or PSA, a law first enacted to prevent timber smuggling.
The procedure to detain someone under the PSA is simple. In most cases, the police must present a dossier to the local district magistrate, who approves the detention after building what the law calls, "the grounds of detention."
Once held under the law, a detainee must spend a minimum of three months in prison before she can even challenge her detention in court. A detainee's only chance of release before the full one-year term hinges on the High Court detecting any procedural lapses of the detention order.
Yet, nothing prevents the police from arresting a person under a fresh PSA order the moment a detainee is set free either on court directions or after completing their term.
In effect, the PSA can be used to keep a person in jail in perpetuity; Alam happens to be one such instance.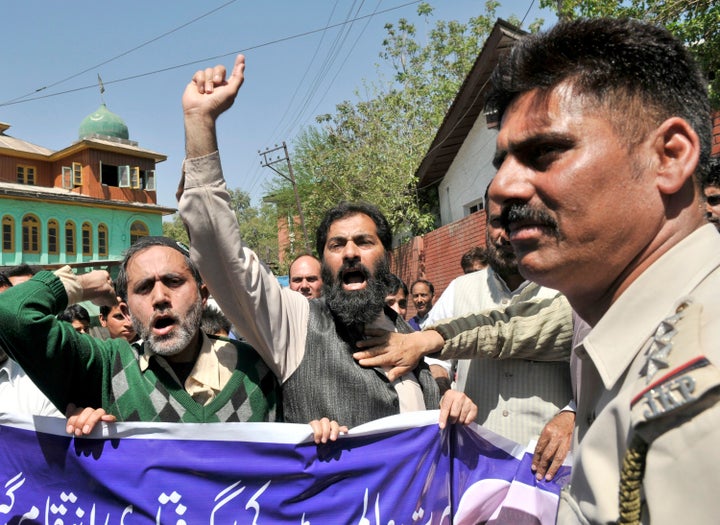 Illegal Maze
In the 17 years between October 1990 and October 2007, Alam served 12 years and five months of preventive detention. In the nineties, a person could be detained under PSA for two years without a trial. He challenged his detention for the first time only in 2007.
In 2007, Alam's lawyer in the High Court Mian Abdul Qayoom, submitted a petition before the Jammu and Kashmir High Court, stating that during these 17 years, the state couldn't conduct a single successful trial before a court of law against Alam. The state could not "attribute a single act of illegality to him other than conjectures and far-fetched allegations based on their imagination," the petition stated.
The High Court saw merit in his petition, quashed his detention, and ordered his release.
On 16 January 2008, Alam was arrested again under the PSA under his 7th PSA order, only to have the High Court order his release again on 23 March 2008 because of flaws in the grounds of detention submitted by the police.
Yet four months later, on 9 September 2008, Alam was arrested again under PSA in the wake of the mass uprising of 2008 against the transfer of land to the Amarnath cave shrine board. The police alleged Alam had played a vital role in inciting the uprising.
The High Court quashed his detention on 27 December 2008, but instead of releasing him, the police booked him in another case relating to the uprising.
A lower court granted him bail on 22 January 2009 in this FIR. But the same day, he was detained under the ninth PSA order, which was quashed by the HC on 25 May 2009. Still, Alam was not released but booked under the 10th PSA order on 9 June 2009, revealing a pattern whereby the authorities file a PSA order, hold Alam for a few months while his lawyers approached the court.
The court would inevitably order his release — usually on procedural grounds — only for the police to arrest Alam afresh under another PSA.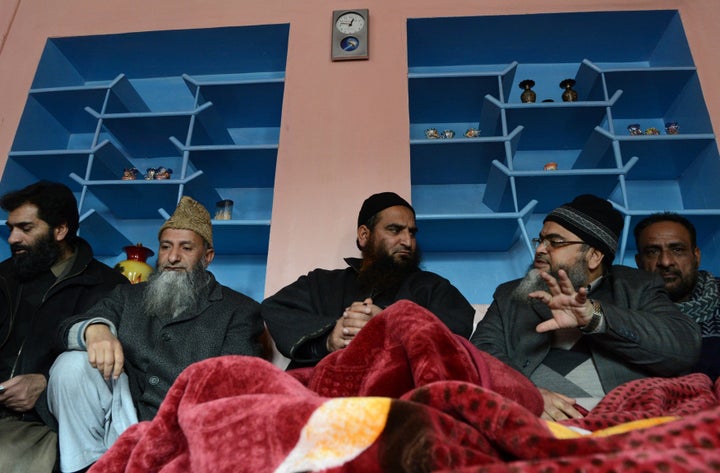 On 23 December 2011, while quashing Alam's 14th PSA detention order, the court observed that the district magistrate had not "applied his mind" in ordering the detention as "the grounds of detention were copied verbatim from the police dossier and were materially the same as those in the previous orders that had been quashed by the court".
A week later, the police applied for Alam's 15th PSA order, issued on 30 December 2011. The authorities apprehended that Alam "might obtain bail and subsequently indulge in activities that would have an adverse effect on the security of the state".
But "obtain bail" in what? Such was the government's urgency to detain him that the detention order made no mention of any FIR.
"The state seemed to have lost the track of the cases they had foisted on him," Qayoom said.
Yet, Alam's Kafka-esque trial continued.
On 2 June 2012, the courts quashed Alam's 15th PSA detention, noting that since the detainee has not filed an application for bail, the state cannot "presume" that there is a likelihood of him being granted bail.
The court made three important points also: the authorities had not informed Alam about his right to make a representation to the detaining authority against the detention order, once again denied him the material of the grounds of detention and once again recycled the old PSA order.
The law requires that a fresh PSA order should have fresh grounds of detention, which is hard for the state to accomplish because unless you let someone free, how would he provide you the reason for another detention?
The 16th PSA order, besides customary "well-founded apprehensions", stated that Alam was being held "since normal law has not been sufficient to stop you from indulging in secessionist activities." Yet the precise details of these acts were left undefined.
When Alam's lawyer challenged his 17th PSA order in 2013 in the Supreme Court, the Kashmir government, aware it was on shaky ground, withdrew his detention order.
The Supreme Court disposed of Alam's petition on 22 March 2013 and directed that any fresh detention order issued by the J&K government should not come into force for a week to give Alam time to mount legal defence. Yet Alam was not released, nor was a fresh PSA order invoked.
Instead, he was booked under 50 different FIRs that had been lodged in four districts of the state in 2010 and 2013.
The current status of these 50 FIRs is as follows: Acquitted (4), 'Untraced' (14), Pending Production (5), Under Investigation (22), Not Admitted (1), Challan Under Process for Rectification of Observations raised by Police Headquarters (1), Challan Produced in Court But Some Defects Raised by Prosecution Wing of Saddar Court Yet To Be Rectified (1), Investigation Concluded as Challaned But Some Defects Raised by Saddar Court yet to be Rectified (1) and Sub-Judice (1).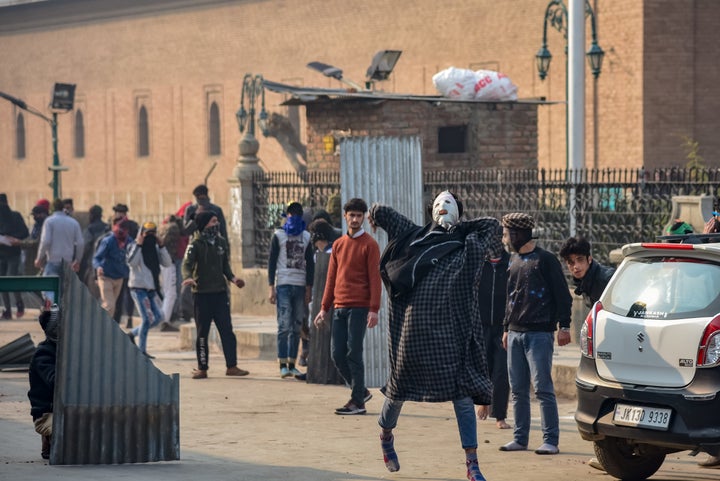 On 14 November 2017, Alam was detained the 36th time under the PSA. When Alam challenged his detention, the High Court asked the state to file objections to his release.
The state lawyer submitted "there were credible inputs that the detainee was contemplating to launch a fresh phase of agitation and secretly discuss the strategy with his colleagues and associates who were found visiting him in jail".
This time the court upheld his detention. The High Court's order, dated 7 September 2018, is perhaps one of the clearest articulations of the Indian state's stance vis-a-vis Kashmir.
"It is long back that an eminent thinker and author, Sophocles, had to say: Law can never be enforced unless fear supports them. This statement was made centuries back but it has its relevance, in a way, with enormous vigour, in today's society, more especially to present case," Judge Tashi Rabstan observed.
Alam's lawyer's contention that the 36th detention order was, by and large, a continuation of earlier orders, the court said, was "hollow and specious".
The court said the 36th detention order had been passed by the district magistrate of Kupwara district and not by DM of Srinagar, who was one of the respondents. He said the previous two had been passed by DM of Baramulla district.
Alam, Judge Rabstan said, had not repented.
"He, as is discernible from the detention record, remained following ideology of secessionism, extremism and fanaticism, which is evident from as many as 50 FIRs lodged and registered against him," the order read, wrapping up with,"It has, in such circumstances, become our collective obligation to save and protect the state and its subjects from uncertainty, melancholy and turmoil."
Though the 36th PSA detention period has expired and Alam is now serving his 37th round of preventive detention, his lawyer Mian Qayoom would be challenging this "only unfavourable decision lest it becomes a precedent".
Pending disposal is also a petition filed by Qayoom demanding compensation to the Alam for such a long preventive incarceration.
"The officials should be made to pay out of their pocket for such reckless orders," said Qayoom, who has been tortured in police custody and served two back-to-back PSA detentions during the months-long anti-India protests in 2010.
In another setback for PSA detainees, Kashmir's Governor-led administration recently amended the PSA act to allow the state to hold those detained under the act in jails outside Jammu and Kashmir. The Supreme Court, in 1982, had ruled that those in preventive detention should be kept in jails near their homes.
Alam's popularity
Through all his years of incarceration, Alam's legend has only grown.
In a 2015 interview with journalist Nawaz Gul Qanungo, Alam said, "What you see in Kashmir is Indian occupation… And occupations are not resolved. Occupations are ended. India must go back, that's it."
His critics see him as blunt and uncouth, one who could meld into an anti-India demonstration and become indistinguishable from the ground-stomping, slogan-shouting teenagers. But, probably, these are the qualities that make him popular.
In a 2010 interview with journalist Dilnaz Boga, he candidly said he has been "a stone thrower since my childhood because stones were the only source of resistance before 1990". He said Gujjars in Rajasthan had thrown stones to push their demands for reservation in jobs.
It is widely believed that Alam's role in mobilising people during the 2008 and 2010 agitations sealed his fate as a PSA detainee forever. After all, it was for the first time in the insurgency, that a CD, addressed to government forces, was circulated in 2010.
"The long years of incarceration have taken their toll. Two of Alam's close relatives—one of the uncles and his only sibling, a disabled sister—died when he was in jail"
"You thought your violence would kill our dreams for freedom. They have not. You though our spirit would break; we would turn against each other…
You will be tired of killing us; some day you might be horrified at what you have done to humanity. We will never tire of struggling for our history, for our future, our freedom. We will not forgive."
In a rush to prevent the circulation of the CD, the district magistrate of Srinagar, asked director information to instruct the media not to publish it. But in the process, the magistrate's office ended up circulating the transcript of the CD.
"The fact is they were never been able to cow him down, break him," said Mian Qayoom.
A police officer of the Kashmir police's counterinsurgency wing, who had interrogated Alam, told HuffPost India, "He doesn't change inside and outside of the jail."
The Price Of Incarceration
The long years of incarceration have taken their toll. Two of Alam's close relatives—one of the uncles and his only sibling, a disabled sister—died when he was in jail. Despite requests, the authorities did not release him to take part in their last rites.
"I remember she would giggle and flap her arms like an excited kid when he would be home or one of his friends visited him," said a party associate of Alam. "Not letting him see his sister one last time was the worst kind of punishment,"
Alam's uncle Farooq said the government "wanted to kill him" twice in the past. In 2001, Alam was picked up from Humhama area of Srinagar where he had gone to demand the bodies of five militants who were killed while trying to attack the Srinagar airport.
"For four days they didn't reveal his whereabouts. On the third day one of our colleagues, Mushtaq Ahmad Bhat, who had been recently released from jail, filed a petition with the State Human Rights Commission seeking Masrat's whereabouts. Mushtaq was killed in a fake gunfight the same day he filed the petition," said a Muslim League activist. Alam's uncle Farooq said the "second time the government wanted to get rid of him was in 2010".
"He is alive because the media broke the news moments after he was arrested," said Farooq.
A former top counterinsurgency police officer, Ashiq Hussain Bukhari, who was named as one of the 'Khaki Fidayeen' by Open Magazine, told the media in 2015 that former chief minister Omar Abdullah had paid him Rs 15 lakh from his "own pocket" as reward for arresting Alam in addition to the million rupees Alam carried on his head. Bukhari was Srinagar police chief during 2010.
"The chief minister greeted me but asked on phone 'why didn't you bump off this man? Why did you get him alive'. He also granted out-of-turn promotion to seven personnel of my team," media had reported Bukhari as claiming.
Bukhari made this statement after he said Omar had called him a "killer" whose tactics to put down the agitation resulted in killing of 120 protesters and arrest of 1500 youths from the city alone. Omar Abdullah dismissed the statement.
Alam's wife, Zahida, has been living with her parents since Alam's most recent arrest. The couple met in 2005, during one of Alam's longer stints outside prison. Zahida's family lives a block away from Alam's family home; her elder brother, Muhammed Salim, was part of the Kashmir militancy and was killed by security forces in 1996.
Resistance and the attendant suffering is common to both the families. When asked Zahida why she walked into this marriage knowing fully well that jail could be his permanent destination, she told HuffPost India "I never had to think twice before consenting to this marriage. I have always been proud of him. We all are."
The living room in Zahida's her parent's home in Zaindar Mohalla has a shelf lined with a thick volume of "Muslim League: From Sir Syed to Abdul Kalam Azad", a biography of the Prophet Muhammad and a few other of Alam's books.
A day before the interview, Zahida had arrived from Hira Nagar jail in Jammu, about 400km from Srinagar, where she spoke to Alam through a "three-layered barrier of mesh wire and iron bars".
"The face is hardly visible. But then we are used to it. I saw many people, who were meeting their kin for the first time, break down because they had been to a jail for the first time. Last time our daughter got angry when she couldn't see his face," said Zahida, who had moments ago attended the kid's parent-teacher meet and was now readying to take her for Quranic lessons.
"A jail breaks even stones, not to speak of humans, but Inshallah he is steadfast as ever. He cares about his people. During this jail visit, he told me that we should remain steadfast. We hope Allah will do justice," she said.
Having despaired of Alam's release, Farooq Ahmad, in his late sixties, dismisses optimism about his nephew's release with a typical Kashmiri gesture: he thrusts his raised thumb toward a person and asks him 'count this?'
"I am not much of a politics man. I only know that he can't withstand tyranny," Farooq said. "I hope he never relents. He has always been against tyranny."
Popular in the Community