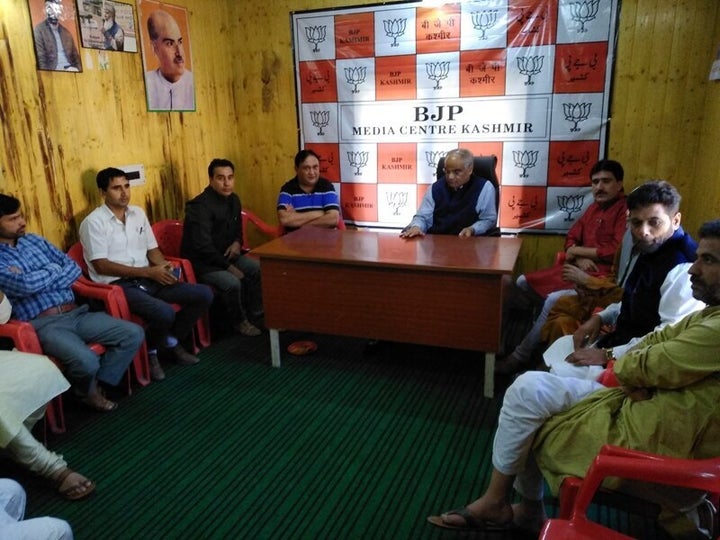 While the leaders and prominent workers of most opposition parties—including three former state chief ministers—have been detained, the BJP office has been functioning almost like there is no lockdown in the state.
"None of our party activists have been detained or arrested. We are carrying out our party activities normally. Most of our members within Srinagar city are able to come to office daily. In fact, today, some of our workers came from Tral in south Kashmir," Altaf Thakur, spokesperson of BJP, told HuffPost India.
The government and state administration have refused to put a number to the arrests and detentions in the state since August 5, though an AFP report said it could be over 4,000. Many have been flown out of the state, according to reports, because prisons in the state have run out of space.
While the government has been trying to portray that things are 'normal' in Kashmir, the fact that only the ruling party's office is allowed to be active in a state which is part of a democracy tells its own story.
People familiar with the matter told HuffPost India that Kashmir's oldest political party, the National Conference, has the highest number of workers under detention, followed by Peoples Democratic Party (PDP). Until June last year, the PDP was running the state government in alliance with the BJP. Leaders of People's Conference, Communist Party of India (Marxist) and the Congress are also under detention.
Police sources said that more than 200 mainstream leaders, including the three former CMs (Mehbooba Mufti, Omar Abdullah and Farooq Abdullah), ex-cabinet ministers, party activists and other leaders have been arrested or detained.
The government has not given any details on the charges under which these leaders are being held.
Deserted offices
The roads leading to the NC office were blocked and this reporter couldn't even approach the building. Security officials guard the roads and redirect any people or vehicles leading towards the party office. The NC headquarters, Nawa-i-Subh, normally brimming with people, has barely had any visitors since August 5 due to a clampdown on public movement and communication services.
Less than a kilometer away, the PDP's office, still bearing some paraphernalia from May's general election, was vacant, except for two security guards at its gates. The white building with green windows was locked on Monday and the guards said that "only a clerk shows up some days since the leaders of the party were detained".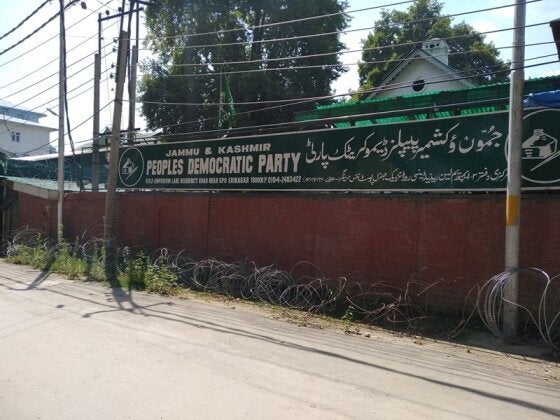 "Almost 20-30 people used to visit the office every day before August 5, but now nobody comes here. Sometimes, party activists lurk outside the office but they don't dare to come inside," a J&K policeman posted at the office told HuffPost India.
The guard also recalled that PDP's Srinagar district president Khurshid Alam and former MLAs Noor Mohammad and Ghulam Nabi Hanjura were frequent visitors at the office. While Alam and Mohammad have been detained during the crackdown, Hanjura has gone underground to avoid arrest.
The scene is similar at the newly-built Congress Bhawan on Srinagar's Maulana Azad Road, a short distance away. With the Pradesh Congress Chief Ghulam Ahmad Mir under detention, the office has been non-functional and no party functionaries turn up at the office.
"There's only a sweeper there who comes in the morning for cleaning. Apart from him, a head clerk also comes to office daily but no party activists come here now," said a security official in civvies posted at the gate of Congress office, who was reading a newspaper.
There was brisk movement in the locality that houses the office of Sajad Gani Lone-led Peoples Conference (PC), but that was of private vehicles and civilians trying to buy essentials. The party office, located in a separate building inside Lone's posh residence in an uptown Srinagar locality of Sanat Nagar, was empty.
Like the other party offices, this reporter could spot security personnel everywhere, but no party workers.
"Every day, Lone sahib met dozens of activists and other common visitors here… Some visitors still drop by but there's no party office bearer here, so they have no one to meet here. We think the party cadre may have gone underground," a security official told HuffPost India.
According to the security personnel deployed at the gates, they are allowing only Lone's relatives inside his house these days. "His [Lone's] mother is here and his two sons and wife are also here. So, we allow their relatives to visit them. Lone's sister Shabnam Gani Lone also drops by to meet her mother sometimes," the official said.
At Srinagar's posh Raj Bagh area, it took some loud banging on the door of Harco house to wake up the security guards on Tuesday morning. Harco house serves as the office of Jammu and Kashmir Peoples Movement, led by former IAS-officer-turned politician Shah Faesal.
"We don't know anything. Faesal Sahab was arrested in Delhi and then shifted to some detention centre. His security vehicle and personal security guards were also taken back by the government," a security official said.
The official said that people used to visit the party office in "droves" every day.
"We haven't seen anyone from August 5," he said.
Only one working office
While the BJP's office is functioning as usual, party officials admit that communication and security restrictions have led to a dip in footfall of party activists and other members.
On Tuesday morning, around two dozen BJP activists were milling around with other BJP leaders inside the office.
"People are coming to us with their day-to-day grievances and public issues like water supply and electricity. Some of them also come here to seek our intervention in getting their kin released from police custody," said spokesperson Thakur.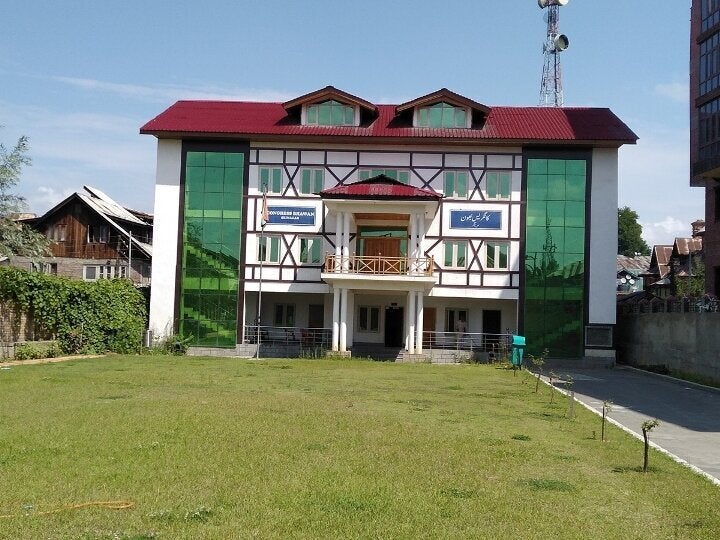 From convention centre to prison
Until August 5 this year, Sher-i-Kashmir International Convention Centre (SKICC), an exquisite hotel and convention centre sitting on the banks of the Dal Lake, was Kashmir's most luxurious option to host high-profile guests.
Be it visiting Prime Ministers of India or a foreign dignitary, SKICC has hosted almost every major event in the contemporary history of Kashmir. In fact, the last high-profile dignitary to use SKICC as a platform to reach out to Kashmiris was PM Modi in February this year.
On the other hand, Kashmir's mainstream political leaders, went to SKICC as the cheerleaders of Indian democracy in the conflict-torn valley. Now, almost all those leaders have returned to the convention centre—as prisoners.
Since August 5, SKICC has been turned into a fortified high-profile detention centre where the Valley's topmost mainstream leaders have been detained.
Among the detainees are BJP's one-time local ally Lone. His close aide and influential Shia leader Imran Ansari is also lodged there.
Shah Faesal, who was arrested in Delhi and flown back to the Valley, is also detained inside SKICC.
Former education minister and senior PDP leader Naeem Akhtar is also spending his days in SKICC, as is National Conference stalwart and former home minister Ali Mohammad Sagar.
But not all mainstream political leaders are inside the conference centre. Kashmir's oldest political leader and MP Farooq Abdullah has been under detention in his house since August 5. Similarly, former J&K finance minister Abdul Rahim Rather is also under house arrest.
"…the security personnel have cited my interviews to various media portals as the reason for my detention. In fact, I have been threatened with dire consequences if I speak up again," Iltija wrote in the letter.