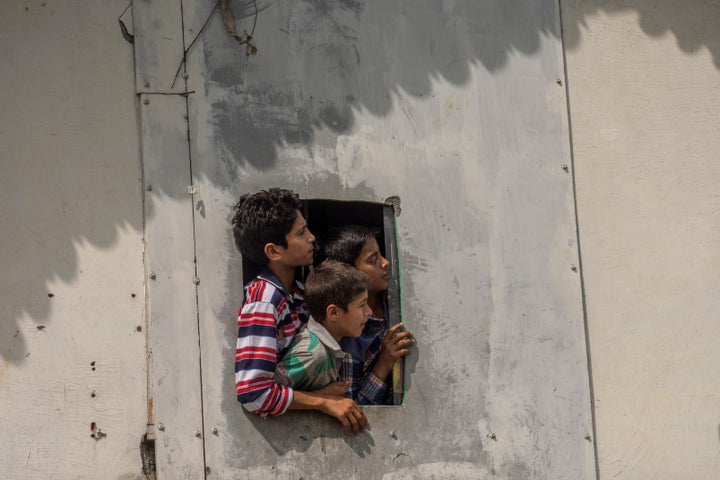 SRINAGAR, Jammu and Kashmir — For a week, from August 27 to September 3 this year, 17-year-old Waseem Ahmad Thakur left his home each morning for the nearest police station in Soura, where he would sit for 12 hours before he was allowed to return home.
"They asked him to be present at the police station every day from 8 am to 8 pm," Thakur's father, Ghulam Ahmad, told HuffPost India. "When my son went to the station on the first day, he said there were 5-10 boys like him who had been told the same thing."
Thakur is one of several Kashmiri children who have been placed in limbo by the state police force, possibly in breach of the law. Some of these children, their parents said, were physically abused by policemen during their illegal detention.
HuffPost India has been able to identify at least four such cases, including a 15-year-old high school student who was illegally detained for 23 days without charge. The child detainees and their family members said more children had been arrested. Family members refused to be photographed, and most spoke off record as they feared police reprisals.
On August 5 2019, the Indian government nullified Jammu and Kashmir's constitutionally guaranteed autonomy, flooded the valley with thousands of soldiers, cut off all internet and mobile phone services, effectively suspended all civil rights and liberties, and jailed over 4,000 Kashmiris, including the region's prominent politicians.
The arrests and the clampdown have prompted a wave of protests, which in turn, have led to more arrests and protests.
Civil rights activists say those detained include children—a claim denied by Indian security forces. On August 14, Kavita Krishnan of the Communist Party of India (Marxist-Leninist) told HuffPost India of at least three instances of children, including a boy as young as 11, being detained by Indian security forces.
On September 20, the Supreme Court directed the Juvenile Justice Committee of the Jammu and Kashmir High Court to examine allegations that Kashmiri children have been illegally detained as part of the crackdown in Kashmir.
Thakur's case reveals that the state police have carefully avoided creating any paper trails that could hold them accountable. Rather than formally arrest children — which could prove politically sensitive — the state police has taken to picking up children, detaining them in adult facilities without charging them, and subsequently releasing them without proferring any explanation for their actions.
In cases like Thakur's, children have been forced to present themselves at police stations — for no ostensible reason beyond harassment and humiliation — well after they have been released.
Thakur's father, Ghulam Ahmed, said his son was arrested in the early hours of August 24 in a night raid by a joint team of police and Central Reserve Police Force (CRPF) personnel.
"They came at around 2 am in the night and broke open the door. He was just wearing an inner and a trouser. They just dragged him from his bed and didn't even allow him to wear his chappals," Ghulam Ahmad said.
The police offered no reasons for why he was being picked up, nor why he was released three days later without any charges.
"He's just a child. He has grown a little beard, that's why he looks like a grown-up," Ghulam Ahmed said. "They took him as if he was some big criminal and beat him up with sticks at the time of his arrest."
Jammu and Kashmir police spokesperson Manoj Sheeri declined comment for this story.
"I don't have the mandate to talk to media," Sheeri said, despite his designation as spokesperson. "Please talk to some higher police official. I can't make any comment."
23 days in detention
On August 9, in the neighbourhood of Anchar, a 15-year-old boy was picked up by the police and detained for 23 days at the Safa Kadal police station without providing any official explanation or documentation for his arrest or subsequent release. HuffPost India examined his school documents, which state his date of birth as 25 January 2004.
The boy's parents told HuffPost India he was visiting his grandparents when the neighbourhood was caught up in an anti-government protest, and subsequently arrested. Given that all communications links in Kashmir had been snapped, the family had no idea where their child was.
"Since he was at his maternal home, we thought he's there. The people at his maternal home thought that he had gone home in the melee," his mother said. "We had no information about him for three days."
The family finally received word from neighbours whose relatives had also been arrested. "They had seen my son at the police station, and told us he has been detained," the mother said.
The family, who pleaded for anonymity as they feared police reprisals, said the boy was arrested with three other adults. While the three adults were charged, the boy's parents said, the child was not named in any of the cases.
HuffPost India first met the boy's family on August 29. "Police says that they'll let my son go only when the rest of the three get bail from the court," his nervous mother said at the time.
On September 9, his mother confirmed that the boy had been released on September 2.
"I am just thankful he's home," she told HuffPost India. "I won't even allow him to move out for a second now."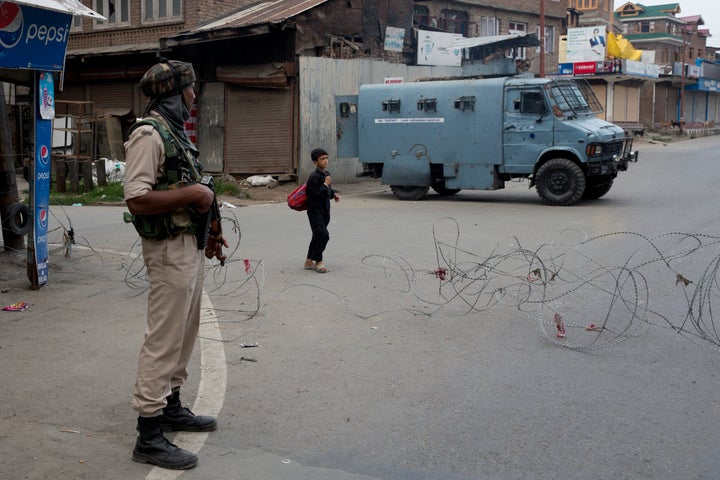 No accountability
In an interview with The Indian Express on September 9 2019, Kashmir's senior-most police officer, Director General Dilbag Singh, sought to portray the police's disregard of established procedures as a humane act.
"In certain incidents, there is no violence or FIR. There is some venting of anger, that doesn't come into cognizable offence," Singh said. "Why should I record it and spoil the career of that boy? When they cross a level, there is violence, stone pelting or someone is injured, there is a report."
In the same interview, Singh claimed that, in such cases, those detained were released the same day.
Off record, senior police officers explained that a refusal to document those arrested allowed the police to evade responsibility.
"In police records, only those arrests are officially counted where there's a proper paperwork," a source in the police said. "The centralized database of figures is based on the feedback of detentions and arrests from police stations across the valley. So, you can say that if a detention is not followed by proper paperwork and charges, it doesn't exist."
Kashmir's draconian anti-terror laws allow the police to detain civilians for upto 6 months at a time without trial, after which the police can simply slap a fresh case on the accused—gaining another 6 months of detention.
This means many parents prefer to negotiate informally with the police, rather than approach the courts for redress.
"If a family tries to approach court, it means the police have to bring formal charges against the detained which means they will have to fight these cases in courts," explained a lawyer working for a rights group. "No family wants that."
"In most cases, families plead with the local Station House Officer of a police station to see release of their kin including minors," the lawyer continued. "There's no accountability for these illegal detentions."
'What was their break?'
This isn't the first time Indian security forces are arresting children. In 2016, when Kashmir was last riven by fervent anti-India protests, Abdul — a resident of Turkwangam village in Shopian — said his elder son, who was 15 at the time, was picked up by Indian security forces and tortured in custody.
"He was tortured so much that doctors put plaster on both of his arms. They had to put pins in one of his arms to treat him," said Abdul, a daily wage labourer who declined to share his second name. "My wife suffered a shock when our son was picked up by the army. Since then, she never got well. Eventually, she passed away."
Three years later, Abdul said, security forces have re-arrested his older son, who is now 18, as well as his younger son — who is only 16. On the day of their arrest, on August 22, the Indian army was at Turkwangam to chase down a band of suspected militants.
"What did my sons have to do with militants? What was their crime?" Abdul said. "Like many, they were out on the road at that time [the army arrived]. The army tortured both my sons in front of me before taking them away."
The Indian government has arrested so many civilians since August 5 that Kashmir's prisons have run out of space. As a consequence, many detainees have been sent to prisons across the country, making it almost impossible for their relatives to find them.
"I am a poor man. What will I do if they book him under some case and send him to jail outside the state?" Abdul said. "I will be devastated."
The arrests in Kashmir have been so indiscriminate that civilians have been arrested for the pettiest of reasons. On August 14, Pakistan's Independence Day, a Pakistani flag was found hanging from a tree in Kanchan village in central Kashmir's Ganderbal district.
Five days later, when the village erupted in protest against the continued lockdown in Kashmir, the local police and the paramilitary Central Reserve Police Force arrested five people, including a 15-year-old boy, his uncle who is a policeman himself, and the local tailor — who was accused of stitching the Pakistan flag found on the tree.
"When they brought the seized flag before me in the police station, it turned out that it had been hand-sewn, which means anyone could have made it," said Mohammad Shafi, the part-time tailor who was among the detained. "In case it had been machine-sewn, then they would have booked me."
Shafi was in custody for 17 days. The minor boy, who's a class 8 student at a local government school in Ganderbal, was released after a detention period of 13 days. His uncle, a serving police cop, was released after four days.
The boy's relatives told HuffPost India that the boy had felt isolated after his detention, and had stopped stepping outdoors.
"We even tried to send to him to his maternal home for few days but he didn't stay there and asked us to bring him home," the relative said. "He feels there's some heaviness in his heart."
Popular in the Community