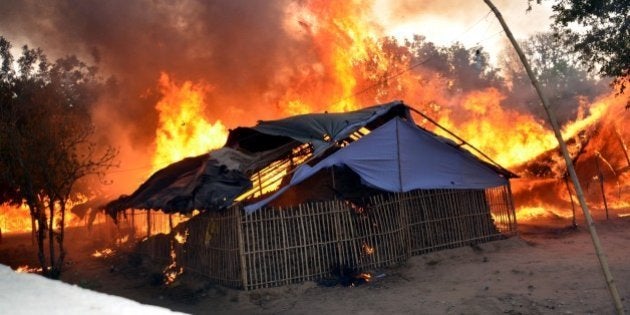 The clash between members of the Azad Bharat Vidhik Vaicharik Kranti Satyagrahi sect and the Uttar Pradesh police that killed 29 people in Mathura has led to some startling revelations about this group, which had encroached land in Jawahar Bagh since March 2014.
While the local police were reportedly never able to enter the encroached land, and had no idea that the inhabitants were so well-armed and had training in combat. Following the violent clash, this is what we now know about the cult.
1. It is a registered political party
The cult has a political party 'Swadheen Bharat Subhash Sena' registered in 2013. They claim to be 'true followers of Netaji Subhash Chandra Bose' and had even demanded the declassification of documents relating to him in Madras high court in 2014. Not only did they devalue Indian currency, alleging it was 'British currency', they wanted to establish a new political order under the 'Azad Hind government', reported The Indian Express.
The 3,000-odd members of the sect weren't "allowed outside", according to reports, and there was only one entry and exit to the plot they had taken over. Most of them worked as security guards within the community, or worked in the canteen or flour mill or performed functions within the community setup, some of the rescued children told journalists. In fact, if someone wanted to leave, they were threatened by others, the children claimed, and cult members were told they would be beaten by police if they ventured outside the community space at Jawahar Bagh.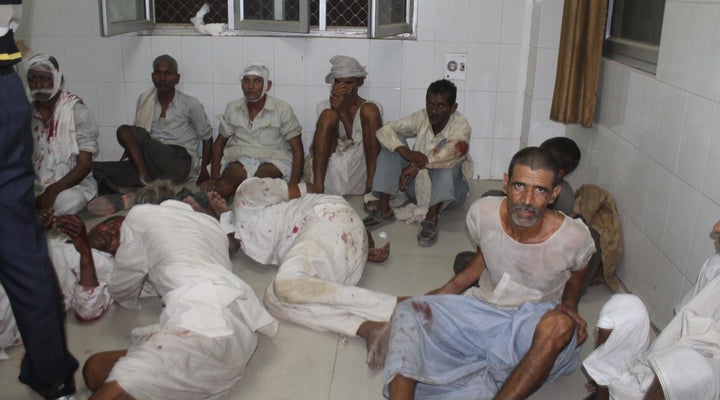 Injured being treated after clashes between police and activists, believed to be of Azad Bharat Vidhik Vaicharik Kranti Satyagrahi, at a hospital on 2 June, 2016 in Mathura, India.
3. It gave children arms training
According to investigations, children as young as eight were given weapons training in the sect. They were apparently promised gold coins and told they would 'free' India.
4. Taking people towards religious terrorism
The sect leaders wanted to take its followers towards religious extremism or religious terrorism, the Agra Division Commissioner Pradeep Bhatnagar said. In fact, they were even starting their own currency, he claimed, and didn't want to follow the Indian constitution or its laws.
Children as young as eight were given weapons training in the sect.
5. They were Netaji followers
They would sing: 'Sankalp hai shaheedon ka, deshbhakton ki manzil, swadhin Bharat ka jhanda lehraane laga (This is a resolution of the martyrs, the destination of the patriots, the flag of independent India has started unfurling).'
6. Their leader was an arms expert
The sect's leader Ram Vriksha Yadav, who was killed during the clash, was reportedly 'a maverick politician, a megalomaniac and a murderer'. He was apparently an arms and ammunition expert, and had a private army and a security detail following him everywhere.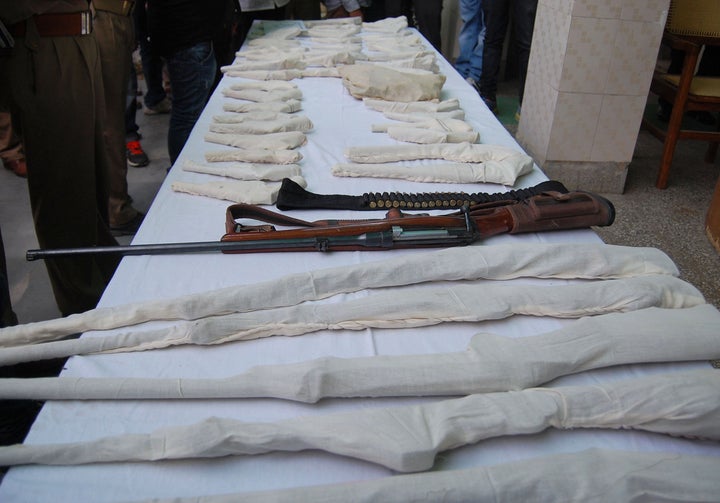 A cache of arms and several spent bullets of AK-47 assault rifles were seized by police from the site of the deadly clashes.
Yadav was reportedly drawing pension from the state government under a scheme that is for those who were jailed during the Emergency. DNA reported that he had Maoist connections and had apparently supplied them with guns produced by the members of his cult.
7. Their guru died in 2012
The cult is believed to have been started by a godman named Jai Gurudev. He was reportedly a failed politician, who instead turned to spiritual work that helped him amass a huge fortune — touted to be around ₹12,000 crores in real estate and cash. Followers who joined the cult in Jawahar Bagh believed that Yadav had been made the 'new guru' after the former leader's death in 2012.
8. People from across the country funded the sect
According to ledgers maintained by the sect, people from as far as Gujarat and Odisha sent money to the leaders. An organisation in Cuttack reportedly sent over 2 lakh rupees to the cult in Mathura. The same records also detailed how the sect spent a lot of money on lawyers, as well as general upkeep of the community.
Popular in the Community