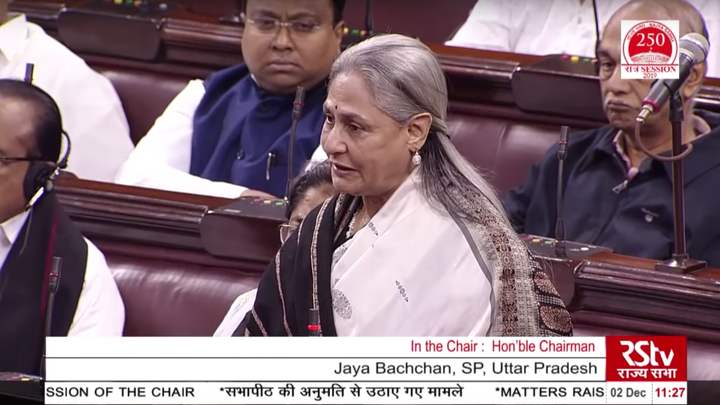 While many MPs talked about stricter laws and the need to fast-track such cases, several MPs openly bayed for blood.
"These types of people (the accused in the case) need to be brought out in public and lynched," Samajwadi Party's Jaya Bachchan said in the Rajya Sabha, "I think it is time... the people want the government to give a proper and definite answer".
Outside the Parliament, she reiterated to the media, "If you have not been able to provide security then leave it to the public to give judgement. Those who failed to provide security and those who committed the crime should be exposed in public, and then let people decide," ANI quoted.
AIADMK's Vijila Sathyananth told the Rajya Sabha, "Those involved in this heinous crime should be hanged before December 31."
DMK's P Wilson said courts should be empowered to castrate convicted rapists before they are released from jails, PTI reported.
In 2012, Bachchan had made a statement in the Rajya Sabha saying the government should apologise to family of the Delhi gang-rape case, Jyoti Singh. Protests had been held across the country and the MP had participated in one in Mumbai.
On Monday, people reacted to Bachchan's comment in particular with absolute horror.
Reports of mob violence and lynchings have risen in the last five years. According to Quint's tracker, 113 people have died due to mob violence since 2015.
The increase in mob violence prompted the Human Rights Watch, earlier this year, to urge the Narendra Modi-led government to implement Supreme Court directives on ensuring that individuals responsible for mob attacks were held accountable, that there was prompt and impartial investigation and prosecution of the perpetrators and instigators, and that senior state and high-ranking police officials made public statements saying perpetrators would be fully prosecuted.
In this context, Bachchan's words were not merely tone-deaf, they amounted to inciting vigilante justice through violent means without any regard for the law.
People were aghast the statements were coming from an elected lawmaker:
Popular in the Community