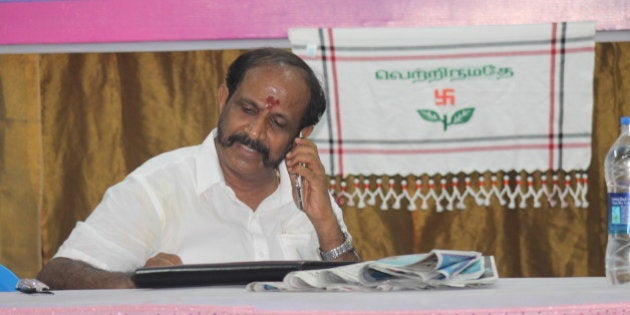 He is known within Tamil Nadu police circles as Virumandi — the lead character in Kamal Haasan's 2004 film by the same name. The reason — his luxurious twirling moustache of which he is inordinately proud.
Meet R Natraj, retired Director General of Police of Tamil Nadu and the first retired IPS officer in the state to contest elections. Natraj is a candidate for the ruling All India Anna Dravida Munnetra Kazhagam (AIADMK) in the urban Mylapore seat in Chennai for the state elections to be held on May 16.
From starched khakhis to 'karai veshtis' (dhoti with party colours as border), Natraj has successfully managed to keep his politicking constant through his career.
Cop habits die hard and this is evident in Natraj's election office. There is a separate room for party seniors to use and a separate room for himself, with the inevitable framed picture of the party leader J Jayalalithaa hanging on the wall behind him. Chairs are placed in symmetrical order. There is nothing haphazard or out of place in the office right across the road from the Mylapore Kapaleeswarar temple pond.
The office atmosphere reflects Natraj's demeanour as one walks in. Silence abounded as the former cop read a file – his itinerary for the day's campaign.
"I consider being selected as the Mylapore candidate for elections as a very big opportunity," said Natraj. "Because I believed in service to people, I wrote the IPS exam and joined the police force. Even after retirement I wanted to continue my service to the people and this is why I joined the AIADMK. Those who were in government service can do excellent service to people through politics. I know firsthand as to the people's wants and their expectations, and I believe that I can do excellent service to them," he stated.
Sitting AIADMK MLA Rajalakshmi arrived shortly and a discussion over the campaign ensued. The little group was then off on their campaign.
As summer scorches Tamil Nadu, campaigns of candidates begin early. Natraj is no exception, starting canvassing at 7am. Three wards are covered in the morning and another three wards in the evening. A quick prayer with folded hands in the direction of the temple and Natraj is off, walking at a fast clip.
A high rise residential building near the local Sai Baba temple was on the agenda first. Natraj smiles and speaks with the secretary of the building association there. To residents peeping from their balconies, he folds hands and requests: "I know that you always vote for Amma. This time too please vote for her and make her win."
Children playing in the compound are not missed out either.
Residents respond to Natraj with respect tinged with fear — he is, after all, a former cop. His habit of twirling his moustache constantly adds to the image of being tough.
A 1975 batch IPS officer, Natraj hails from Tirunelveli district. He was appointed Police Commissioner of Chennai city in 2003 and continued in the post until 2006. As the state was heading into elections in 2006 under the ruling AIADMK regime, Natraj made his first political move. He gave an interview to an English daily on Women's Day: "In personality, humility and in her passion for the community, Jayalalithaa is a shining example. I think she is an icon and every woman should look up to her as a role model," he stated.
The Election Commission instantly shifted him out of his post. But the praise did not go unnoticed by the powers that be.
Natraj was sidelined when the rival Dravida Munnetra Kazhagam (DMK) came back to the seat of power in 2006, overlooked and passed over for important posts.
CAT battles followed, until he finally retired in 2011. By then the AIADMK had swept back to power and Jayalalithaa was the Chief Minister once again. She appointed him head of the Tamil Nadu Public Service Commission in 2012. In 2014, he joined the party in the presence of Jayalalithaa at her Poes Garden residence.
"In Tamil Nadu politics there have always been senior police officers who have a leaning towards either the DMK or the AIADMK," said a retired police officer. "It has been the norm for one party to give preference to those officers who are their supporters and to post officers who are against them to dummy posts. In that sense R Natraj was an AIADMK sympathiser," he added.
Natraj has his quirks. He loves moustaches, his especially. As Chennai Police Commissioner, Natraj held several competitions to judge the 'best moustache' among policemen and gave away prizes. He willingly combed his moustache to filming cameras on request. "People want the police to look slick in appearance," he was known to tell his police team. "The moustache is the one thing which gives a slick appearance to policemen so they should first respect their moustache."
In December 2015, Natraj was suddenly suspended from the party for indulging in 'anti-party activities' with Jayalalithaa sending out a statement to that effect. It was a case of mistaken identity.
On a popular Tamil channel, a viewer called R Natarajan had called in to air his views about how the AIADMK government had not responded adequately during the deluge. The channel had mistakenly aired R Natraj's picture over the call. Natraj cried foul, the channel apologised on air and Jayalalithaa subsequently reinstated him, even handing him a ticket for the Mylapore seat.
Mylapore constituency is an AIADMK stronghold. It is a seat populated predominantly by the numerically small Brahmin community in Tamil Nadu.
Local AIADMK administrators say people have responded positively to Natraj so far, despite him being a first time candidate. "We will work whole heartedly for whichever person Amma points out. Since Natraj was a cop and well known to people the response to him is very good," said a local administrator, requesting not to be named.
Natraj will face a tough battle from Karate Thyagarajan, a Congress candidate who is pitted against him as part of the DMK alliance. Thyagarajan is an old hand at the electoral game and has worked aggressively in the constituency. He is also well known in the area.
Can the former cop pull off a coup in his very first attempt? Virumandi is certainly trying.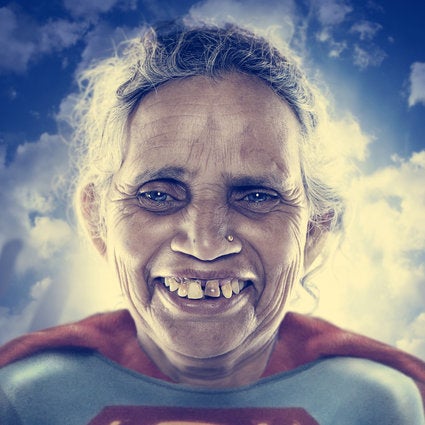 Stunning Concept Photography In India