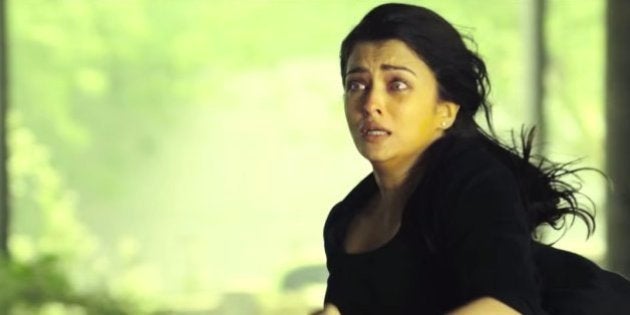 There is an argument to be made that perhaps all creativity involves at least some amount of copying, and the trick usually lies in hiding your sources of inspirations well. Not so for experienced film(re)maker Sanjay Gupta, whose now-20-year-old career has seen him blatantly plagiarise beloved films such as Reservoir Dogs (1992) and Oldboy (2003), with negligible traces of elegance.
This was during a now-mostly-bygone era (*cough* NH10 *cough*) in Bollywood where the industry didn't bother with minor things like 'intellectual property' on grounds of 'Abey relax yaar, no one will come to know'. Fortunately for Gupta, we now live in a post-We Are Family world where studios are ready to buy the rights of international films so that hack-jobs are now at least legitimate.
This time around, Gupta legally remakes another Korean film: Seven Days (2007), a hit psychological thriller starring Yunjin Kim (from cult TV show Lost). Touted as a comeback vehicle for Aishwarya Rai Bachchan, who hasn't been seen in a Hindi film since Guzaarish (2010), the film also stars Irrfan Khan, Shabana Azmi, and Jackie Shroff.
This sounds great on paper. But here's the thing: to begin with, Seven Days is by no means a flawless film. It has a messy plot. It has too many convenient coincidences and improbable events. It sticks to too many genre conventions (Bad Guy Gives Long Speech About Why He Did What He Did? Check.) It is unnecessarily stylised in parts and could've toned down the dramatic background score. In fact, as a critic friend pointed out, it's a film that looks like it could have been made by Gupta himself.
Clearly, though, the director decided to live up to his reputation and go one step further with Jazbaa, a screechy, unsubtle, and almost-scene-by-scene remake of the original. Bachchan plays hot-shot lawyer Anuradha Verma, who is blackmailed into saving slimy rape-accused Niyaz (Chandan Roy Sanyal) from the gallows in exchange for her daughter Sanaaya (Sara Arjun), who has been kidnapped.
She can't trust anyone from the police, barring her childhood friend Yohann Parmar (Khan), a fast-talking cop facing corruption charges that conveniently vanish halfway through the film with the help of one folder of documents.
He also, by the way, happens to be the one who caught Niyaz, but helps her investigate the possibility of him being innocent anyway, presumably out of love. Wait, how do we know he loves her? He tells us, of course. Yohann loves the camera and talks to it often. This trait allows him to say things like "Rishton mein bharosa aur mobile pe network na ho toh log game khelne lagte hain".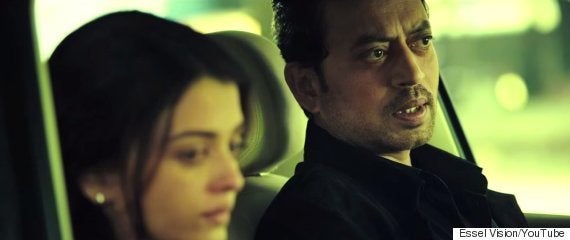 "I have a legit career. I work with Oscar-winning directors. What am I doing here?"
Many articles, tweets, and Internet memes were born after the trailer for Jazbaa was released a month ago, focusing on the film's peculiarly overdone colour grading. To be fair, it doesn't begin like that. The opening shot, of the jogger's park next to Bandra-Worli Sea Link, actually looks like Mumbai instead of a level from Mortal Kombat.
However, this doesn't last long. As the film progresses, cinematographer Sameer Arya starts adding mysterious light sources to scenes, making the film often resemble a college-level theatrical production. A courtroom is awash in amber, for instance, and you can see extras in the background squinting hard through the glare on their faces. A mental asylum is bathed in cool blue. As the proceedings get tenser, drone shots of Mumbai's skyline reveal that it is as green as the beams accompanying the killing curse used by the Death Eaters in the Harry Potter series.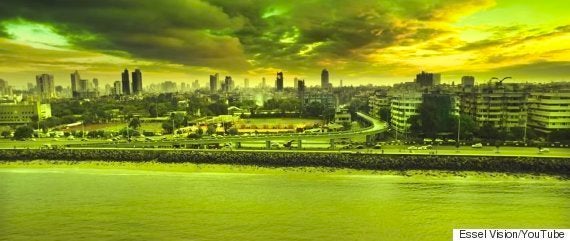 "Hum pe yeh kisne hara rang daala? No, seriously."
Adding insult to misery is the background score by the dependably terrible Amar Mohile, who I'm now convinced simply draws from a bank of tunes stored in folders titled 'Dramatic', 'More Dramatic', 'Even More Dramatic', and 'Govinda Govinda'.
If there's anything that works in this movie's favour, it's the pacing. The story is engaging and, while Gupta's wham-bam style of shooting the exact same scene from five different angles can wear you out, there's enough happening with enough urgency to make you care about the plot. Also, unlike the original, Jazbaa plays up angles pertaining to rape and victim-blaming and, creditably, takes the right stand.
With so much going wrong, a lot rests on the performances (as was the case in Seven Days, which delivers on that front). Bachchan, who spends a considerable amount of time making use of the film's glycerine budget, puts on a spirited show but displays very little nuance. She appears far too earnest, far too teacher's-pet-like to convincingly portray a character this morally conflicted. It also doesn't help that she is constantly required to wail and screech in this movie, a sound that threatens to put nails and chalkboards everywhere to shame.
Khan and Azmi do their best to keep their heads above water and come across as refreshingly restrained, by the movie's standards, although you can see that Khan's character is supposed to be more over-the-top than his performance. Even as he tries to downplay, he is forced to adopt an Angry Young Man persona and the results are uneasy at best. Far easier to believe is Jackie Shroff as a powerful politician, who is possibly the movie's most consistent performer.
Jazbaa is yet another testament to commercial Hindi cinema's obsession with impact over intent, which leads to making films that they think will earn money via razzmatazz and star power, as opposed to adhering to the basics of screenwriting, acting, and direction.
In other words, it's a perfect addition to Gupta's checkered oeuvre.
Popular in the Community