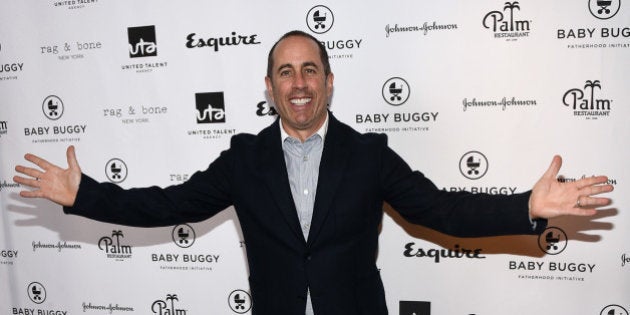 Here's more bad news for comedy-lovers in India: veteran comedian Jerry Seinfeld's much-awaited live performances in Mumbai's National Sports Club of India (NSCI) have been cancelled. According to a tweet sent out by the Twitter handle of Stage 42, a live events property owned by events company Only Much Louder (OML), the comedian's back-to-back shows for March 14 and 15 have been cancelled over "issues related to parking and traffic."
On March 11, Mumbai Mirror had reported that the show was in trouble, saying that the traffic police had threatened to deny permission for the event if the organisers couldn't provide parking for the expected audience of nearly 5000 people at the venue. In the same article, Vijay Nair, CEO of OML, had said that they had all their permissions in place and had also booked space at a nearby mall as a contingency measure.
On Friday morning, Mumbai Mirror reported that the artiste, Seinfeld, was stopped from boarding his flight to Mumbai due to the police permission coming in a day late. Nair was quoted as saying that since he would now reach on Saturday evening instead of Friday night, they were considering holding both shows on Sunday, March 15. The organisers also said that the authorities at first cited parking issues and traffic as a problem, and then also said that events aren't allowed at NSCI on weekends, a point Mumbai police commissioner Rakesh Maria also brought up. The latter is confusing as a number of events at the venue — including the now infamous AIB roast, also organised by OML — have previously taken place on a weekend.
"We have organised a number of events at NSCI recently and there were absolutely no parking hassles," said Nair, in a phone conversation with HuffPost India. "But by the time we got permission from the police to go ahead with the event, it was too late for the artist to make it to Mumbai on time." He added that they were asked by police to shift the show to Monday, which was "impossible." "You cannot do that with an artiste of Seinfeld's calibre," he said. "He was coming to India as a professional, just for the show, and flying out the same evening."
The estimated financial hit that OML will take with the cancellation of this show, taking into account the costs of Jerry Seinfeld's fees and private jet charges, is roughly $2 million. Speaking about reports that talk about how the Devendra Fadnavis-led Maharashtra government is considering reviving Mumbai's nightlife, Nair said, "If things like this keep happening, event companies will go bankrupt. It will take us four years to undo the damage from the loss of these two shows."
Parking and traffic at NSCI has been a touchy issue since the fracas that took place on March 1, when Maharashtra CM Fandavis's convoy allegedly held up traffic outside the venue as he was on his way there for a political event. However, BK Upadhyay, the Joint Commissioner of Police (Traffic) in Mumbai clarified that the mayhem took place because of the number of cars parked outside, since parking inside NSCI was full.