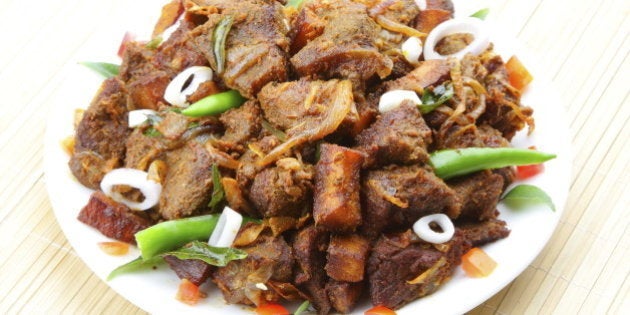 In defiance of High Court order to implement a ban on sale of beef, the Indian Express reports that a BJP leader in Kashmir has said he is throwing a "beef party" to promote "religious tolerance" in the state. Khursheed Ahmad Malik, a BJP leader from south Kashmir who'd unsuccessfully contested the recent assembly elections said: "Apart from politics, I am a Muslim. I can't compromise on my religious faith, not at all."
Though J&K has had a ban on cow slaughter and the sale of beef since India's independence, it has never been stricly implemented.
The recent court order came on a PIL filed by Jammu lawyer Parimoksh Seth, now the state's Deputy Advocate General. There has been a ban on the slaughter of bovines and sale of beef in J&K since the days before Partition. But the ban was never implemented strictly, especially in the Valley.
Several states have followed Maharashtra in imposing a ban on meat sale during a holy week for those of the Jain community. Haryana on Friday joined four other states - Gujarat, Rajasthan, Chhattisgarh and Maharashtra - which have banned the sale of meat during the Jain festival of Paryushan from September 10 to 17.
On Friday, the meat ban in Maharashtra was reduced from four to two days by the state government after it was reprimanded by the Bombay High Court which described the prohibition as "regressive" and an "inappropriate formula" for a "modern city like Mumbai."
On the same day, the Chhattisgarh government ordered a ban on the sale of meat for the eight-day long fasting period of the Jain festival and Ganesh Chaturthi.