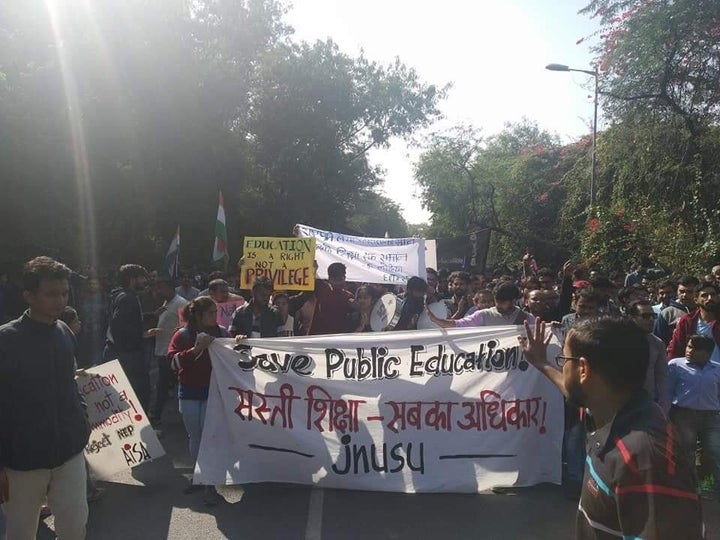 JNU student's union president Aishe Ghoshe was among the several detained on Monday as students of Jawaharlal Nehru University marched towards the Parliament to protest against the hostel fee hike and appeal lawmakers to take up their cause.
JNUSU said detained students had been split up, with some taken to Badarpur, Dilli Cantt police stations, others to Kalkaji.
The students, who had earlier been stopped by the police from marching to Parliament, said they were lathicharged near Jor Bagh.
"More than 100 students are being arrested by CRPF and police in plainclothes after brutally assaulting JNU students. One student was bleeding from ear, another disabled student injured," former JNUSU president N Sai Balaji told Huffpost India.
The JNU students' union had on Friday announced it would lead a march to Parliament on Monday, when the winter session begins.
A large number of CRPF and Delhi police personnel were seen outside Jawaharlal Nehru University on Monday morning, with students tweeting out photos of barricades put up outside gates of the varsity.
Some students broke through the barricade at the main gate, Indian Express reported, while the march took an alternate route to avoid security personnel.
Police told PTI ten companies had been deployed outside JNU. One company comprises 70 to 80 personnel.
The students said all gates of JNU had been barricaded even, while Section 144 was imposed outside the varsity.
The JNU Teachers' Association has held the Vice-Chancellor and the university administration responsible for the "disturbed atmosphere on the campus today".
Students have been protesting against the increase in hostel fee and other provisions in the draft hostel manual.
While the University administration and the Human Resources Development ministry said it had rolled back the hostel fee hike on Wednesday evening, students and teachers have dubbed the partial rollback an "eyewash".
The protests have been ongoing for three weeks.
In a letter to Vice Chancellor Mamidala Jagadesh Kumar, the JNU Teachers' Association on Monday slammed the VC and the varsity administration.
Referring to the students clash with Delhi Police on November 11, the letter said, "While you castigate the students for protesting outside the convocation, you seem to be unable to find even a few words of solace for the hundreds of them who received injuries as a result of the police action, some even requiring treatment in hospital."
On Sunday, the Delhi Police registered an FIR against unidentified persons in connection with the "vandalism" of administration block of JNU.
The students' union had distanced itself from "any acts of vandalism". JNUSU president Aishe Ghosh said on Friday, "The JNU Student community does not endorse any act of vandalism done in its name and whoever does it is doing it in his or her own name and should not use the name of the movement to justify such acts."
Popular in the Community