NEW DELHI -- A Bharatiya Janata Party official has offered a quick fix solution to solve the Jawaharlal Nehru University row which has ensnared its students in case of sedition, and stirred debate on free speech, dissent and nationalism.
On Tuesday, Sanjay Rathod, convener of BJP's information technology cell in Junagadh, Gujarat, tweeted, "Shoot Anti-National JNU students & Proff and close the chapter. But one problem is that our doesn't allow to kill dogs. #WakeUpIndia"
Unfortunately for Rathod, who deleted the tweet, screenshots of his sentiment are doing the round on Twitter.
RT Komal_Indian: BJP IT cell official Sanjay Rathod tweets: Kill JNU students, professors; later deletes it !

— Pratyush Mayank (@pratyushmayank) March 9, 2016
Rathod, who has over one lakh followers, told The Indian Express, "As a BJP member, I am supposed to express my opinion and counter views opposed to my party. I am also supposed to support those supporting our line of thinking."
"I don't know much English. A couple of other persons also operate the Twitter account on my behalf. The tweet (about JNU) has been posted by one of them. But I stand by it," he said.
Rathod has two photographs with Prime Minister Narendra Modi on his Facebook page, but it isn't clear when these photos were clicked. Modi previously served as the Chief Minister of Gujarat.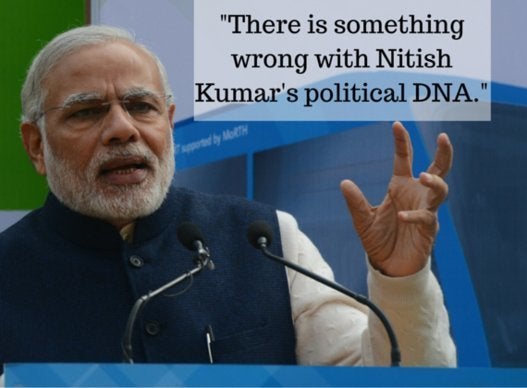 Ridiculous Things Politicians Said In 2015
Popular in the Community