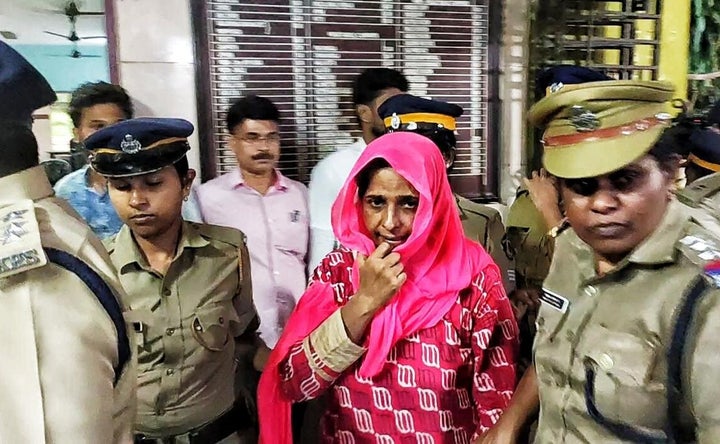 Do the suspicious deaths of six members of a family in Kerala's Kozhikode district all boil down to the "murderous instinct" of prime suspect Jollyamma Joseph? The Kerala Police may be pushing this narrative, but two documents that are part of their investigation call this theory into question. The documents—two versions of a will left by the patriarch of the family, Tom Thomas—have given rise to accusations of forgery and reveal a deep-rooted property dispute between Joseph and her late husband's family.
Forty-seven-year-old Joseph is suspected to have killed her mother-in-law Annamma Thomas in 2002, father-in-law Tom Thomas in 2008, husband Roy Thomas in 2011, Roy's maternal uncle Manjadiyil Mathew in 2014, and the infant daughter and wife of her current husband, Shaju Skaria, in 2014 and 2016, respectively. Joseph married Shaju, Roy's cousin, in 2017. The police believe she used sodium cyanide to kill five of them while Annamma was given pesticide-laced food.
The suspected murders came to light after Rojo Thomas filed a police complaint in August seeking an investigation into his brother Roy's death. He attached a copy of a post-mortem report that pointed to the presence of sodium cyanide in Roy's body, along with details of his father's will that he alleged had been altered by Joseph.
After Tom's funeral at the Lourdes Matha Church cemetery in Koodathayi village in 2008, Roy and Joseph presented Tom's will to Rojo and his sister Renji Thomas, according to an eyewitness. HuffPost India has a copy of the will, a neatly typed document in Malayalam that has Tom's photograph and what is purportedly his signature. An English translation of the document reads, "I am being looked after by my son Roy Thomas and his wife Jolly Roy. I am writing this will because I am certain that they will provide for me even henceforth. After my death, the existing ownership of the property will be transferred to Roy Thomas and Jolly Roy… This will, will be effective only after my death…"
The property mentioned is 38.5 cents of land on which the family's two-storey home stands (cent is a unit measurement of land used in India's southern states with one cent equal to 1/100th of an acre).
Joseph produced a slightly different version of Tom's will after Roy's death in 2011, Rojo alleged in his police complaint.
Mohammed Bawa, a neighbour, also said he'd seen Joseph present the allegedly altered will to Rojo and Renji at Roy's funeral. "The second time, the will had additional signatures of witnesses and revenue stamps," he claimed.
The second document, of which HuffPost India has a copy as well, has the same text in Malayalam and additionally, three signatures — of two witnesses and one notary public. Bawa, who is aiding the police investigation, claimed the wills were forged with the intention of cutting off Rojo and Renji from their father's property.
"Rojo and Renji grew suspicious but did not report the matter to anyone else because they feared Roy's good name and the family's reputation would be affected," he said.
The police have not verified the authenticity of the documents and of Tom's signature. It is also unclear if the witness signatures were added after Tom's signature was taken, as is reportedly the practice in many small towns in Kerala.
Tom bought the house and land about 50 years ago when he moved his family to Koodathayi from Kottayam. At the time, Roy and Rojo were children while Renji had not been born yet, said another neighbour, Aiysha. Under the Indian Succession Act, 1925, the property would have been divided equally among Tom's children had there not been a will. But in the presence of a will, the law states that the property belongs to those named as heirs in the document.
The doubts over Tom's will lead to the question of whether the case started off as a family dispute over property that snowballed into a major murder investigation. The events following Roy's death suggest the fight between his siblings and Joseph began in earnest when she staked her claim to his property. Her two sons were minors then.
Here's what happened after Roy's death in 2011. When Rojo, who lives in the United States, came home for the funeral, he suspected Roy had not died simply of cardiac arrest, as Joseph had claimed. A post-mortem examination had been conducted. He requested the police for a copy of the report but was turned down, Bawa said. Much later, Rojo managed to get hold of the report.
Rojo and Renji, who lived in Sri Lanka, spent the next few years negotiating the terms of Tom's will with Joseph, Bawa said. All this while, they suspected the authenticity of the document, he added.
Things changed after Joseph married Shaju. Bawa said Rojo and Renji decided Joseph no longer had any right to the property, though they acknowledged her sons as rightful legal heirs. "We realised Jolly need not be protected anymore as she was already married to Shaju," said Bawa. "Rojo challenged Roy's death at the Thamarassery deputy superintendent of police office [in August 2019]. The forged documents were also handed over to them."
A preliminary investigation by the Thamarassery police said Roy's death could be a case of suicide. The same police station had in 2011 ruled that Roy had died a natural death. The crime branch took up the case and a month later, it was handed over to Kozhikode Rural Superintendent of Police KG Simon. Simon's team arrested Joseph on October 5.
Coinciding with the investigation, Joseph reached an agreement with Rojo and Renji in September to divide the property and another 50 cents of land equally between the two siblings and her children, Bawa said. A civil case to this effect was concluded in August. However, Joseph insisted Rojo drop his demand for an investigation into Roy's death, Bawa added. "She threatened to pull out of the land deal and refused to sign the partition papers," he alleged. "Rojo and Renji convinced her they'd dropped the case and only then did Jolly sign the papers. Now the property is registered with equal shares for Rojo, Renji and Roy's two children."
Simon confirmed the property dispute had been settled by the time he took charge of the investigation in September. He also said he had inspected both the versions of Tom's will. He added that the police were not looking at the property row in detail "because, as per Jolly's confession, Tom Thomas alone was killed for property. The others were killed for other reasons, which basically means she has a murderous instinct".
Simon denied that the motive behind Rojo's demand for an investigation was the property dispute with Joseph. "Rojo challenged only Roy's death, it was our investigation that led us to realise Jolly had killed other members of the family," he said.
The top priority for the police, therefore, seems to be to prepare for a long-haul legal battle against Joseph, which seems imminent.
Despite numerous attempts, Rojo and Renji could not be reached for their comments.