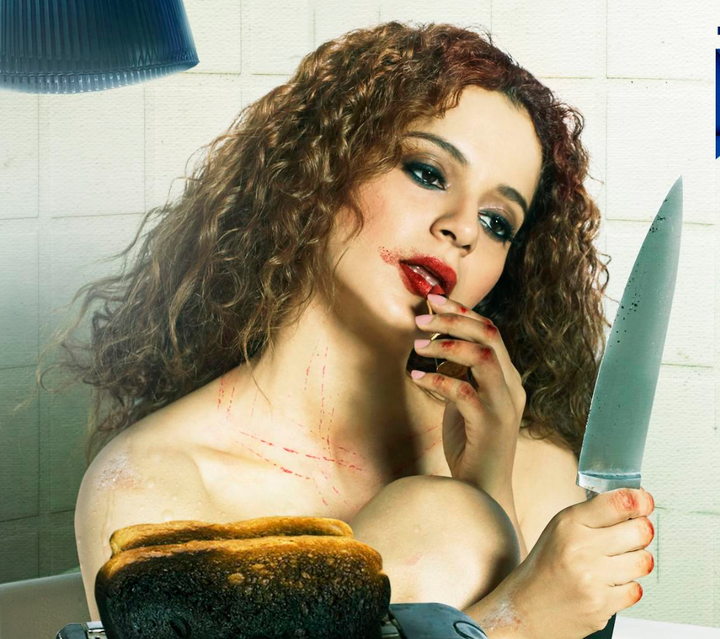 In one of the early scenes in Prakash Kovelamudi's Judgementall Hai Kya (earlier titled Mental Hai Kya), Kangana Ranaut's Bobby, a dubbing artist, smacks a guy at the dubbing studio, potentially jeopardising future gigs. Her manager, who's also her on-off boyfriend, tells her, "Koi kaam nahi dene wala tujhe." The one time she does land a job, he warns her, "Studio jala ke mat aana."
Given the numerous controversies surrounding Ranaut (most recently, she went on a tirade against a PTI reporter), it's impossible not to read this scene as self-referential, a meta moment where Ranaut the star is having fun being Ranaut the actor, harnessing her real-life adventures into a fictional narrative, bringing a self-awareness that makes the visual experience of Judgementall Hai Kya surreal.
The Kanika Dhillon-penned film, the story of a character suffering from acute psychosis, is laced with several meta moments. A film within a film, called Zara, is shown as being produced by Shailesh Singh, the co-producer of Judgementall and a number of other Ranaut films. Bobby's house has her pictures but they aren't just any pictures, they are stills from Ranaut's past films such as Tanu Weds Manu and Queen. When Bobby struggles to get gigs, she complains, "Kaise kaise logon ko yahan kaam mil jaaata hai," repeating a criticism she's often made in real life, about Bollywood being a nepotistic and unfair industry.
More urgently, Bobby being branded a 'mad woman' in the movie echoes and exposes the soft whispers within Bollywood around Ranaut herself and her relentlessness in picking fights. Is Ranaut responding to a cultural environment that's hellbent on branding her as unhinged?
Even discounting the possible real-life connections, Judgementall Hai Kya is quite unlike anything Bollywood has experimented with.
While Hollywood has made a prototype out of the unreliable female narrator (Gone Girl, Sharp Objects), this hasn't been fully explored in Hindi films. In Judgementall, Bobby has an unreliable mind and her version of events cannot be trusted. She's yet to process her childhood trauma and projects her paranoia on those around her. When Keshav (Rajkummar Rao) and his wife move in as tenants in her house, Ranaut's suspicions and delusions reach self-destructive heights after she accuses him of murder.
How the two outwit each other and the viewer forms the crux of the story, which paces around with a trippy, electrifying energy.
Visually, the film employs a kitschy colour palette which goes neatly with its mythological undertones. Sita's victimhood is invoked rather frequently and the lines between Ram and Ravan keep blurring, suggesting that male violence towards women isn't confined to just one of them. The bro code is universal.
The tonal consistency of the film is remarkable. Even when the drama shifts from Mumbai to London, the visuals rearrange themselves as Bobby's house in the UK slowly stars metamorphosing to resemble her Mumbai apartment. The film's unhurried cinematography (Pankaj Kumar) carries a sense of impending doom but what's most fascinating is the way it straddles genres. The minute things get dark and edgy (and they get really dark and edgy), they're defused with humour and sarcasm. But the language of horror is present even in the sarcasm.
Bobby is no stock femme fatale. She's a spinning top. As a woman perennially on the verge of a nervous breakdown, Ranaut is outstanding as Bobby, disappearing into the troubled mind of a deranged woman. As Ranaut embodies a character so awfully sad and tragic, one almost wants to be a voice in her head and tell her that it's going to be all right. The world isn't out there to get you and that that your persecution complex is misplaced.
Rajkummar Rao is reliably good as the hyper-sexualised Keshav and straddles between being the ideal husband and the manipulative dude bro. Dhillon's writing makes our sympathies constantly shift from Bobby to Keshav, throwing us into constant moral conflict until the film's graphic, violent final act, when things come into sharp focus.
However, despite sharp performances and a unique screenplay, Judgementall Hai Kya isn't without its flaws. The coincidences in the film are one too many, the pace dips towards the second half, and the scenes where Ranaut sees the physical manifestations of the voices in her head drag on. Jimmy Shergill's cameo, too, appears half-baked and hurriedly weaved in.
While these shortcomings hamper the overall experience of an otherwise solid film, they don't take away from its central idea.
At its core, Judgementall Hai Kya tells a vital story about the pervasiveness of domestic violence and the fact that often, the victim isn't just the woman at the receiving end of that violence, but also those who witness it intimately, internalising the angst, grief and trauma, which ultimately percolates and wreaks havoc into their lives.