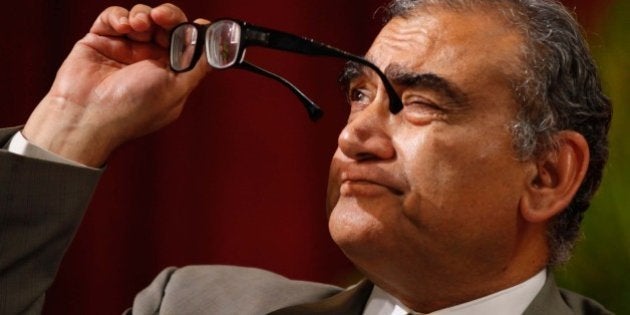 Justice Markandey Katju has done it again. The former chairman of Press Council of India and erstwhile Supreme Court judge posted in social media on Tuesday that beautiful women should be elected as politicians so as to get "momentary happiness looking at her face in the media."
He had previously made controversial statements on gay marriages and single women, claiming he disapproved of both.
"Croatia, which has an ailing economy, has elected a beautiful woman, Ms. Grabar-Kitarovic, as its President," wrote Justice Katju. "I am always in favour of electing beautiful women, like film actresses, on all posts."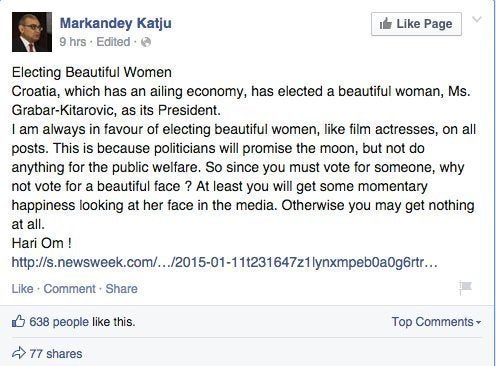 According to him, this was because politicians made big promises but failed to do anything for public welfare.
"So since you must vote for someone, why not vote for a beautiful face? At least you will get some momentary happiness looking at her face in the media. Otherwise you may get nothing at all."
In the barrage of comments to his post that followed, Justice Katju has said that he regarded Sadhvi Niranjan Jyoti better looking than HRD minister Smriti Irani. He also said that Irani needs to "lose some weight if she wishes to be the Prime Minister."

When asked if popular Bollywood actress Katrina Kaif should be made Prime Minister, he wrote, "On one condition: that after becoming Prime Minister she sings 'Sheela ki Jawaani' in a televised public show," posting the video of the item song in the comment.
He later published a blog post on his website too, titled "Katrina Kaif for President of India," where he suggested Kaif as India's next President, provided she sang 'Sheela ki Jawaani' at her inaugural.
@HelloAKDwivedi Why not ? We could make Katrina Kaif P.M.and then ask her to sing 'Sheela ki Jawaani ' after her Inaugural !

— Markandey Katju (@mkatju) January 13, 2015
Asked if he missed beautiful women during his judicial career, Katju said that there were "many very beautiful lady lawyers in the Supreme Court and in the Allahabad, Madras, and Delhi High Courts where I sat."
In his comments to the Facebook post, he also suggested that Congress' Priyanka Gandhi was not "beautiful."

He claimed that the "only woman fit to be Prime Minister" was the late actress Madhubala.