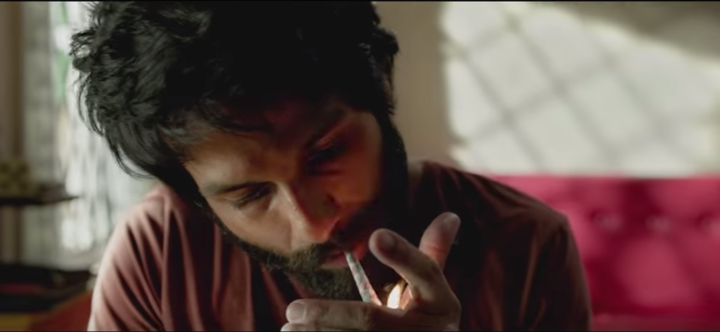 My biggest takeaway from watching Shahid Kapoor's Kabir Singh is simple: In real life, if you run into someone like this man, please convince the first auto driver who'll stop (lie down on the road if you have to) to take you far, far away. Because five minutes with Singh would be the equivalent of being stuck in the comments thread of a woman who has tweeted 'equal rights'. The only way you'd survive is if you scooped your brain out or frantically typed #NotAllMen. Kind of the same thing really.
Simply put, Kabir Singh, the Hindi remake of Telugu superhit Arjun Reddy, starring Vijay Deverakonda, is obnoxious. The film looks at emotional abuse, physical violence, alcoholism and self-harm through a fatuous romantic lens.
Here's a question to the film's makers: If you were made to chew a chappal, would it taste like tandoori chicken if an Arijit Singh song played in the background?
If the answer is 'no', then they should know that even if Arijit Singh shouts 'bekhayali', 'pyaar', 'dil', 'dard', 'extreme dard' and 'blocked-on-Facebook level dard' in the background, hitting a woman remains an act of violence, not a show of love.
Like Arjun Reddy in the Telugu film, Kabir Singh is an entitled medical student in Delhi with serious anger issues and disrespect for people. But somehow, the people around him still seem to like him, either because Delhi's summers have fried their brains or Shahid Kapur's abs are a great pacifier. Singh is on the verge of getting suspended from college for getting into a brawl during a football match when he spots Preeti. Now, Preeti (played by Kiara Advani) is the human version of a wind chime — beautiful, easily swayed, and occasionally making pleasant cooing sounds. Basically, the kind of woman every misogynist would want if they had a magic lamp or something.
Preeti doesn't speak, she barely raises her face to look up at people, she doesn't speak. Did I mention she doesn't speak? Honestly, paani puri sellers take more time to decide if they should give you a sukha puri than it takes Singh to decide that Preeti is 'his'. Convenient choice, since by then it has been established that Singh would curse, shout at or punch anything that shows a tendency towards human characteristics like speaking, arguing etc. Considering Singh is the college's resident girl rakshak, people are terrified of Preeti as well.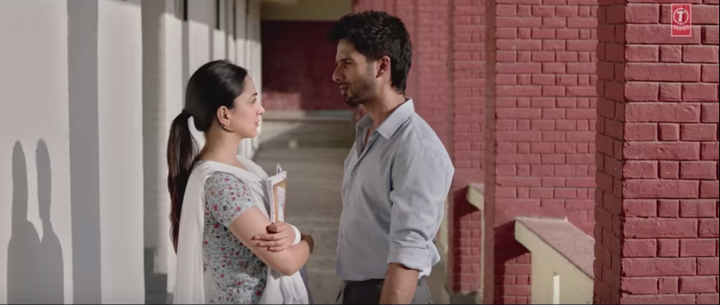 The 'romance' in Kabir Singh, starts with the man coercing the woman into doing things — insisting he teach her instead of the professors, employing a bunch of people to make sure no one puts colour on her on Holi before he does, deciding who sits beside her in the class, choosing which bench she sits on.
As Singh goes around being a class A jerk, the background music is romantic and sappy. A few days after Singh spots Preeti, and literally one conversation later, he kisses her in public like she isn't a woman with agency but a bread pakoda. And at one point in the film, in case our womenly brains couldn't get that Singh is basically treating Preeti as his property, he spells it out: 'Tu Kabir Singh ki bandi hai (you are Kabir Singh's girl)'.
As this absurd 'love story' continues, Singh mansplains to a former class topper that MBBS is an important course, tells her that 'fat girls' always make for good friends for pretty girls, and generally convinces most women watching the film that it would be better to adopt a monkey and spend the rest of their lives with it instead of a man.
When their epic romance hits a roadblock after Preeti's father refuses to let him marry her. Singh falls into a violent, self-destructive spiral and goes around drinking and shouting and howling at everything that moves. And people still like him. It's like they are suffering from a strange case of 'acche abs aane wale hain'.
It's not impossible to understand why Arjun Reddy was remade by Bollywood. Usually, paying elaborate song-and-dance odes to the great tradition of men fighting over parking spots have worked wonderfully well when the latter were replaced with women. So there.