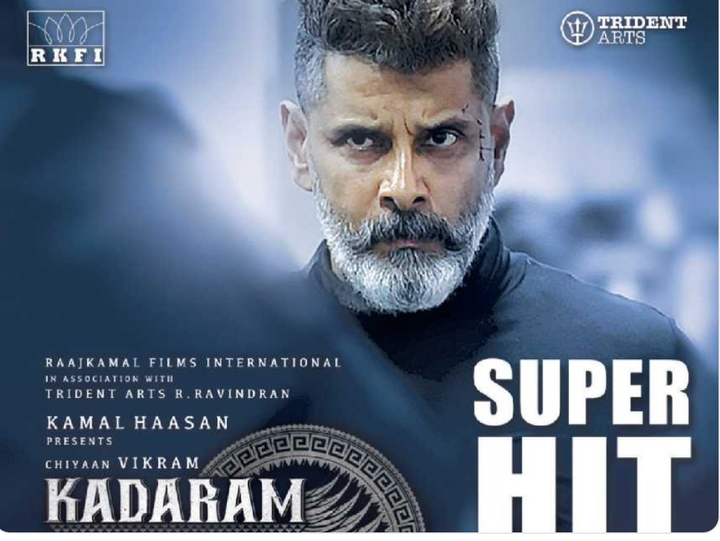 If you've watched director Rajesh M Selva's previous endeavour Thoongavanam (2015), you'll find his recent film, Kadaram Kondan very familiar. There is a lot that's common among the two films: They are both remakes of French films, action thrillers, about corrupt cops and revolve around the rescue of someone who has been kidnapped. Unlike Thoongavanam, the latter plays safe, so ends up short of what it could have been.
Kadaram Kondan is the story of KK — a hired thief and "intelligent" criminal with a long chargesheet — who gets entangled in a murder-blackmail scheme. Also entangled in this mess are Aathirah and Vasu, a young pregnant couple. The film is about how these three escape their situation and overcome their circumstances.
One of the biggest troubles of Kadaram Kondan is its structure as a series of vehicular action sequences interspersed with dialogue as explanation. The film doesn't challenge the audience to watch and infer anything. It sits us down and talks to us. For instance, KK's characterisation is done through a monologue, in which one of the cops briefs her colleagues about him. The plot unveils a few minutes into the second half, as one of the villain's henchmen talks us through the crux of the film — the crime, motive, location of evidence and everything. There is a liberal use of radio commentary to set context. For the most part, it works.
Akshara Hassan, as the very pregnant Aathirah, does an adequate job of the little that's written for her. Much of the film's impending doom relies on her fear and she does a convincing job of a scared woman in a new place. But, she is nagging, insecure and even suspicious at one point. A few more scenes along these lines might have made her truly a troubling caricature. Abi Hassan, as her husband Dr. Vasu, gets a lot more screen time and opportunity, and he tries his best. The earnestness of Abi's efforts doesn't translate to a moving performance, but it doesn't hinder the film either. But their relationship is somewhat ill-defined.
The establishing montage song between the pair is saccharine in its cuteness — at one point, Vasu throws grapes across the table into Aathirah's mouth. She returns the act of romance by throwing an orange at his face and laughing uncontrollably. Immediately after this song, she guilt-trips him about not being with her all the time. There appears to be some trouble brewing between the two, and their families, which never gets explored. But that's perhaps because this film is not about them.
Kadaram Kondan is a film about KK. And Vikram, as KK, walking in slo-mo to mass background music, holds up this otherwise simple film. At the hands of a lesser actor, Kadaram Kondan might just have been laughably silly. With Vikram, it merely appears plain. He makes his stoic demeanour, measured words, glint in his eyes and the perpetually epinephrine-d strength fit into the profile that has been built up for him. Even his unusually deep voice doesn't cause as much distraction as I worried it might.
In that sense, whether one enjoys Kadaram Kondan or not might eventually come down to where one sets the bar. If your scale is the regular fare Hari cop film — Vikram's own Saamy Square (2018), for instance — Kadaram Kondan is an infinitely better film. Even among the new age crime genre — of D16 (2016) and 8 Thottakkal (2017) — Kadaram Kondan is fairly competent.
For me, Kadaram Kondan was unremarkable. I am not complaining, but there is nothing to write home either.