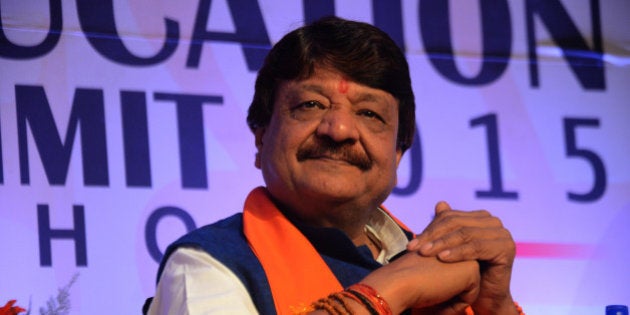 Just this morning finance minister Arun Jaitley was heard wondering aloud what this intolerance everyone was crying out aloud was about. Here is a sample from a senior leader of his own party.
Attacking Bollywood actor Shah Rukh Khan for his remarks on religious intolerance in the country, the national general secretary of BJP, Kailash Vijayvargiya, said on Monday that the actor lives in India but "his heart is in Pakistan".
Vijayvargiya joins Vishwa Hindu Parishad leader Sadhvi Prachi who called Khan a 'Pakistani agent' and the numerous brand ambassadors of Hindu generosity on Twitter who said that the actor owed his success to them 'tolerant' Hindus.
In a series of tweets, the senior BJP leader said that Shah Rukh's "tune is to sing with Pakistan and forces against in India."
शाहरुख़ खान रहते भारत में हैं पर उनका मन सदा पाकिस्तान में रहता है। उनकी फिल्मों यहाँ करोड़ो कमाती है पर उन्हें भारत असहिष्णु नजर आता है 1/5

— Kailash Vijayvargiya (@KailashOnline) November 3, 2015
"His films make crores here but India seems intolerant to him," the former cabinet minister tweeted.
यह देशद्रोह नहीं तो क्या? भारत संयुक्त-राष्ट्र का स्थाई सदस्य बनने को है, पाक समेत सभी भारत विरोधी ताकते इसके विरुद्ध षड्यंत्र रच रही है 2/5

— Kailash Vijayvargiya (@KailashOnline) November 3, 2015
भारत मे असहिष्णुता का माहौल बनाना षडयंत्र का हिस्सा है। शाहरुख़ ने 'असहिष्णुता का राग' पाक व भारत विरोधी ताकतों के सुर में सुर मिलाना है 3/5

— Kailash Vijayvargiya (@KailashOnline) November 3, 2015
आज सारी दुनिया भारत व उसके नेतृत्व का मान कर रही है, ऐसे में यहाँ असहिष्णुता बढ़ने की बात करना, दुनिया के समक्ष भारत को कमजोर करना होगा। 5/5

— Kailash Vijayvargiya (@KailashOnline) November 3, 2015
"Isn't this treason? India is about to become a member of the UNSC. All forces opposing India including Pakistan are conspiring against it," Vijayvargiya said.
"When hundreds were killed in Bombay in 1993, then where was Shah Rukh Khan? When Mumbai 26/ 11 attack was where Shah Rukh?" he asked on Twitter.
जब 1993 में बॉम्बे में सेकड़ों लोग मारे गये तब शाहरुख़ खान कहाँ थे? जब मुम्बई पर 26/11 को हमला हुआ तब शाहरुख़ कहाँ थे? 4/5

— Kailash Vijayvargiya (@KailashOnline) November 3, 2015
Vijayvargiya, in fact, has a problem of foot-in-mouth. The BJP leader stroked a controversy when he termed the 'Vyapam' scam as a "small scandal" even as the CBI took over the probe into the massive admission and recruitment scandal which has rocked Madhya Pradesh.
"For us it (Vyapam) is a chutput (small) scam. It may be big for you," he had told reporters in Bhopal.
After the death of TV journalist Akshay Singh, who was investigating the unnatural deaths in the scam, he had reportedly said, "Is a journalist bigger than me?". Later, he tried to defend himself by saying he was only 'joking.'
However, the government has distanced itself from the BJP leader's comment. Union Minister Prakash Javadekar said Vijayvargiya was not a party spokesperson. "I condemn his comments outright," he said.
The BJP leader's comments comes a day after Khan, celebrating his 50th birthday in Mumbai said he supports the artistes who have returned their awards and believes they are brave.
Acknowledging that "there is growing intolerance" in the country during a question-and-answer session with Twitter users hosted by journalist Rajdeep Sardesai, the actor said he stood with the growing number of people, mocked by their critiques as the 'award wapsi gang' (award return gang), who have returned their laurels protesting intolerance of supression of free speech.
When asked if he would give up the Padma Shri, India's fourth highest civilian honour, he was awarded in 2005, Khan said he would, as a symbolic gesture.
"Yes there is intolerance, their is growing intolerance. People put words in the air even before thinking. We keep talking about the new India, but if this not country is not secular, happy in its approach and allowing people to be... the youngsters are not going to stand for it. It's stupid to be intolerant. And this is my biggest issue. Not being secular in this country is the worst kind of crime you can do as a patriot," he had said.
And with his comments, Vijayvargiya has proved Khan was spot on.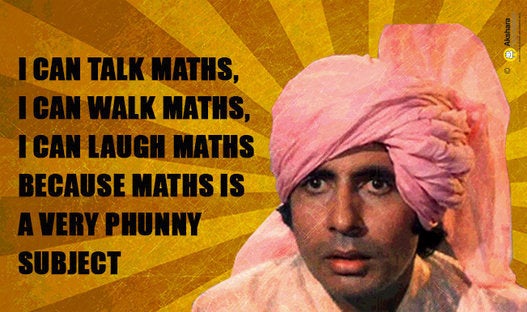 Bollywood Icons Talk About Mathematics