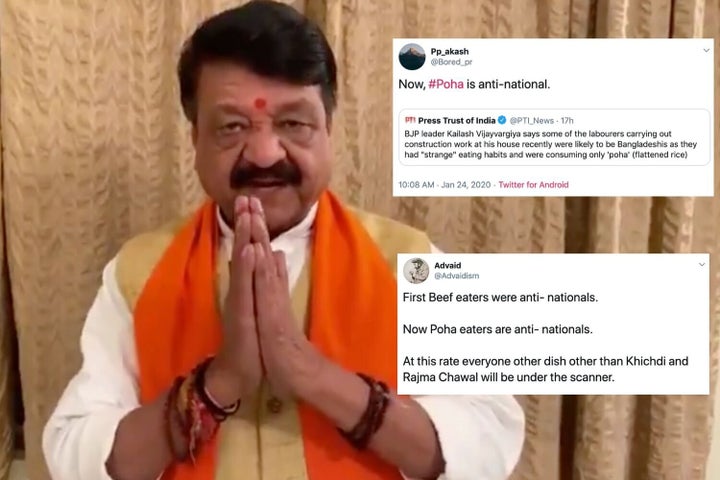 And then they came for poha.
The well-known breakfast dish/evening snack popularly made and consumed in multiple Indian states.
Why? Because BJP's Kailash Vijayvargiya decided it was "strange" that the construction workers working on his house ate it frequently.
When reporters questioned him later, Vijayvargiya said, "I suspected these workers were residents of Bangladesh. Two days after I became suspicious, they stopped working at my house.
"I have not filed any police complaint yet. I only mentioned this incident to warn people," he said.
The outlandish connection made by Vijayvargiya astonished people, who said the BJP leader had found new ways to harass and exclude people.
People questioned the manner in which the workers may have been treated by Vijayvargiya.
Bear in mind Vijayvargiya, a BJP national general secretary, is from Indore. He has been the mayor of the Indore Municipal Corporation and represented Indore in Madhya Pradesh's Vidhan Sabha from 1993-2003. (He did also recently threaten to set Indore on fire while threatening government officials in the city, so there's that.)
The poha-jalebi combination is a well-known delicacy of the city.
But people from other states also chimed in about how common eating poha was.
BJP MLA Gautam Gambhir got dragged into the conversation for eating poha last year.
BJP leaders have made so many ridiculous comments over the years that it's easy to dismiss this as just another one on the ever-growing list.
But, the ruling party has often used food as a political tool, more so since coming to power in 2014.
In 2015, the Shivraj Singh Chouhan-led BJP government in Madhya Pradesh removed eggs from mid-day meals. The central government banned the sale of cattle for slaughter in 2017. The so-called "beef ban" led to a spate of lynchings and killings in the name of cow protection, most of the victims being Muslims.
The same year, CM Yogi Adityanath ordered raids on slaughterhouses and butcher shops in UP. "Muslims, as the largest producers and consumers of meat in the state, were not fooled: they saw this as an attack on their livelihoods and food habits," Scroll's Supriya Sharma wrote.
The effect of such rhetoric has also been insidious and normalised a certain kind of ostracisation. Last year, Zomato CEO had to step in after a customer said he did not want a Muslim delivery executive to bring him food during the 'holy month' of Shravan.
Just recently, Kerala Tourism was trolled for posting the photo of a beef dish, with people saying they would stop visiting the state.
It's also begun to move beyond non-vegetarian food.
The Indian railways faced severe backlash this week after it tried to replace popular Kerala snacks and dishes with North Indian food on menus of trains and stations in the state. People called it "cultural fascism".
In 1996, Kancha Ilaiah wrote food rights were part of people's "civil and democratic rights".
"A political party or a government cannot suspend food rights of people simply because the leadership of a ruling party does not like the taste of a particular food, or because it considers some animals sacred," he said.
In the context of CAA and protests against the controversial act, Vijayavargiya's comments assume even more significance.
In November 2019, 180 Bangladeshis were arrested while fleeing India due to "unfavourable conditions". West Bengal BJP hailed this news as "fear of NRC".
Last Sunday, the Bruhat Bengaluru Mahanagara Palike razed a 100 shanties in Bengaluru's Bellandur after a BJP MLA claimed Bangladeshi immigrants were illegally staying in the area. Resident and lawyers called the demolition arbitrary and illegal.
As protests against CAA, NRC and NPR spread across India, the Katatare Prajapati Collective, a group of Bangladeshi writers, artists and academics, wrote in Scroll that India was using its neighbours as political scare objects. "Incendiary language is now an instrument of choice by even senior elected representatives of India's government, equating Bangladeshis to 'termites' and 'illegal infiltrators' who need to be uprooted. History reminds us that the rhetoric of dehumanisation is the first step toward violent actions that destroy the foundations of any democracy."