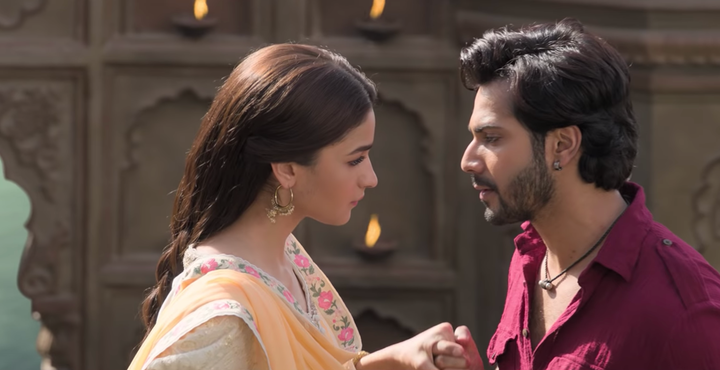 Abhishek Varman's Kalank, the latest all-star vehicle from Karan Johar, is an occasionally moving, largely unsatisfying melodrama that suffers from the same syndrome plaguing many period sagas: obnoxiously liberal doses of 'mohabbat,' 'shiddat' and 'haqeeqat' and not enough 'mehnat' on the writing.
In the movie, set against the backdrop of the years leading up to India's bloody Partition, Alia Bhatt's Roop finds herself becoming the reluctant wife of Dev Chaudhry (Aditya Roy Kapur), a prosperous newspaper editor who's yet to reconcile to the thought of his first wife, Satya, (Sonakshi Sinha) dying of a terminal illness.
As Roop enters the opulent Chaudhry household, headed by patriarch Balraj (Sanjay Dutt), she is soon inexorably drawn to Varun Dhawan's Zaffar, a bastard child who lives on the wrong side of the tracks, in the notorious Heera Mandi, an area known as much for its razor-sharp blacksmiths as much as for its most famous inhabitant, a courtesan called Bahhar Begum (Madhuri Dixit).
Varman, who made the fairly enjoyable 2 States before this, spends a chunk of the film's first half neatly constructing the complex plot, placing all his characters in such emotional proximity that they are set to conflict with one another.
The visual grammar of the film is borrowed from Sanjay Leela Bhansali's melancholic template and several scenes—curtains billowing, and windows and doors opening and shutting with dramatic flair—pay homage to Bhansali's arresting yet over-the-top visual panache. Binod Pradhan, a cinematography veteran, conjures beautiful, poetic frames, but is betrayed by the lack of soul that could give life to his imagery.
That's precisely the problem with Kalank: it's beautiful but its beauty is purely ornamental. The Dharma-tization of the production design, whether it's a palace or a ghetto, ensures that everything looks slick, sharp and sexy, with not even a strand of hair out of place. The inhabitants of this gorgeous universe mouth lines that reach their lips but never their eyes.
Hussain Dallal's dialogue is heavy with meaning. There's genuine poetic brilliance to the proverbs and parables through which the characters interact, but the delivery fails. Sonakshi Sinha, stunning even in sickness, utters her lines without actually feeling them while Aditya Roy Kapur looks like he's reading out from a teleprompter.
The characters actually talk like they have been handed a Rumi dictionary except that instead of musing about it on Instagram, they've to play the parts in real life.
Trouble. Because no filter can save a bad performance.
Even Sanjay Dutt, who appears understated for the most part, falters in the dramatic sequences, overplaying and hamming it out. The usually reliable Alia Bhatt, caught between pursuing a forbidden romance and saving honour and dignity of the household, appears disinterested in her character, as if she's consciously trying to disassociate herself from the hyper-stylised syntax of the Kalank universe.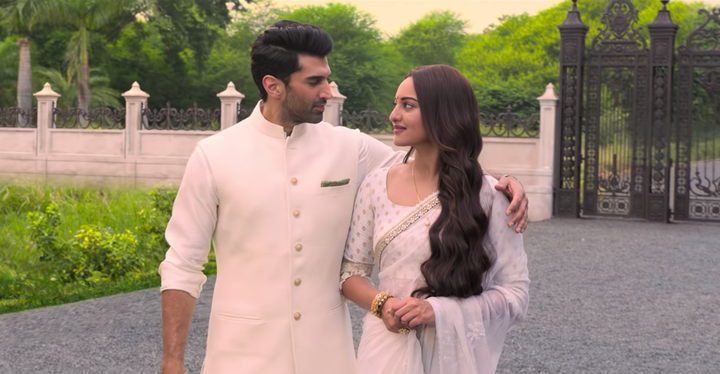 Varun Dhawan sears with the intensity and rage stemming out of childhood neglect and societal oppression but in a mediocre ensemble where Kunal Khemu shines the brightest, it isn't saying much.
The film's third act is so abrupt and muddled, it feels detached from the rest of the movie, which works purely on layered, emotional complexities. An interesting sub-plot develops between Roy Kapur and Bhatt's characters but the desire for melodramatic impact overpowers any subtleties that could've potentially risen.
Somewhere in Kalank, there was an interesting story about societal conventions dictating our romantic narratives and how any subversion of the status quo leads to violent outbursts, but the film is so obsessed with looking poetic and lyrical that these ideas take a backseat and the shimmering lehengas and colour co-ordinated kurtas dominate.
There's artistry in technical flourish and Kalank does a commendable job of this, no doubt. Through its title and some hyper-verbose monologue, the film also insists on destigmatising the idea of love, letting love win in times of raging hate, and the the horrors of communalism, but in the end these just end up being mere words to serve an undercooked love story.
A love story that you don't root for is a love story that perhaps lacks love. Repeating 'shiddat' and 'mohabbat' do not an epic romance make.