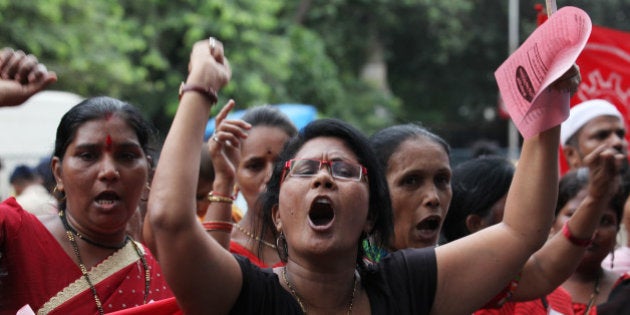 Former Vice-Chancellor of Kannada Hampi University and atheist scholar, Malleshappa M Kalburgi, was shot dead by unidentified men Sunday morning. Kalburgi, who until three months ago, had police protection has had run-ins with fundamentalist groups. According to The Hindu, he was shot point blank at his doorstep by one of two men on a motorcycle.
On August 20th, 2013, Narendra Dabholkar, a medico-turned-campaigner against superstititions, was gunned down by unknown motorcycle-borne assailants in Pune while on a morning walk.
Kalaburgi was awarded the National Sahitya Akademi award in 2006 for Marga 4, a collection of hundred of his research articles. He was a noted Kannada epigraphist and a renowned scholar of the Vachana literature. However, his scholarship on the Vachanas has come under acute criticism in the 21st century.
Last year, Kalburgi's comments at a public programme sparked outrage and a court case, when he criticised idol worship by quoting a section from Ananthamurthy's 1996 book 'Bettale Puje Yake Kadadu' - Why offering prayers in the nude is wrong'. Rightwing groups such as the Bajrang Dal, Vishwa Hindu Parishad and Sri Rama Sene held statewide protests.
"During one such protest outside his house, activists of the Bajrang Dal targeted him with stones and soda bottles," his neighbour Thigadi told the Hindustan Times.
The Dharwad police has not yet made an official statement about the killing. "We are waiting for the autopsy report," said a senior police officer.
Kalaburgi has had several other tiffs with religious authorities. In the early 80s, religious zealots belonging to the powerful Lingayat community came down heavily on Kalburgi and he was forced to recant the allegedly derogatory references to the founder of Veerashaiva-the liberal Shaivism followed by Lingayats-Basavesh-wara, his wife and sister.
The denouncements grew louder among the community and he was summoned to a math in Hubli and forced to 'recant' a life's work.
Kalburgi's writings are a product of extensive research. Marga-One is a collection of papers on Kannada folklore, religion and culture. The controversy revolves around two articles which deal with Basaveshwara's wife and sister.
Though Kalburgi had apologised to the Lingayat seers, the controversy continued, with the fundamentalists demanding that the book be proscribed. This prompted him to declare that he would never again pursue any research on Lingayat literature and Basava philosophy.
Dr Kalburgi was born in Yaragal village of the erstwhile Bombay Presidency (now Singdi taluk of Bijapur district) of British India to Madivalappa and Guramma. He received primary and high school education from a school in his village and Singdi. He received his Bechelor of Arts degree from a college from a college in Bijapur and Master of Arts in Kannada language from the Karnatak University in 1962.
In 1966, he got promotion in the Kannada department at the university. He also served as a vice-chancellor of the Kannada university, Hampi before retiring from services.



Popular in the Community