A day after superstar Shah Rukh Khan made an emotional pitch for religious tolerance, legendary Indian actor Kamal Haasan on Tuesday weighed in on the contentious debate that has split opinion on whether India, under the central rule of a right wing government, is grappling with increasing intolerance.
Today, when Haasan was asked the same question by reporters, he echoed similar sentiments. However, while Khan said he stood with those returning their awards in protest against several incidents that have threatened the nation's secular credentials in recent times, the Tamil star's resolution for the problem was slightly different.
Kuchh nahi hoga. There are many more ways of bringing attention to the cause.
"It's nothing new. There has always been intolerance... even way back in 1947... that's why we are two nations. Otherwise we could have been one big, beautiful country (India and Pakistan) and have taken on China. (Intolerance) should not divide the nation again. Every five years we should debate this. I tolerate all religions, though I'm not religious myself," he said.
Haasan also took dim view of the return of state honours by writers and artists. When asked if anything would come off such a protest, he answered: "Kuch nahi hoga (Nothing will happen). There are many more ways of bringing attention to the cause, one article from any of these people will have the same effect." Haasan said he will not return the three National Awards he won as an actor.
Both Khan and Haasan have been through communal politics before.
In 2010, when Khan, who is part-owner of Indian Premier League cricket team Kolkata Knight Riders, spoke against the exclusion of players from Pakistan in the IPL Twenty20, thousands of people vandalized cinema halls playing his then release My Name Is Khan.
"I request everybody to leave the film alone and deal with what I have said as an individual," Khan was eventually forced to tell reporters. A candid Khan told Rajdeep Sardesai, who was hosting the event, that a producer had the responsibility of an entire unit, and often was responsible for the livelihood of hundreds. When an actor takes a stand and it results in stonewalling of his films, it becomes counterproductive.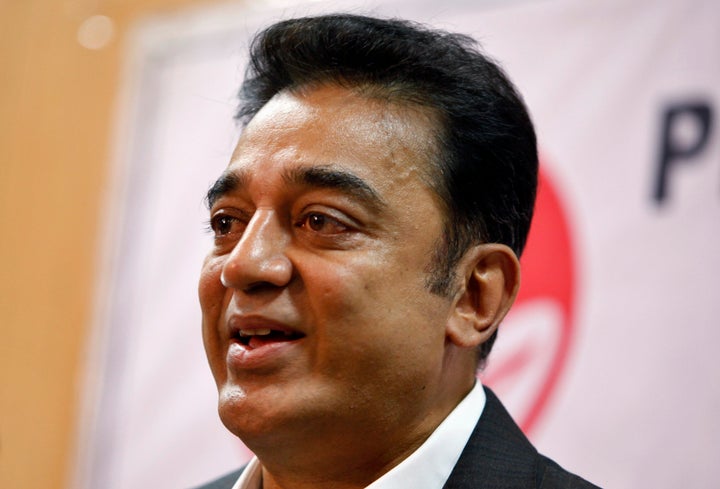 "It's unfortunate, sad and pathetic," he admitted, but it was how things stood in Bollywood.
No matter what his stand is on the protests critics loosely term 'award wapsi', Haasan isn't new to political controversies.
In 2013, at the time of the release of his film Vishwaroopam, Haasan was told by groups in Tamil Nadu that the film would hurt Muslim sentiments, despite the film passing all Central Board criteria. Citing law and order problem, the state authorities decide not to release the film in Tamil Nadu amid huge protests by film industry against the blatant curb on free speech.
Haasan even said he would be forced to leave the state because he was fed up at the "political game" involving cinema.
"I think Mr Kamal Haasan is the most intelligent actor we have today. He doesn't agree with 'award wapsi' and that's absolutely fine. Intolerance has always been there, but now spiralling into something big. Kamal Haasan has spoken about intolerance and that is important. It's not important whether he returns his awards or not," actress Khushboo Sunder told TV channels.
What started as a trickle of writers giving up their Sahitya Akademi awards a month ago in protest against the killing of rationalist writers, and the Akademi's silence after the murders, turned into a flood with authors across India joining their voices with the likes of Nayantara Sahgal and Uday Prakash. Scientists, filmmakers, business leaders and historians have joined the chorus since then.
The government's response has been largely sceptical. Finance minister Arun Jaitley has dismissed these protests as "paper rebellion" and "manufactured protests" implying that there's political motivation behind them.
Earlier in the day, Jaitley said India has never been intolerant and never will be.
"I have already said that there is complete peace in the nation. There is an environment of faith in the entire country. India has never been intolerant and will never remain intolerant," ANI quoted Jaitley as saying at the press conference of the International Film Festival of India 2015.
"There is no point in raising the issue of intolerance just by making false statements. If they (opposition) are saying that there is intolerance then where it is. There was no point to raise this issue for political gains," he added.
The Finance Minister pointed out that there was no point in linking the incidents which took place under the UPA's regime in Maharashtra to the current state of affairs. Jaitley had earlier asserted that India remains a highly tolerant and liberal society and had accused the obstructers of 'wanting to project India as an intolerant society'.
"There are many who have never intellectually accepted the idea of the BJP being in power. This obviously includes the Congress, many left thinkers and activists. Over decades they have practiced ideological intolerance towards BJP. They wish to project India as an intolerant society but the truth is otherwise," Jaitley had said in his Facebook post.
"If anyone (Shah Rukh Khan) is saying that intolerance should not be there then what's wrong in it?" he said.
Haasan's comments will come under the close scrutiny of both camps. (With ANI inputs)