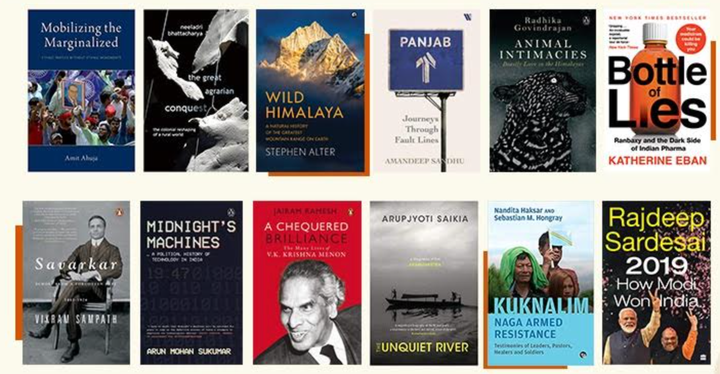 Senior journalist Rajdeep Sardesai's analysis of the Narendra Modi-led BJP's thumping victory in the 2019 general election and historian Vikram Sampath's biography of right-wing ideologue V.D. Savarkar are among the 12 books in the running to win India's richest literary prize for non-fiction books this year. The longlist for the Kamaladevi Chattopadhyay NIF Book Prize, announced on Wednesday, also includes Bottle of Lies, Katherine Eban's investigation into the dubious practices of the Indian drug industry, and Radhika Govindrajan's Animal Intimacies, on the connections forged between humans and animals in Kumaon.
The winner, who will be announced in December, will receive Rs 15 lakh.
More than 100 entries were submitted for consideration for this year's prize, which was open to books published in 2019. The longlist was chosen by a jury which includes political scientist Niraja Gopal Jayal (the chair), entrepreneur Nandan Nilekani, Teamlease Services chairman Manish Sabharwal and historians Ramachandra Guha, Srinath Raghavan and Nayanjot Lahiri.
"These excellent books cover a wide array of genres: biographies, investigative reportage, regional histories, environmental studies. They are written by scholars, journalists and activists," said the jury.
This is the third edition of the prize, which is open to books "written or translated in English, about any aspect of India since Independence". Academic Milan Vaishnav won the inaugural edition of the prize in 2018 for When Crime Pays: Money and Muscle in Indian Politics. Last year, Ornit Shani won the prize for How India Became Democratic. The shortlist will be announced on 16 November. The prize is awarded by the New India Foundation.
Here is the longlist of 12 books:
*Mobilizing the Marginalized: Ethnic Parties without Ethnic Movements by Amit Ahuja
*Wild Himalaya: A Natural History of the Greatest Mountain Range on by Earth by Stephen Alter
*The Great Agrarian Conquest: The Colonial Reshaping of a Rural World by Neeladri Bhattacharya
*Bottle of Lies: Ranbaxy and the Dark Side of Indian Pharma by Katherine Eban
*Animal Intimacies: Beastly Love in the Himalayas by Radhika Govindrajan
*Kuknalim, Naga Armed Resistance: Testimonies of Leaders, Pastors, Healers and Soldiers by Nandita Haksar and Sebastian Hongray
*A Chequered Brilliance: The Many Lives of VK Krishna Menon by Jairam Ramesh
*The Unquiet River: A Biography of the Brahmaputra by Arupjyoti Saikia
*Savarkar: Echoes from a Forgotten Past, 1883-1924 by Vikram Sampath
*Panjab: Journeys Through Fault Lines by Amandeep Sandhu
*2019: How Modi Won India by Rajdeep Sardesai
*Midnight's Machines: A Political History of Technology in India by Arun Mohan Sukumar