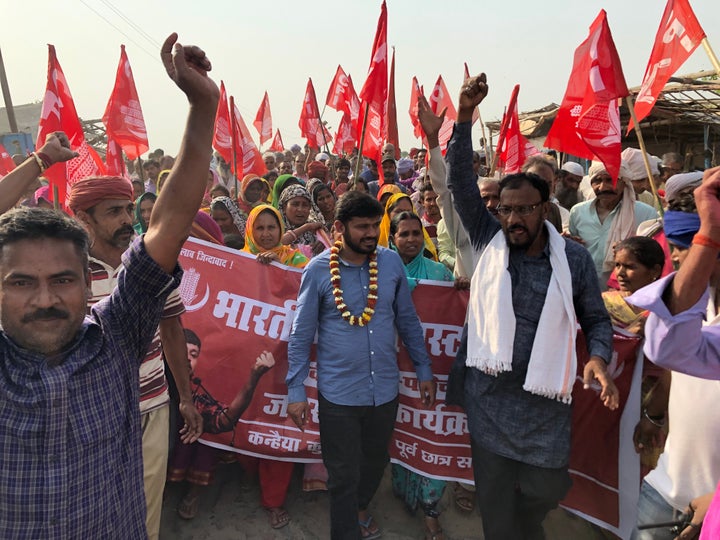 BEGUSARAI, Bihar — A large LED TV is a gift from a well-wisher, as are the five computers, the large square table and even the detailed constituency map of Begusarai pinned to a wall in a large room that serves as Kanhaiya Kumar's makeshift election office in his uncle's two-storey home near his modest house in Bihat town on the outskirts of Begusarai in Bihar.
"Even the vehicle you are sitting in is of Punjab number plate," Kanhaiya said, as he set out to canvas for support, "It was given by one of our friends."
On 24 March, the Communist Party of India (CPI) formally announced what many have been speculating for months now: Kanhaiya—the young Ph.D. in African Studies from Jawaharlal Nehru University who most eloquently articulated the rising societal disaffection with Narendra Modi and the Bharatiya Janata Party's (BJP's) authoritarianism in his rousing 2016 speech about Azaadi or freedom—would be the party's candidate from Begusarai Lok Sabha seat in Bihar, where he grew up.
The Azaadi speech, delivered soon after Kanhaiya was released after a month's stint in prison on trumped-up charges of sedition, went viral—first as a YouTube remix and then as a song on the Gully Boy soundtrack—and turned him into a household name.
Kanhaiya formally joined the CPI national council in April 2018, and since then he has already addressed over 100 public meetings in almost every part of Begusarai Lok Sabha seat as a part of his public dialogues, or "Jan Samvad Karyakram".
His keen political nous was visible earlier this year when he was the only public figure to offer a solemn salute at the funeral of Pintu Singh, the Central Reserve Police Force (CRPF) soldier who died in the tragic bombing in Pulwama, Kashmir, on February 14 this year.
His opponents are taking notice.
The BJP has responded by fielding union minister Giriraj Singh from Begusarai — a controversial figure who epitomises the ruling party's worst impulses. Singh has often asked those who criticise the Modi government to go to Pakistan.
"Like in the JNU election, where he was not considered a contender for the post until he delivered a fiery speech in the presidential debate a couple of days ahead of voting, Kanhaiya is starting out as an underdog here as well"
Singh, who contested from Nawada in 2014, has made his displeasure clear at the constituency change. Despite the central leadership announcing his candidature last week, he is yet to visit Begusarai.
Like in the JNU election, where he was not considered a contender for the post until he delivered a fiery speech in the presidential debate a couple of days ahead of voting, Kanhaiya is starting out as an underdog here as well. He will not have a powerful party backing him, and while he is the only one to have begun his campaign already, his opponents will be tough to beat.
The third major player in the election, Tejashwi Yadav's Rashtriya Janata Dal, has kept its cards close to its chest. Initially, the CPI hoped the RJD would not support a candidate to make it easier for Kumar to win. While Yadav is yet to announce a candidate, political observers expect him to repeat Tanveer Hasan, who lost to the BJP in 2014 by a margin of 58,000 votes.
Win or lose, Kanhaiya makes it clear that Begusarai is home.
"I have decided that I will stay here only and will teach in a local college here," he said. "I know everything about Begusarai because I belong to this place."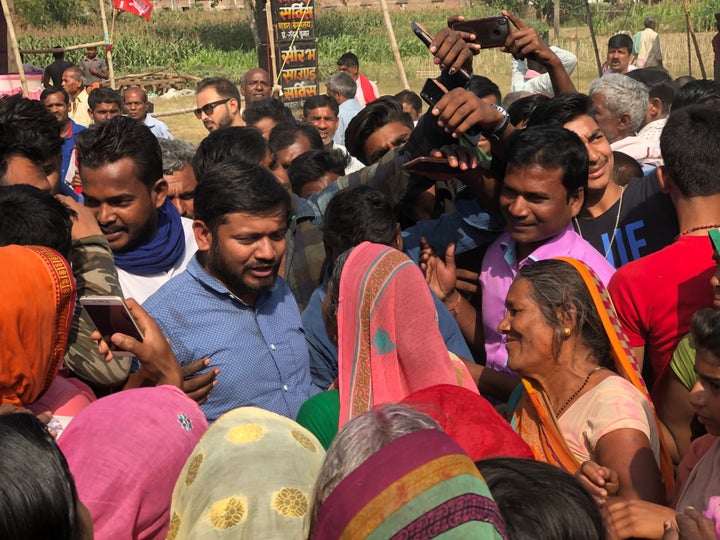 Apart from the CPI's official party structure to help Kanhaiya's campaign, a team of over 200 people is already planning, strategising and campaigning for Kanhaiya for over a month now in Begusarai.
This team includes former JNU students like Nafis, research scholars from Begusarai and other universities like Sumit Kumar, people like Dhananjay who is Kanhaiya's friend/secretary/driver, close friends like Varun and Saket Kumar and relatives.
Apart from the income from the royalty of an autobiography, Kanhaiya has no other income and may be one of the poorest candidates to contest in this election.
However, the lack of income or property hasn't deterred his campaign.
"The people of Begusarai have attached themselves with my campaign and they are contesting it for me. This is why I think I will contest this election even with fewer resources and with crowdfunding. My election is completely contribution-based and the donation doesn't have to be in cash. It can be in kind as well. People are donating small things from vegetables to diesel," said Kanhaiya.
"Everyone from the people of Begusarai, his friends from JNU and well-wishers across the country is chipping in for this campaign," said Sumit Kumar.
"Six people accompanied Kanhaiya to the bank in an SUV on Tuesday to open a bank account."
Kanhaiya's family members are also chipping in in every possible way they can.
A makeshift kitchen has been set up outside his home, which runs throughout the day to feed the campaign volunteers and other visitors.
While Kanhaiya maintains that the campaign is not properly planned yet, there appears to be some method to the chaos.
A few months ago, some members of the Bajrang Dal had attacked Kanhaiya's vehicle near Begusarai.
His campaign team is also taking care of his security now.
Six people accompanied him to the bank in an SUV on Tuesday to open a bank account.
Wherever he goes for the campaign, at least 20 people accompany him in a convoy of three identical Scorpios. All vehicles have walkie-talkie sets for co-ordination.
"We did not ask for identical SUVs. All the vehicles have been lent to us by our well-wishers and friends who are also managing our fuel expenses. But look at the coincidence. All three vehicles are of the same colour and company," added Saket Kumar.
The CPI's local unit decides Kanhaiya's day-to-day campaign schedule and its local units in various parts of the constituency take care of the stage, pandal and loudspeakers wherever he goes to address public meetings.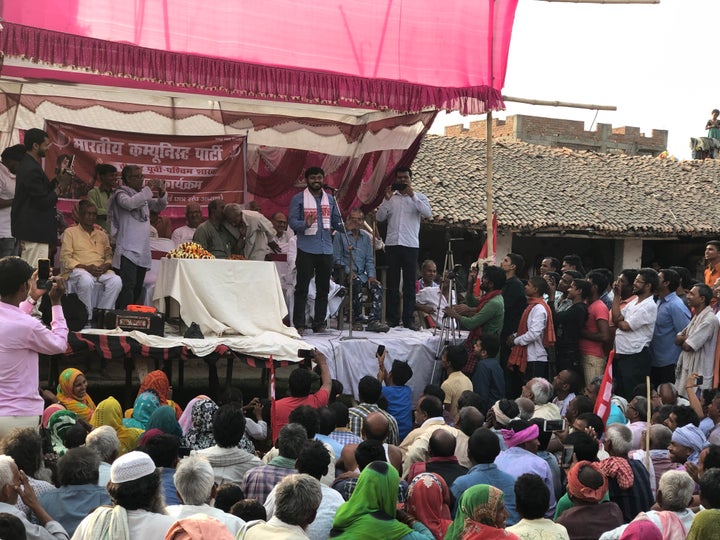 While the BJP's sway among Bhumihar voters in Bihar still makes Singh the favourite, his sulk at being denied the Nawada seat has thrown BJP workers into a tizzy.
"Our workers in Begusarai are extremely demoralised now. This constituency already had a BJP undercurrent and any local candidate would have won it easily but they imposed an outsider who is now unwilling to contest when hardly a month is left for election," said a senior BJP functionary from Begusarai on condition of anonymity.
Kanhaiya would have had a strong chance if he had been able to contest on the Mahagatbandhan ticket, but his team members are still hopeful—Begusarai is one of the rare constituencies in the Hindi heartland where the CPI has a large voter base.
"Even in the wave election of 2014, CPI managed to get close to 2 lakh votes and came third. Tanveer Husain was second and lost by only 58,000 votes. In 2009 elections, CPI was in the second position here and lost by a margin of 41,000 votes. So Kanhaiya is going to start with a base vote of two lakhs minimum," an academician from Delhi who came to see Kanhiya's campaign told HuffPost India.
Kanhaiya has got a rousing welcome from constituents as he goes on the campaign trail.
"He will win by a huge margin. He is our son," said Sunita Devi, a resident of Bandhra village, who had come to listen to Kanhaiya along with her three-month-old baby.
"They are forgetting that Kanhaiya is also a Bhumihar. Do you really think no Bhumihar will vote for him?"
However, the RJD and BJP are trying to maintain that Kanhaiya is third in the race and the main battle will be between the RJD's prospective Muslim candidate and BJP's Bhumihar candidate.
"But they are forgetting that Kanhaiya is also a Bhumihar. Do you really think no Bhumihar will vote for him?" asked one of his associates.
Muslims are also a prominent presence in Kanhaiya's public meetings.
Mohammad Alam walked more than a kilometre in Kanhaiya's padayatra in Veerpur village on Tuesday, carrying the red flag of CPI and shouting slogans.
"Kanhaiya will win with a big margin. All Muslims in this constituency will vote for him. It doesn't matter even if the RJD fields a Muslim candidate," Alam told this reporter.
When asked why is he supporting the CPI and its candidate when the party doesn't believe in religion, Alam said, "They don't believe in religion but they don't even oppose it. All Muslims will consolidate behind CPI this election."
Kanhiaya also pushes for an all-inclusive, secular theme during his speeches but has come down heavily on the RSS-BJP and Modi government for their communal and divisive agenda.
Another dominant mention of his speeches is that he is "Begusarai's son".
This indicates a carefully drafted strategy as Giriraj hails from Patna.
He doesn't ask for votes but for blessings to the voters, "Neta Nahi, Beta Hai".
"If I had a political career in mind then Kerala would have been simpler for me than Begusarai. Here CPI has two lakh votes but there we have five lakhs. There are people who are saying that I came to Begusarai since it's a Bhumihar dominated seat. But what can I do about it? Wasn't I born here?"
Popular in the Community