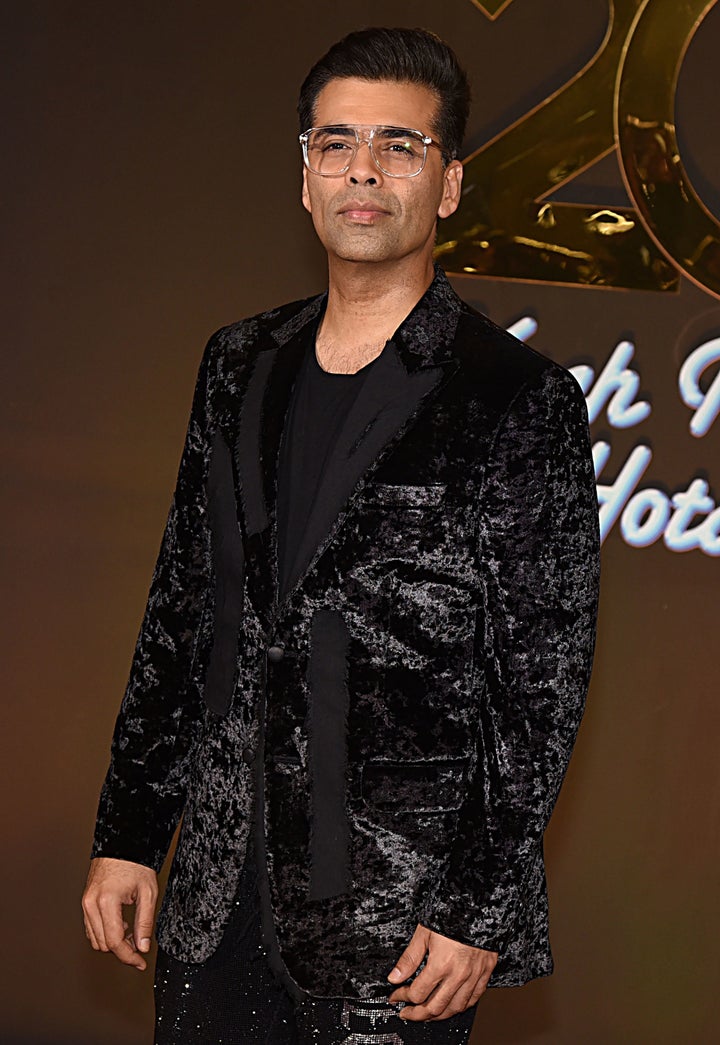 This is part 1 of our interview with Karan Johar. Read part 2 here
At the newly-opened Soho House in Mumbai's upscale Juhu area, Karan Johar, wearing an oversized T-shirt, cuts a starry figure. Sipping on a cup of tea at the exclusive, members-only hotel, Johar is sitting on a large sofa in a seemingly empty dining area, frantically texting on his phone.
From a distance, one can see only his silhouette. If this was a movie, it could be the opening shot showing an ageing overlord, presiding over an industry that largely relies on his stamp of approval.
In this interview with HuffPost India, the filmmaker spoke about Bollywood's growing proximity with the BJP, the mechanisms he has set up at Dharma Productions to create a safe environment for women and why he feels Ae Dil Hai Mushkil is his most perfect film so far.
In recent months, there seems to be quite a bit of politicisation that's creeping into Bollywood. Given that this government hasn't exactly championed the cause of free speech and, as you and Sanjay Leela Bhansali have reason to know, artistic freedom is something you both had to fight for under the current leadership. How has the industry just moved on from those very serious incidents to clicking selfies with the Prime Minister?
All I can say is what has happened when industry met with the Prime Minister a month ago to bring up the causes and many of the things which we brought up were addressed. There was the GST issue, which was immediately addressed.
Then it came to shooting across the country, which has been a big obstacle. Now there is a single-window clearance for filming and that's a humongous benefit. There's also a mention of what we will do to combat piracy and he said stringent laws will be made.
So, many of the moves which we went with the list have been activated and I think Siddharth Roy Kapur will be the right person for you to speak to, who is the president of the (Producers') Guild. Many of the things have been addressed. The Prime Minister has been very proactive on industry needs and has promptly addressed them. Now, everyone can look into various meanings out of this. We look at it as a positive step ahead for the film fraternity, which has an industry status but really has never been given the empowerment of one. It finally feels like we are a soft power with relevance.
It feels like appeasement. Do you get a sense that the ruling party expects Bollywood to cater to a certain ideological line?
None of us have been asked for anything. It has been pretty much a one-way street—we have asked and it has been graciously delivered.
Don't you see an issue with art's proximity with politics?
Everyone can co-exist. Co-existence is very integral. Eventually, you know people need people to survive and coexist as a community. Of course there should not be an overlap because art must exist in its own independence and politics must exist as its own force and entity but if there is a coexistence of the two, done in a very amicable and peaceful manner, then why not?
The meetings need to be seen in the context of the current political climate. A battery of Bollywood A-listers hanging out with the PM months away from the general election...
We had a work agenda. Why should one read between the lines and stop the process of improvement and development in the industry by overtly analysing it? We had wanted a reduction on GST, we wanted a single-window clearance… why should we overthink something that's happening organically? I believe that we are getting what we are asking for, and our demands are not unreasonable. That's really about it.
What have been the learnings from the Hardik Pandya-KL Rahul episode? Going forward, are you going to be more conscious about how you deal with such scenarios?
I think it has driven me to a point of not caution, but fear, because I don't want to feel responsible for people's careers.
It makes uncomfortable, unhappy and leaves a lingering feeling of guilt. All I can say is I hope the powers to really give them a second chance. They are young and dynamic cricketers. Everyone deserves a second chance. While I am in full support of trial by media—and I believe it's a really essential powerful force, trial by social media, trial by media are very important to keep many things in check— sometimes, you know, the harshness of a punishment can really harm a career of an individual who may have already repented.
They have their work like I have mine. Unlike cricket for them, the chat show isn't my main work. It's simply an irreverent, frivolous chat show. Don't like it, don't watch it. Yes, you might think that I am a giggly aunty sitting on a couch gossiping but that's the nature of the show. So the ramifications of this episode were something I absolutely did not expect.
Over the years, you've very smartly positioned your production company. An actor gets legitimised as a star if they have Dharma's stamp of approval. Or an actor gets noticed by the industry if you spotlight them. For example, Kiara Advani had been around for some time, but it was your segment in Lust Stories that actually made people sit and take notice of her. Now, one would want the industry to be more democratic than that, but it isn't, and I want to understand how you've crafted this perception.
There's no strategy to this. This is the energy that I bring in because I don't come on as an individual director in their life. I also come in as a support system to them and for them to build that energy around their careers, I'm also there as their go-to person for decisions in their life and how they should make and project themselves because I always platform talent—writers, technicians, actors—stronger than I would platform myself.
So when I had that work with Kiara, it's not that I had a six-day shoot with her and she's out of my life, she's very much in my life. So when I work with you I'm a part of your ecosystem and I'm a part of your decision-making process and I'll always ask you to do this and that, I become your advisory board and it's not that I force myself onto you, it happens organically.
I genuinely care. I'm that person. If you see my phone, there are these messages from actors who we work with, who send pictures of outfits that they'll wear for events. I guide them. I take the time out to do it, I've never thought that it's not my job. They are a part of my life and I like it when they do well even outside of Dharma because it makes me happy. I call filmmakers to tell them to cast this talent, I've done it for several filmmakers.
Where does the need to be this nurturing figure come from? Does it come from a place of wanting to keep power?
No. I don't even have a talent management agency. I don't want to have any kind of ownership on my talent.There's just a deal for them to work with us for 5 years and then move out. Today, there is nothing that I have with Varun (Dhawan), Sid (Sidharth Malhotra) or Alia (Alia Bhatt), not even monetarily.
I'm just emotionally in a relationship with all three of them
If they reach out to me, I'm always there for them but I don't have any stakes on them. I made it very clear, I don't want to do talent management. I take on a lot of additional headaches, this is not one I want to. I want to do it selflessly.
Kiara is not my talent, she is handled by Ashvini (Yardi), but she is always on the line with me. If she signs a film, she'll tell me. I've read scripts for her and this is because I care about the people I work with, it's that simple.
There is no strategy. Similarly with Vicky (Kaushal), he isn't my talent but I've worked with him and now he's a part of my journey and I'd be there for him if he needs me. Most of us in the business see it from the outside and we know what is right and wrong more than the actors and unfortunately they need that hand-holding to make the right decisions. That's where I come in.
"If I cast Tara Sutaria, nobody will say anything, but if I take Ananya Pandey, I will be accused of nepotism."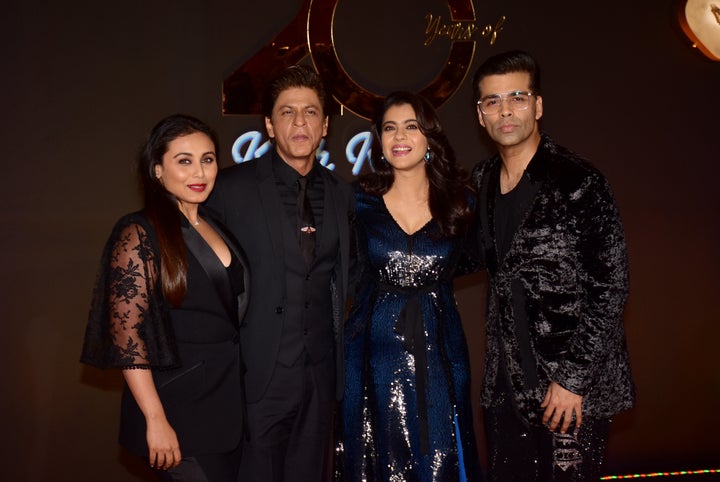 How do you deal with the accusations of being elitist, working largely with stars or those who come from a family with pedigree?
In the past, i've taken chances but it's not that I get any credit for that. Suddenly this 'nepotism' tag has been given to me. When I cast Varun, nobody else knew who he was or what was happening. I knew him before he was around. I saw potential in him.
That's what also happened with Siddharth, he's not from the movies. Unlike today, nobody had even heard of Alia Bhatt, it was not that she was popular before. Today's star kids are way more famous before their first films.
If I cast Tara Sutaria, nobody will say anything, but if I take Ananya Pandey, I will be accused of nepotism.
Has there been any self-reflection?
I don't feel I should be accountable to anyone for my decisions. I'm making films and casting actors and I'm in a business. If I feel that something is a good commercial decision I'll do it, I'm in the business. If I think I need a star, I will cast one. If I need a new face, I will take a newcomer.
But a creative industry owes its audience to scout for the best possible talent that's not exclusively passed down the gene pool, from a star parent to a superstar son.
It's not that we haven't. We widen our spectrum with all kinds of actors and roles, why have I become responsible for this movement? I'm happy for someone else to make them stars but I need to make films that are viable to me and make sense to me and I'm in the business of commerce and art.
I have to do what is sensible. I mean, I'm not running an NGO, you're saying that I have a creative obligation and yes, there is. In that process, I will try not to cast a bad actor.
If I believe that an actor is good for a part, whether he or she is a part of the film industry is irrelevant. And let me tell you, talent doesn't survive if it isn't good.
The fact that they are still around means that they are good at something, it's not that I've cast actors that have gone off the radar.
No, you give them a considerable amount of push despite their failings.
But it's not like they are best friends or family. I just happen to spot them, see them and nurture them. If, tomorrow, a casting director gets me a great talent, I will definitely give them the same chance I'd give a star kid. It's not that I'm choosing one over the other, it's what I get, it's what I'm surrounded by. If tomorrow, a genius actor is born, not to a fraternity background, and I feel like he or she is great for a part, obviously I will cast them.
But why is this only my burden? Why am I just the flagbearer for this? Why won't the others do it? Why can't everyone share that responsibility? Can every internet site stop writing about Suhana, Ananya, Aryan and Taimur from the time they are 2 years old? Can you stop reporting about them? Then I will say okay, well, let's give this a fair shot. These kids become known names and viable options for producers because you made them. So you need to stop writing. But you can't stop writing because that's what sells and I'm fully aware that there is a certain excitement built already.
It's the same logic. When the stakes are high, we leverage that excitement and sometimes the stakes are not high, so you take new talent. About Varun and Alia, I am blamed for nepotism in retrospect. But at that time, nobody was aware that David Dhawan had a son who wanted to act or Mahesh Bhatt had a daughter that young—nobody knew as they weren't children of movie stars.
But no, the first thing you want to do is attack. And I would apologise but I don't need to for doing my job. If you're not happy, you need to deal with yourself and before you say that it's complicity, it totally is. You report, you make them stars and then you attack us for casting them.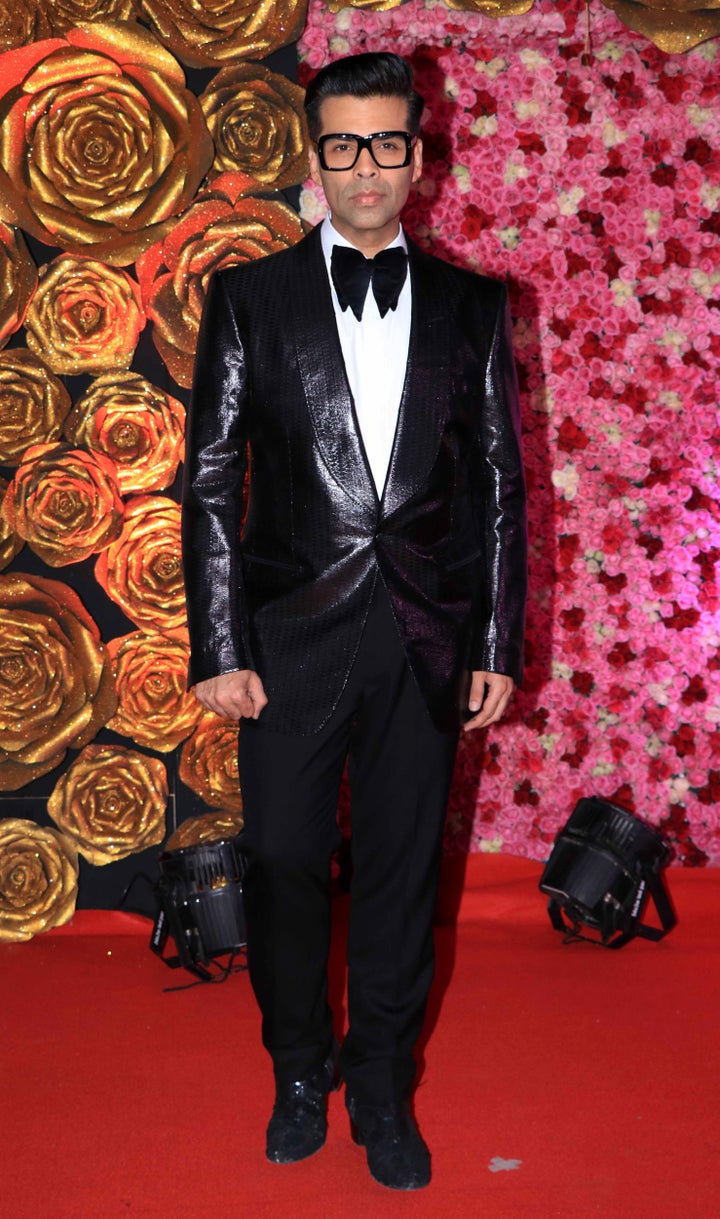 How's your equation with Kangana Ranaut? Can you work with someone you've had a heavily publicised ideological conflict with?
I have no problem with her. Tomorrow, if I feel like she is really required for a film, I will work with her. The film I was directing didn't have any scope for her, in my opinion, and no director has come to me with the desire to cast her. I, therefore, have not cast her. No lead actor has asked for her. Just because we had personal differences doesn't mean we are not going to work together. Anurag Kashyap and I had a huge problem but he still wrote dialogues for Kurbaan. I am a working filmmaker. I don't have problems or issues with anybody and I certainly don't take them to my workplace. If the film demands a Kangana, if a filmmaker wants her then why not? It's a commercial deal and there are no emotions involved in commerce.
Do you think you would change anything about your past films?
Actually I have a problem with all my films besides Ae Dil Hai Mushkil because that's a film I wanted to make even while knowing that the last act may get a polarised response. It's a film I wanted to make because it's personal and was cathartic for me. Ranbir (Kapoor) played me. I wanted to deal with the injury caused by a heartbreak.
I have issues with Kuch Kuch Hota Hai, Kabhi Khushi Kabhie Gham, Kabhi Alvida Naa Kehna, Student of the Year, My Name is Khan, all of them but about Ae Dil, I wouldn't change a thing.
But it's perhaps your most problematic film so far, as far as gender dynamics are concerned...
When I made this film, I felt that this should make Rs 100 crore. I wanted the film to make its money back, which it did and was declared a good film. Yes, the last track met with many polarised responses and rightfully so, but I was like she (Anushka Sharma's character Alizeh who doesn't reciprocate Ayan's feelings) didn't love him, she has to die.
He loved her so crazily. She could've loved him back, why couldn't she? So she got cancer and she died.
Umm, it felt like you were punishing her for not reciprocating his romantic feelings.
Well, she got punished, I wrote it. See, a filmmaker is a God, you write, you create and you destroy.
Yes, but it doesn't change the fact that it's a problematic idea to espouse.
How is it problematic? He was not inappropriate with her.
He does get physically aggressive and for the rest of the film, guilt-trips her into loving him back, which is a very unhealthy emotion to celebrate.
I mean, okay, yes in that one part, that one section, on the terrace. Right.
I didn't look at it like that, to me he was just a puppy who was just in love and it's not like she didn't love him. She just didn't love him in the way that he wanted her to love him. About the physical aggression, I apologise. That is not something I had thought of earlier and I should have.
But I am not going to be apologetic about his relentlessness and his love, because he loved her even after she was gone. He never stopped loving her. That's the way I feel about the big loves of my life. I will never stop loving them and I may not go so relentless in my pursuit of love but I believe Ayan was a lover.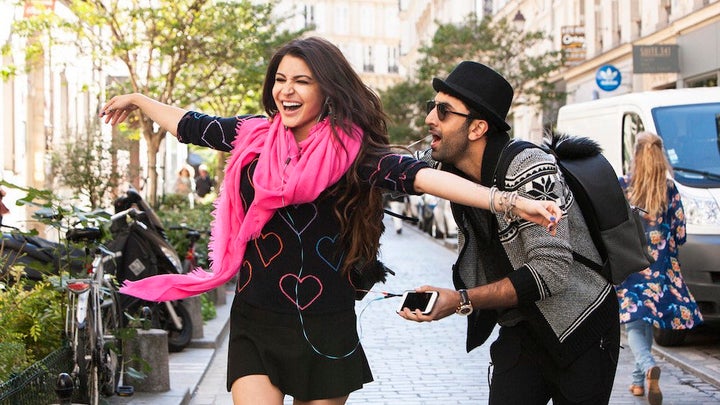 Were these the emotions you went through with the person you were in love with and who inspired the film?
Yes, and Ranbir Kapoor gets it. He nails it. Having experienced it with my Dad, I believe that cancer comes out of emotion as well. It's like when you're inexpressive you can get a tumour, the blocks in your heart or your system, all have something to do with your personal dynamics. It's emotional, stress levels can cause cancer, a lot of it is related to your mind. Eventually, a clear mind is also a clear body and I believe she was carrying a baggage of love herself which she wasn't able to express everything and that manifested into the illness. She speaks about it, she says that all that hate became a tumour and it spread around her body. She speaks about her cancer like that because it's my thought about cancer and I joke when I say I want to kill her but that was also a thought. I was like there's no end to this film because there's no way she could love him back ...that would've been a cop out.
She can go her own way and not die of a terminal illness.
And that was also a thought, yes, but I said no, she has to die. I could not have gone indie on it. But this is how I envisaged Ae Dil to be. I wanted Anushka to die, I didn't change it till the end.
Did you hear back from the person who inspired the movie?
Yeah, the person definitely has seen the movie and given me an opinion and everything and now it's a part of my emotional legacy. Every other film is my love for Hindi cinema but this is my most personal film. I can't see it anymore. I can't see it ever because I go through a lot and it takes me back to a time that I don't want to think of. Like that scene where he puts a gamla on his chest. Heartbreak is actually like a physical weight. The film takes me back to that space.
"This is how I envisaged Ae Dil to be. I wanted Anushka to die, I didn't change it till the end."
Can you guilt-trip someone for not loving you back?
Oh, it's a great feeling! I want to tell you that there is no right or wrong in the emotional half of a human being. This is how we behave and every emotion that can be faulted—jealousy or envy—the fact is that it exists. Self-pity is a spa. Sometimes you should not feel bad for yourself but you do. But then you have to yank out of it and face life but otherwise, self-pity is something that I love. After a bad relationship, I take 2-3 days to feel victimised, to feel like I did no wrong and to feel superior in other people's inferiority. Why deny these feelings?
The problem isn't in acknowledging these feelings but in romanticising them.
I feel that, "Ek tarfa…" line caught on only because it's very, very true. I love you and who are you to deny me that feeling?
I mean, how do you even know you are in love? It's when a third person enters the dynamic. It's always jealousy that leads to love. You feel love for someone when you see someone else taking it. Until then, it's sexual, it's companionship, it's friendship, it's fun but the real love is when there is a third element and you feel like you're losing your relationship to that third element. So that's why I say that love is a slap on the face. It's hard.
Have your children Ruhi and Yash filled the void of a life partner?
Completely, wholeheartedly and hugely. There was a gaping hole that now doesn't exist. See, love of a life partner, spouse, a relationship is an exclusive feeling to that because it also entails a different kind of physicality and emotionality but a large part of it is covered. A little bit, of course, remains.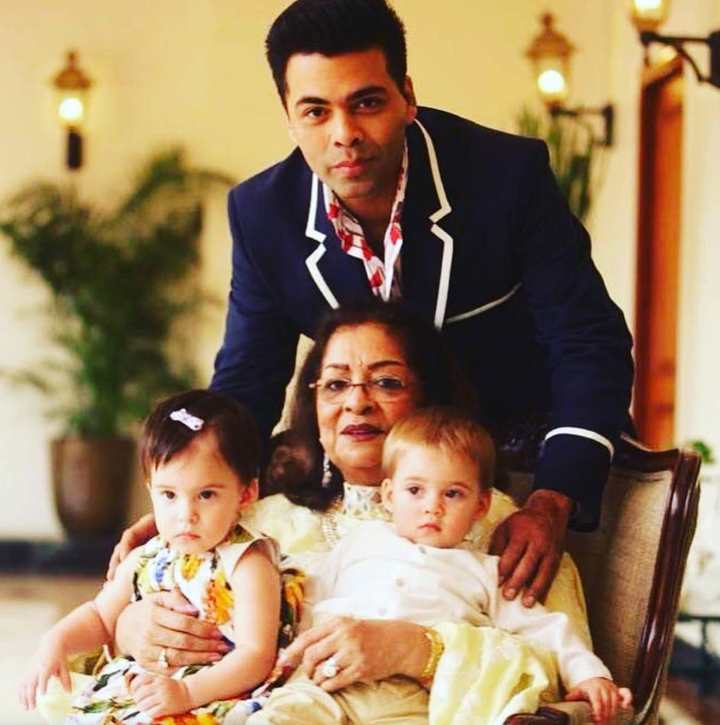 My love found an avenue. My love found a platform. My love found a space where it can release love, I can channel it. It actually has a destination. It's almost as if previously, it was going randomly to random people, and was being wasted and now, it's going to the right place
Do you think you have been unfortunate in love?
I think I'm very messed up in that department. I have too many dos and don'ts and blocks in my head to find the right life partner so I feel like it's my own doing. I'm so absorbed by the work I do, l don't want anyone to come in the way of my work. I cannot have an accountability to somebody and that's not fair because relationships are a lot of work. I don't want to give that hard work to anything else but my work. So even if I see something happening, I stop it.
Now to another thing—I don't love anyone that really loves me. I need to love someone that doesn't love me back. If I get abundant love from someone, it throws me off. I like to give, I don't like to receive. So the moment I know someone is really into me, I know I can't be into this person.
It's a brutal situation and of course, I've taken this up when I've been in therapy and I don't know why it is that I don't want to receive the love I get, I just want to give the love that I don't get. It's twisted.
How do you react to people calling your films superficial and lacking a soul ?
I've stopped justifying myself because I feel, maybe I haven't made the film to earn that respect, I haven't made a film that will go in the top 100 films of all time. I haven't.
Maybe I will, I don't know what my capabilities are and my films have always reflected a certain lifestyle. The characters, I am aware, are often entitled. I'm also a little doomed by my own reputation. Even if I do something pathbreaking now, I wont get credit for it because it's going to be like, he is better off doing the other thing.
People forget that I made a film called My Name is Khan that spoke about the misinterpretation of religion. People are very selective about their outrage. They will talk about what they want to talk about, I've dabbled into a film with a strong homosexual theme, a film about infidelity at a time where people were making saccharine love stories. Even Ae Dil, I believed, pushed the boundaries but all people will say is how Ayan is rich and how is he in a private plane? The larger-than-life approach becomes a problem. I'm a director that's always very in your face but that doesn't mean I lose the right to stand up for the cinema I make.
If I live my life to satisfy people and what they say on social media, I'll go crazy.
"People forget that I made a film called My Name is Khan that spoke about the misinterpretation of religion."
Do you fear becoming irrelevant?
Of course. There is a fear that the flowers will stop coming. I know that there is a section of people that doesn't take me seriously and I'm ok with that. Maybe it's my own doing but I'm not apologising for doing anything I've done because I'm really living my life, I wanted to do these things, I wanted to host my own talk show, I wanted to host award shows. These are things I wanted to do as a child. Whenever I used to go to a Filmfare Award, I thought that I'd love to be on that stage either winning or hosting. When I saw films, I said I wish I could be a part of this world. Now I am. I don't need to conform to anyone's idea of being cinematic or being prolific—that's their idea and not mine. My idea is to do what I'm doing best and I am doing it to the best of my ability and maybe this is all that I'm capable of.
But all artists seek validation, a reinforcement, a confirmation that others share their worldview or aspire to be a part of it...
I seek it, sure. I feel I am yet to make my best feature film. The day I feel like I've made a good film that I am wholeheartedly proud of, that's when I will tell people to shut up. Right now, maybe they are justifying their opinion
I know I can't make a Lagaan or a Mughal-E-Azam or a Mother India. I can't make it happen.
I have never claimed to be the best filmmaker in this country, neither have I claimed to be the worst. I've always claimed to be having a great time with the movies and I always feel very welcomed by the fraternity. I listen and read everything written about me.
I still pop up in every intellectual circle. I'll pop up everywhere, It's branding.
If you don't like my work I have no problem, I may still love yours. I am very zen about that. I don't react to social media hate anymore. I love the trolls now. Everytime I say something profound and they ask me to shut up, I love it. I'm like—unhappy, unemployed and especially unattractive people cannot bother me.
How have you processed the #MeToo movement?
The movement has led to tremendous accountability in the environment I occupy. When I read the narratives, it was heartbreaking. It was saddening.
Sometimes you know about stuff around you and you brush it under the carpet and say that's not my thing. But it is your thing because you have to be socially accountable to your fraternity.
Those are things that have opened my head up.
I feel like I should now take charge of this. Apoorva, my CEO, is at the helm of things. He updates me with everything. I'm glad that no reported incident has come from my company. Women have always been, I'm not generalising, but respecting a woman than a man has always been important for me. I have been raised by my mom and my aunts and they've always been cooler than any men in my life. It's natural to me. I am a feminist. When I hear of these incidents, it makes my stomach churn. It makes me feel like, if we're at a privileged position and we cannot take charge of this, then what's the point of any of this?
Have you ever been compelled to be silenced after knowing about something that has happened?
Fortunately, it hasn't happened in my immediate surroundings. I don't believe in hearsay either. I need factual incidents to believe something. And yes, I believe the women, how can you not? No woman would open her heart and mind and revisit a traumatic memory if it wasn't coming from a place of truth.
With Takht, you're going into historical territory. Is there any anxiety given the Padmaavat episode?
I have always faced a storm before my releases, let's just hope no one dethrones me. You can't be afraid when you're in the creative zone. Nobody gains then. I will be starting on a backfoot then. Takht is based on historical facts. It's well-researched and it harms no one. We've made a glorious combination of many versions that are out there and I'm hoping there's not a single voice against it.
Inevitably, there are going to be comparisons with Bhansali.
I am open to that, it is his territory. I just hope I can be a part of it. I am a huge fan of his, I love his sense of beauty and aesthetic.
Read the part 2 of our interview with Karan Johar here.