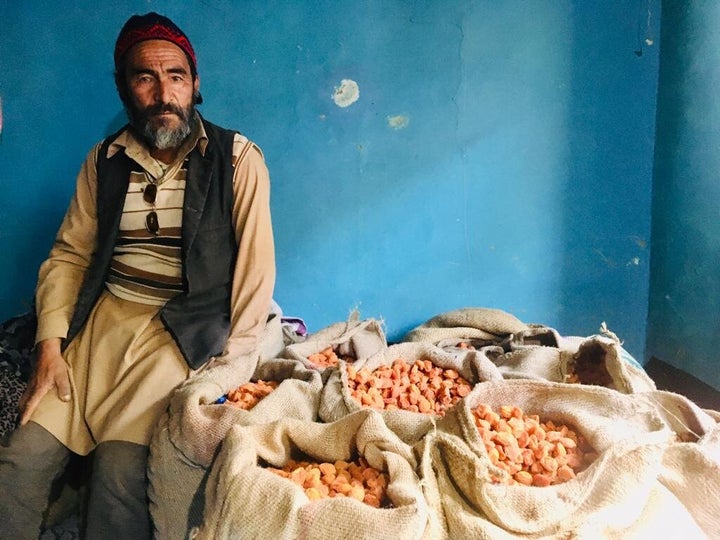 KARGIL, Ladakh — "The Modi government has put us on thorns," said Ahmed Hussain, as he opened seven gunny bags filled to the brim with dried apricots, his entire produce for this year.
"What message do I have for Prime Minister Narendra Modi? Nothing. We have received his message loud and clear for the past 72 days," said the 61-year-old apricot farmer from Hardass village in Ladakh's Kargil district, earlier this week.
Ahmed is angry because he had no chance of selling any of the dried apricots—the main source of his livelihood—after the Narendra Modi government unexpectedly revoked Jammu and Kashmir's (J&K) special constitutional status on 5 August.
The government also severed Ladakh from J&K and made them Union Territories. While mobile phone services and the internet were blocked in the Muslim majority Kashmir Valley, mobile phone connectivity and broadband internet were quickly restored in Ladakh, where the majority Buddhist population welcomed the break from J&K.
Caught between the severe restrictions, the shutdown orchestrated by angry traders and transporters in Kashmir, and retaliation from militants, are those like Ahmed, for whom conducting any kind of business has become incredibly hard, even when they need the money.
"I have not sold anything this year," he said. "I've taken loans and I owe money to a lot of people."
While much has been written about the woes of the apple farmers of Kashmir following the abrogation of Article 370, the plight of the apricot farmers of Kargil has received little attention from the media, the public or the government.
Government officials in Kargil told HuffPost India that an estimated 800 metric tonnes of dry apricot were transported to Kashmir last year. According to Haji Zaffar, the chief horticulture officer of Kargil, the revenue from the dried apricots was Rs32 crore in 2018.
Dried apricots are sold at the rate of Rs 400 per kg.
In August, a couple of weeks after Article 370 was abrogated, public broadcaster Doordarshan had reported that Kargil's apricot farmers were expecting a "better tomorrow", but what's happening on the ground is just the opposite.
"This year, the sales are zero," said Zaffar, matter-of-factly.
The window for these farmer — mostly Shia Muslims — to make any sales this year is closing fast. Unlike the apple farmers of Kashmir, who have markets beyond J&K, Kashmir is the only market for the dried apricots of Kargil (other than the little sold within Kargil and sent to Leh, the capital of Ladakh).
But Kargil, which is home to mostly Shia Muslims, and Leh, which is predominantly Buddhist, have small populations of approximately 1,41,000 and 1,33,000 respectively.
Transporting dried apricots from Kargil to Kashmir involves trucks crossing the treacherous Zoji La pass — the only land route connecting J&K and Ladakh — located at at a staggering 15,649 feet above sea level.
Even this sole pass will be buried under snow in another month, and impossible to cross until April next year.
"It is the duty of the Indian government to care for us. So far, no one has come to even come to ask after us"
Hardass village, located about three kilometres from the Line of Control separating Ladakh from Pakistan occupied Gilgit-Baltistan province, is already preparing to be cut off from the rest of the world for the isolating six months of winter.
The 330 families of the village are no strangers to hard times. Almost all of them had to flee when their village was shelled during the Kargil war in 1999.
But this year, the villagers of Hardass, which was declared the "apricot village" of Kargil by former chief minister Mehbooba Mufti in 2016, are devastated not only by their "total loss," but how little Indians and the Indian government seems to care.
Ghulam Mohammed, the chief of Hardass village, said, "The losses suffered by the apple farmers of Kashmir received so much media attention, but no one noticed how we were suffering."
"We are far away and isolated, but we are Indian citizens as much as anyone else. It is the duty of the Indian government to care for us. So far, no one has come to even come to ask after us," he said.
There are an estimated 5,000 apricot farming families in Kargil.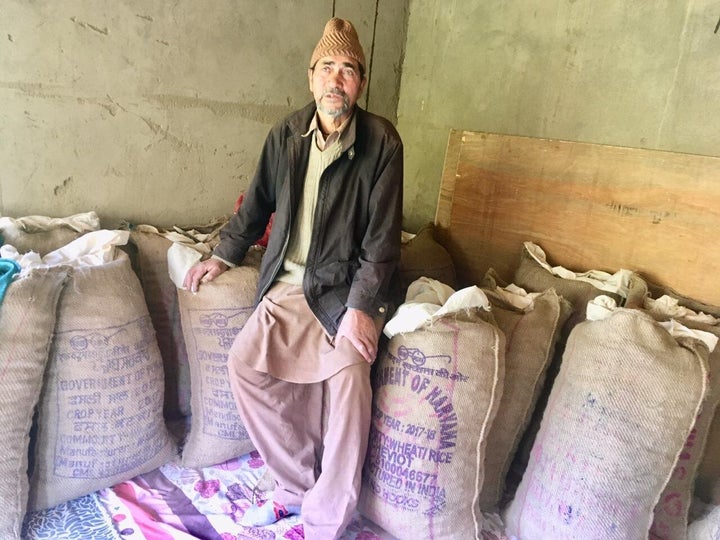 Last year, Hussain earned Rs 2,70,000 from selling 600 kg of dried apricots in Kashmir.
Anticipating similar sales this year, Hussain embarked on an ambitious project to build his family a new house before the winter sets in.
Now, Hussain is racing against time to finish the building the house, but he has no money to pay for the construction material and the labour that he has hired.
"I've borrowed money from a lot of people. I'm in a lot of debt," he said.
Hussain, who lives with his wife, his son and daughter, his son's wife, and two grandchildren, says that he has run out of his savings. His son, who works as a porter with Indian army, earns Rs 3,000-4,000 every month.
"Soon, I will be in debt to the grocer as well," he said. "Winter is coming and we are not ready."
Before 5 August, Ladakh sent two state lawmakers to the Jammu and Kashmir Legislative Assembly, who were also part of the state cabinet. Now, the UT will only have one member in Parliament.
The residents of Kargil, mostly Shia Muslims, have two long-standing demands from the Indian government: better connectivity to India, and boosting markets for their apricot production.
Unlike Leh, Kargil has no air connectivity. Residents are connected to J&K only through the Zoji La pass or they must drive over 235 km to Leh to catch a flight to Delhi.
With less representation, the residents of Kargil fear further isolation.
No love for Kargil's apricot farmers
Dried apricot is only a small percentage of the total produce of apricots harvested in Kargil, every year.
M. Mehdi, a scientist who heads the Krishi Vigyan Kendra in Kargil, told HuffPost India that Kargil produced 9,000 metric tonnes of fresh apricot last year, but only a small percentage is the Halman variety, which is the "dry type" that is exported to Kashmir.
Farmers and officials in Kargil say there has been a ban on exporting apples and apricot since the codling moth entered Ladakh from the Gilgit-Baltistan province in the seventies and infected its fruit.
For years now, farmers and officials in Kargil have called on the Indian government to depute experts to reinvestigate and withdraw the ban.
"We have sent letters saying remove the ban on apricots. Apricots are our main economy," said Mehdi.
Successive Indian governments have paid little heed to the demands from Kargil.
The extent of disinterest, officials say, can be gauged from the fact that a separate Department of Horticulture And Marketing has been established but barely functions.
In fact, officials and farmers say the apricot that is sold in Jammu and in mainland India is imported from countries like Iran and Turkey, while they don't have the resources and know-how to sell their produce beyond Kashmir.
"We don't have the drying and packaging techniques like they have in Iran and Turkey," said Mehdi. "Why is the government not giving us with expertise or sending scientists to learn from Iran and Turkey?"
Mehdi says that there are at least 31 varieties of apricots in Kashmir, but apart from the Helman variety, the rest are dying because farmers are only producing what they can sell in Kashmir.
"The different varieties of apricots are getting extinct because of this ban," he said.
No help from the Indian government
Government officials say that since the farmers sell dry apricots, this year's produce — unlike the apples of Kashmir — will not spoil.
There is still time to avert a "total loss," they say.
But Fayaz Ahmed, a contractor in Kargil who sells the dry apricots to bigger contractors in Kashmir, says there is little chance of recovery.
Even as the Kashmir administration restored post-paid mobile phones on Monday, the onset of winter coupled with the danger posed by militants and the economic slowdown in Kashmir makes it hard to conduct business.
Ahmed, who estimates he sent 10.5 tonnes of dry apricots to Kashmir in 2018, said that he is afraid of retaliation if he sends trucks to Kashmir.
Noting that the wedding season in Kashmir is also almost over, Ahmed said, "I will call a few people in the next few days but the time has passed. Honestly, nothing can be done this year."
Officials in Kargil say there is no scheme for apricot farmers in the offing.
"There is no plan that we have heard of," said Zafar, the chief horticulture officer in Kargil.
Even if the apricot farmers manage to sell some produce, Zafar acknowledged this was a "big loss" for Kargil.
"Definitely, you can say that," he said.
Popular in the Community