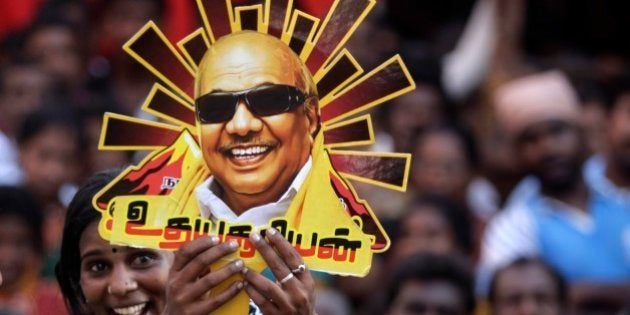 CHENNAI -- Amidst growing consensus among the state's smaller parties on the implementation of prohibition, DMK president M Karunanidhi has promised to make Tamil Nadu totally liquor-free if voted to power. However, Karunanidhi has come under fire for an apparent policy shift because it was the DMK government that lifted prohibition in the state in 1971, ending the dry rule in force for more than three decades.
"If DMK comes to power again steps will be taken for the implementation of prohibition, to ensure social change and betterment," he said in a statement.
"Active efforts will be made to introduce total prohibition if DMK is elected to power. This is to ensure change and progress in society," he said.
The PMK, MDMK and Vijayakanth's DMDK have supported prohibition. The Oomen Chandy government in Kerala has already imposed prohibition in phases.
Karunanidhi said the lack of total prohibition had resulted in the deaths of poor agricultural workers, daily wage labourers and students. But PMK founder S Ramadoss charged the DMK with "ruining the generations by removing prohibition".
"It was Kalaignar (Karunanidhi) who scrapped the total prohibition that was in vogue since 1948 and led Tamil Nadu to the present appalling situation," he said. In a scathing attack on Karunanidhi, Ramadoss alleged that the "obvious reason (to make the proposal) is that elections are coming in 8 months."
The PMK founder recalled that when Karunanidhi decided to scrap prohibition in 1971, a 'shocked Rajaji' (veteran Congress leader C Rajagopalachari) "begged" the DMK leader, then Chief Minister, not to do so.
"I remember vividly that Kalaignar not only rejected his request but made a mockery of him by saying 'he met me with a recommendation' and went ahead to remove prohibition. When a whole generation of Tamil Nadu lived without smelling alcohol, it was Kalaignar who introduced them to liquor and ruined them and their generations," Ramadoss said in a statement.
"If Kalaignar has true commitment for his declaration let him first close the alcohol manufacturing units of DMK men and DMK supported men and (then) talk about prohibition," he said.