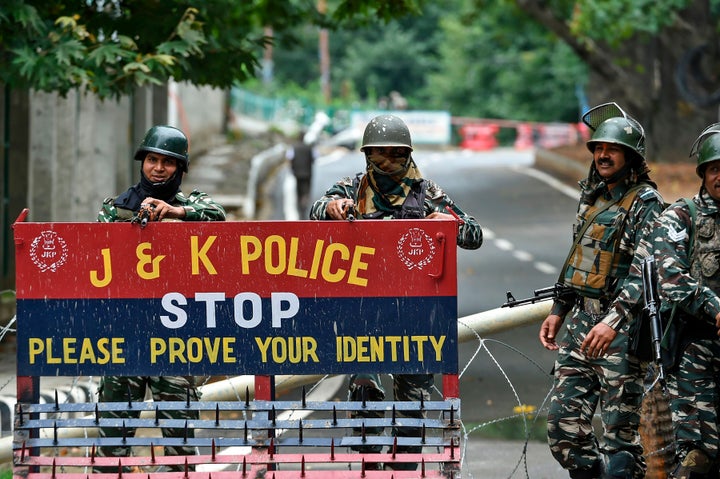 Two weeks since the government abrogated Article 370 and revoked the special status of Jammu & Kashmir, the state is still mostly under lockdown. While some restrictions had been lifted in the state over the weekend, many of the decisions were reversed after a series of protests.
Now, an AFP report says that over 4,000 people in Kashmir have been detained under the Public Safety Act (PSA). The report, carried by The Hindu, quoted a magistrate, who spoke anonymously, as saying, "Most of them were flown out of Kashmir because prisons here have run out of capacity."
According to the report, authorities have so far not given an official count of how many people have been put under detention.
The Narendra Modi government put Kashmir under complete blackout — curfews were imposed, phone lines and mobile internet was disconnected — just before it announced that it was revoking Article 370, which gave special status to Kashmir.
The restrictions on media and internet have meant that reports from the region have been sporadic and unpredictable in their publication, but many outlets have reported that the government was trying to quell protests through pellet guns and force.
HuffPost India had reported last week that the government had refused to put a number to how many people were detained amid the crisis in the state. This includes three former chief ministers and an IAS officer-turned politician.
Even then, the authorities had said they did not have a "centralised number" on how many had been arrested.
Syed Javaid Mujtaba Gilani, Additional Director General of Police, Armed, Jammu and Kashmir police had told HuffPost India, "There have been detentions under Public Safety Act, we are not denying that. There have been preventive arrests as well. Some people have also been shifted out of the state."
The PSA allows authorities to put people in prison without trial or charges for upto two years.
Since Saturday, when some of the restrictions were lifted, there have been a series of protests against the decision to revoke the autonomy of Jammu and Kashmir, India's only Muslim-majority region, Reuters reported.
The officials said security forces had been pelted with stones on 47 occasions on Saturday night in the Kashmir Valley, and more than 20 on Sunday. One said the protests were growing more intense.
On Saturday, about two dozen people reported to Srinagar's two main hospitals with injuries, mainly from pellets fired by Indian forces, said the officials, who declined to be named. Residents and police said many people with pellet wounds were not seeking treatment for fear of being identified and arrested.