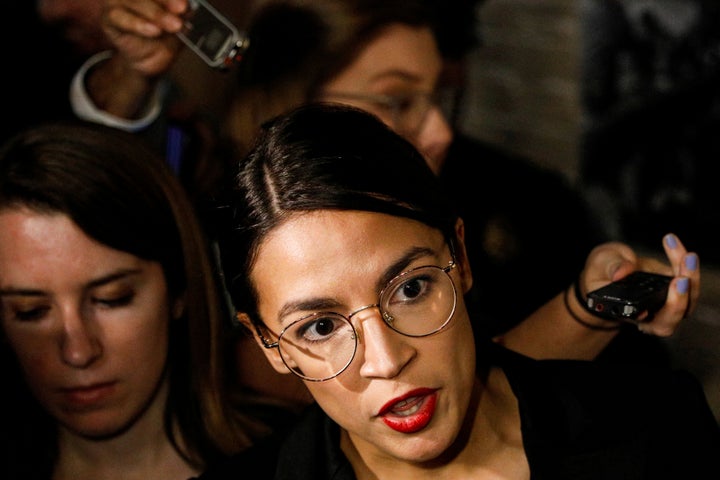 US Congresswoman Alexandria Ocasio-Cortez and Sikh-Canadian politician Jagmeet Singh have made public statements in support of Kashmiris and against the human rights violations in the region.
Cortez was seen writing a message on board set up at a protest site in the US. "Our entire community's prayers n support are with the families of Kashmir as we work to establish peace and justice there & throughout the world," she wrote.
She later retweeted photos from the event and called for an end to the communication blockade in the region.
In Canada, leader of the New Democratic Party Jagmeet Singh echoed these statements at a gathering on Monday.
"The Indian government shut down telephones, cellphone communication, and blocked media. Anywhere in the world, if the cellphones are being blocked, the telephones are being shut down, and the media is not allowed to go there, I can assure you, there are human rights violations going on," he told the crowd.
Singh also "denounced what India was doing to the people of Kashmir."
Cortez and Singh's statements are among the growing chorus of foreign leaders calling out the Modi government's alleged atrocities in Kashmir since the abrogation of Article 370 on August 5.
In August, US Congresswoman Ilhan Omar had called for giving access to international organizations to document ground realities in Kashmir.
"When President Trump meets with Indian Prime Minister Narendra Modi in Houston, we will hear much about the friendship between the American and Indian peoples. However, there will be a deafening silence when it comes to a human rights crisis unfolding right before our eyes — and that is unacceptable," Sanders wrote in the Houston Chronicle.
Last month, Indian-American lawmaker Pramila Jayapal along with 13 other US Congressmen urged Modi to address concerns over the human rights situation in Kashmir and lift the communications blackout.
Malaysia and Turkey
In his speech at UN, Turkish President Recep Tayyip Erdogan said that in order for the "Kashmiri people to look at a safe future together with their Pakistani and Indian neighbours, it is imperative to solve the problem through dialogue and on the basis of justice and equity, and not through collision."
UK
Last week, UK's Labour Party passed a resolution condemning the situation in Kashmir. The party's leader Jeremy Corbyn called for UN intervention and a political resolution that upholds the rights of Kashmiris.
Sweden
Two weeks post the removal of Kashmir's special status, Sweden's PM Margot Wallström said the EU supported a bilateral political solution between India and Pakistan over Kashmir, emphasising that "dialogue through diplomatic channels is crucial".
US Congressional hearing
A US Congressional sub-committee on Monday said it will hold a hearing on human rights situation in South Asia with focus on Kashmir on October 22.
The hearing will focus on the Kashmir Valley, where many political activists have been arrested and daily life, the internet, and telephone communications have been interrupted, US Congressman Brad Sherman, Chairman of the House Subcommittee on Asia, said in a statement.
The panel will also review the humanitarian situation in Kashmir and whether Kashmiris have adequate supplies of food, medicine and other essentials, he added.
"In August, I had an opportunity to meet Americans from Kashmir Valley in the San Fernando Valley, along with my colleague Congressman Andr Carson (D-IN). We heard stories of difficulties encountered by my constituents and others, and the fears they have for their loved ones. Since then I have had several additional meetings with Kashmiri Americans," Sherman said, PTI reported.
"I look forward to learning more about human rights in Kashmir," he said adding it will also focus on the Tamils of Sri Lanka, the human rights situation in Pakistan, including the Sindh Province and Muslims in Assam.
India maintains status quo
Meanwhile, External Affairs Minister S Jaishankar once again categorically rejecting any scope for third party mediation between India and Pakistan on Kashmi, saying India's stand had been clear for decades and the two countries can discuss the issue bilaterally.
Jaishankar who is back in Delhi after attending the annual General Assembly session of the United Nations along with Modi, said that the Kashmir issue was raised in half of his meetings on the sidelines of the session.
"Frankly, most of them were focused on the bilateral relations," he said, "It was not necessarily the first issue of interest to them."
Jaishankar said he apprised world leaders about what was happening and why it was happening in Kashmir.