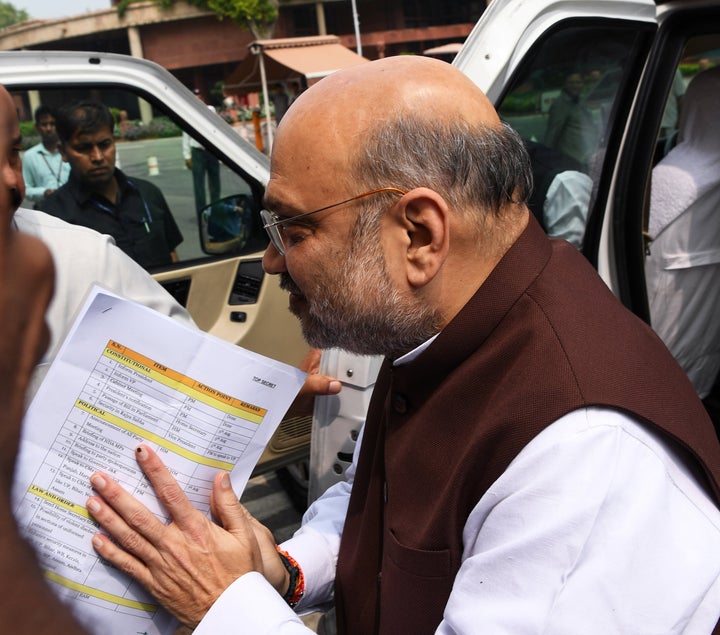 On Monday morning, as the panic over the NDA government's plans for Jammu and Kashmir was peaking, home minister Amit Shah was photographed entering Parliament. While that in itself is not out of the ordinary, by then, Prime Minister Narendra Modi's cabinet had just finished an hour-long meeting, internet and mobile services had been snapped in many parts of Kashmir and at least two former state chief ministers had been placed under house arrest.
While there had been rumours that the government was aiming to abrogate Article 35A, which, among other provisions, bars people from outside the state from acquiring any immovable property in the state, the announcement by Shah in Parliament that the government plans to revoke Article 370 and bifurcate the state into two union territories still came as a shock to many.
The notoriously close-mouthed Modi administration had neither been confirming nor denying any of the speculation that had been floating about, instead concentrating on sending more military personnel to the state and evacuating Amarnath pilgrims. Indeed, interviews given by top union ministers to the media hours before Monday's developments suggest they were either kept in the dark or encouraged to lie to journalists.
The photograph in question—the most clear image that has been zoomed into and is doing the rounds of social media has been attributed to AFP photographer Prakash Singh—shows Shah holding what appears to be a checklist of action points related to the scrapping of Article 370. The list begins with the "constitutional" points that need to be addressed, including the President's notification and the passage of the bill in Parliament.
According to this list, PM Modi is scheduled to "address the nation" on 7 August, Wednesday. The list says he will also speak to Jammu and Kashmir governor Satya Pal Malik as well as the chief ministers of states such as Punjab and Haryana, though it doesn't specify a date for this.
This well-organised list also tells us that the government is preparing for the possibility of "violent disobedience" from sections of uniformed personnel, which some have speculated may refer to the Jammu and Kashmir police.
It's in keeping with the Modi's government's systematic shutting-out of the media that the most information so far on the government's plans to deal with the aftermath of its plan to scrap the 70-year Article 370 has to be gleaned from an agency photograph, rather than an official statement.
Popular in the Community