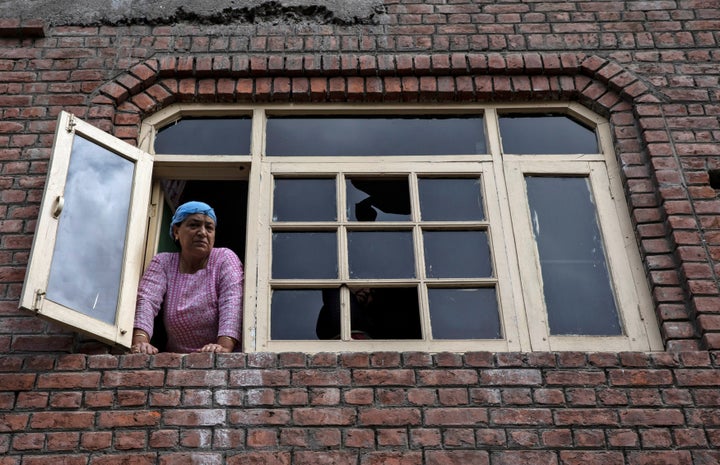 It has been almost three weeks since the Narendra Modi government instituted a massive clampdown in Kashmir, imposing restrictions and curfews across the Valley, detaining political leaders and cutting out means of communication, before announcing that Article 370, which gave special status to Kashmir, was bring abrogated.
Since then, authorities in the state have claimed that the situation in Kashmir is under control, with more and more restrictions being eased.
On Tuesday, state government spokesperson Rohit Kansal said that landlines were now operational in some parts, restrictions were relaxed in 136 police station areas out of 197, and that schools and government offices were seeing an increase in attendance.
The government has been at pains to portray that the situation on the ground is 'normal', but with local journalists still facing restrictions and internet connectivity down, the voice of Kashmiris remains muzzled.
Reuters reporter Zeba Siddiqui, who just returned from Kashmir, tweeted a long thread on Wednesday about what she saw on the ground, with fear and despair seeming to be the primary emotions.
Schools allegedly open, but classes empty
Primary schools reportedly opened on Monday and middle schools opened on Wednesday, in what the authorities claim is a step towards "normalcy". But many news reports said that students and teachers stayed away from these "reopened" educational institutions out of fear.
Multiple reports suggest that gates of most schools remained bolted from inside and classrooms remained empty. The Indian Express reported on Thursday that its reporter visited 26 schools across five districts — Srinagar, Budgam, Baramulla, Bandipore and Ganderbal — and none of them seemed to have been functioning.
The report said that some teachers who had managed to report to duty said that their lives were being put in danger by the authorities by re-opening the schools.
The Guardian, in a report published on Monday, quoted a local police officer as saying, "It is a risk. I cannot risk my child's life for some experiment... There has been a gradual increase in anger and protests over the last three days so one cannot say what will happen next. The situation will not implode but there are chances that protests will grow."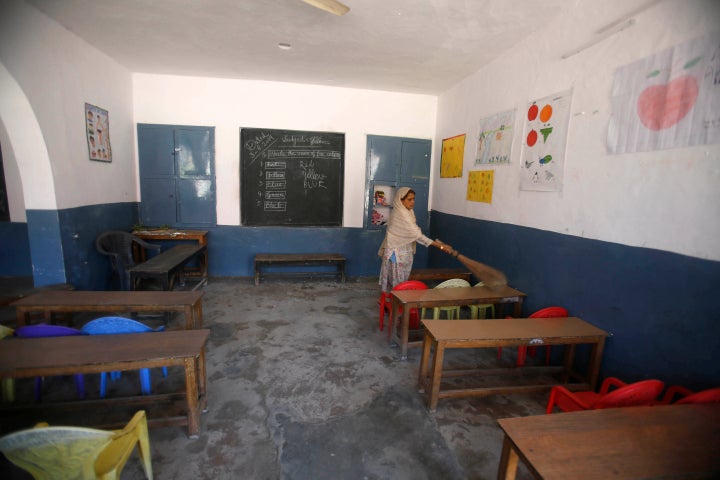 Mobile and internet are still down
Making calls in cases of emergency or just to check in on a loved one is still a luxury for Kashmiris inside and outside the state. Immediately after the blackout was imposed, many Kashmiris living away from home had expressed anguish over how they could not get in touch with their families.
A report in Hindustan Times said that people in the Valley had few options to make calls to make local and international calls and were queueing up for hours at police stations to use landlines that only worked sporadically. The calls, the report said, only lasted for 30 seconds to a minute.
Wahid Aslam, an official in charge of overseeing the phone call facility set up at the district commissioner's office, told the newspaper, "Sometimes the people break down and start crying when they can't get through to their relatives or they can't speak to them long enough."
Political leaders MIA
There is still no official confirmation on where mainstream political leaders of Kashmir like Omar Abdullah, Mehbooba Mufti, Farooq Abdullah and Sajjad Lone are, though reports say some are at home and others at a plush conference centre on the banks of the Dal Lake.
Omar Abdullah, who is usually active and vocal on Twitter, last tweeted on August 5. Mehbooba Mufti too had tweeted last on August 5, calling the Modi government's move a "betrayal of trust" of the people of Kashmir.
While the Modi government has not given out any information about these leaders, a report in The Asian Age on Wednesday claimed that Omar Abdullah and Mufti had been flown to Delhi last week, before being taken back to the Valley.
"Why will we withdraw troops (security forces) immediately?""
No withdrawal of troops soon
Thousands of troops, apart from the ones already present, were sent to the Valley ahead of the announcement on August 5. AFP reported that "tens of thousands of troops" were sent to Kashmir where 500,00 troops were already present.
Now, the government has said that they had no plans of withdrawing these from the area. Minister of State for Home G Kishan Reddy was quoted by PTI as saying, "Why will we withdraw troops (security forces) immediately from there when Pakistan is trying to provoke? Pakistan was trying to provoke Kashmiris and disturb the peace so that it can go to international community (to complain). The decision whether to withdraw or not will be taken by the local administration."
Media remains muzzled
Kashmiri media has remained offline for about two weeks now. A quick look at the websites of Greater Kashmir, Rising Kashmir and Kashmir Reader show that they have been last updated on the early hours of August 5. However, Scroll.in reported that some of them have managed to keep their print editions alive, working amid dire circumstances.
The report however said that the size of the editions have shrunk. The report quoted Ishfaq Tantry, general secretary of the Kashmir Press Club, as saying, "We were not expecting a lockdown of this magnitude, that even landlines would be shut. We thought even if they go for a communications blockade, broadband and landlines will be open."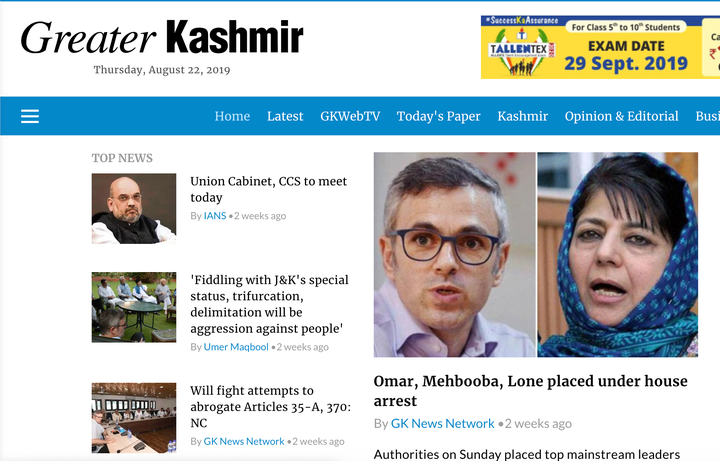 Rising protests
There have been several reports of stone pelting and protests from across Kashmir over the last two weeks. Reuters reported on Wednesday that separatist leaders called for a mass march after Friday prayers this week to the office of the UN Military Observer group in Srinagar, which was set up in 1949 after the first war between India and Pakistan over Kashmir. They called for the march through posters that were put up all over Srinagar over night.
In Srinagar's Soura, residents have put up barricades and have carried out vigils to keep out Indian forces. A Reuters report quoted a resident as saying, "Every day they are trying to attack us here, but we are fighting back. We feel like we are trapped".
Besides the blackout, there have also been reports of human rights violations — children being hit with pellets, people being dragged out of their homes by security forces — however, the authorities have called them baseless. Kashmir People's Movement leader Shehla Rashid had a case registered against her after she tweeted about alleged atrocities by security forces. The Indian Army said she was trying to spread fake news.
Huffpost India had reported last week that the government had resorted to the use of pellet guns on protesters, with Srinagar's hospitals seeing a steady flow of civilians with pellet gun injuries.
Mehmooda Akhtar, the mother of Rafia Bano, who had a pellet a ijnury to her eyes, had said, "God, save her eyesight. She has a baby to look after."
"I was in my courtyard when they fired pellet on me," Rafia said. "I felt my eyes burning as if someone had set them on fire."
Meanwhile, BJP in the state is carrying out business as usual. A Huffpost India report on Thursday pointed out that while other political party offices were empty, with their leaders detained, it was only the BJP office in Srinagar that has been functioning like everything was "normal".