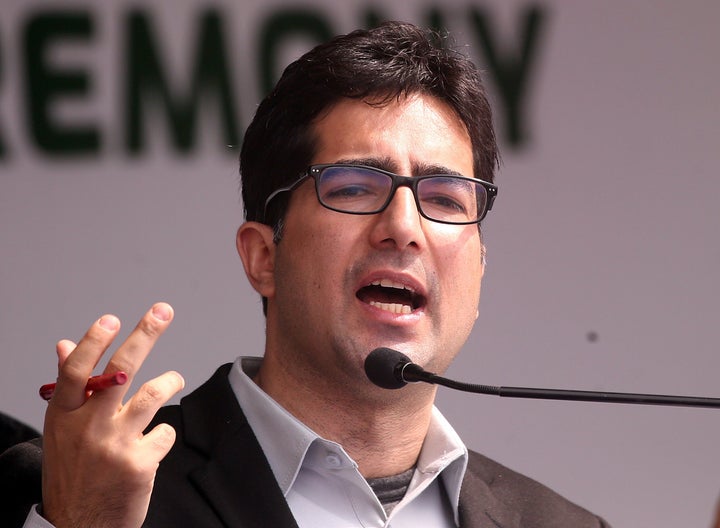 Shortly after he landed in Delhi on Tuesday afternoon, former Indian Administrative Officer (IAS) Shah Faesal spoke to HuffPost India, describing the seconds that followed Home Minister Amit Shah's announcement revoking Jammu and Kashmir's special status.
Faesal said, "It was like a nuclear bomb had fallen on Kashmir. Everyone was frozen."
"I have no words to describe how it was. Hundreds of people were crying and mourning, but there was such a feeling of helplessness. This has been done to impose a sense of defeat in the entire people."
On Tuesday, as the rest of the country still waits to hear from the people most affected by the government's shock move to nullify Article 370, Faesal's remarks shed light on how the news was received in Kashmir.
In Lok Sabha, Jitendra Singh, union minister and BJP leader from J&K, claimed, "The common man in the streets of Srinagar is rejoicing the abrogation of Article 370. There is, however, a veil of fear that is hindering them."
Since Sunday night, mobile phone services, internet via broadband and mobile phones, landline connections, and cable TV has been blocked in Kashmir. The websites and social media channels of Kashmir's local media have been in a state of dormancy, not having been updated since Sunday.
""It was like a nuclear bomb had fallen on Kashmir. Everyone was frozen."
'Robbed in broad daylight'
"Quiet," is a word that came up several times in the conversation with Shah, who quit the IAS in January, and co-founded a political party, the Jammu and Kashmir People's Movement, with political activist Shehla Rashid.
Quiet on account of the curfew, which was keeping people from leaving their homes, the communications blackout, and the fact that almost all major political leaders, including mainstream ones like Omar Abdullah and Mehbooba Mufti, have been arrested by the Modi government.
Faesal said, "Nobody had the slightest idea that the Indian Constitution would be robbed of its value in broad daylight. We saw it as the demise of India. I have come to Delhi to mourn this demise."
"Nobody had the slightest idea that the Indian Constitution would be robbed of its value in broad daylight."
The BJP has maintained that J&K's special status needs to go, but legal experts have pointed out that the manner in which the Modi government has tried to reach its goal is unconstitutional.
As per the Instrument of Accession, Kashmir's special status can be revoked only after the Government of India (GOI) concurs with Kashmir's Constituent Assembly or its Legislative Assembly, which then needs to pass a resolution on the same. But since the state is under President's rule, the NDA government bypassed this by acting instead of the Jammu and Kashmir legislative assembly.
"In essence, Parliament has acted on behalf of the Jammu and Kashmir legislative assembly to move a resolution to modify Article 370," wrote Scroll.in's Sruthisagar Yamunan on Monday.
But given that rumours of bifurcation and revocation were already in the air, following the massive troop deployment in the days ahead of the announcement, how were Kashmir's leaders still taken by surprise?
Kashmiri political leaders, said Faesal, were assured by the Modi government that "nothing is going to happen." "Maybe that is what made the mainstream leaders complacent?" he said.
Even as late as Saturday, two days before Amit Shah introduced the bill in Parliament, state governor Satya Pal Malik had denied that the government was planning anything big and said there was "nothing to worry about".
Even on Sunday, I&B minister Prakash Javadekar told Deccan Herald that "no dramatic announcements" were in the offing, indicating he either lied or was kept in the dark about the developments.
'More hurtful'
The Supreme Court, Faesal argued, had upheld the "permanent" nature of special status for Kashmir.
Speaking to HuffPost India, Faizan Mustafa, a law professor and Vice Chancellor of NALSAR, Hyderabad, said that while the BJP maintains that special status to Kashmir was only a 'temporary provision," the Supreme Court of India on several occasions has observed that it is not a temporary provision.
Rather than discuss the merits and demerits of the revocation, however, Faesal spoke on the manner in which it was carried out.
"More hurtful is the manner in which it was done. It was done with such unilateralism and ruthlessness, without taking into consideration Kashmiris. There cannot be a darker day for democracy."
Reflecting on where he stood, given that he had left the IAS to join politics, Faesal admitted he was feeling "helpless."
Given that most political leaders are in jail in Kashmir, he said, "It is very lonely there. There is a lot of helplessness."
In Delhi, Faesal said that he intends to meet people and figure out a way forward.
In Kashmir, Faesal said that "defeat" and a sense of despondency were the prevailing sentiments, at least for the moment.
"What has happened is that the BJP government has demolished the mainstream electoral politics in Kashmir. Who will remain there to carry out mainstream politics, I don't know."
Popular in the Community