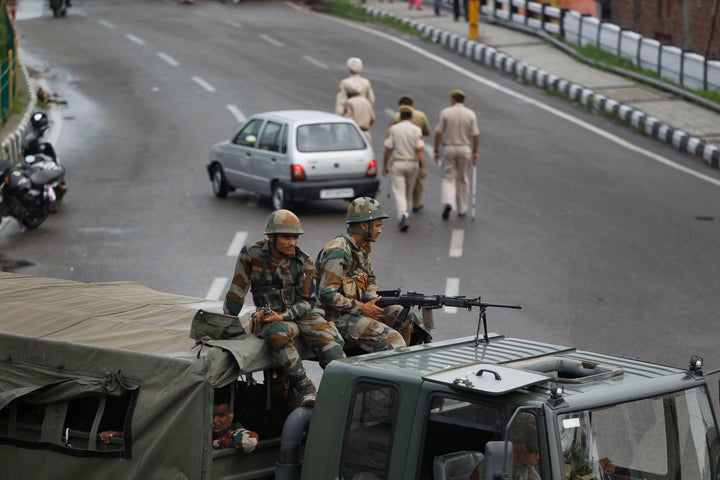 NEW DELHI — The Narendra Modi government's decision to abrogate Article 370 of the Indian constitution through controversial means is "utterly and palpably unconstitutional," said respected scholar and constitutional expert A G Noorani. The author of many books about Kashmir, including Article 370: A Constitutional History of Jammu and Kashmir, tells HuffPost India in this exclusive interview that the Supreme Court must declare this decision as "void".
Edited excerpts from an interview:
Your first reactions to the abrogation of Article 370. What do you make of the decision?
It is utterly and palpably unconstitutional. An unconstitutional deed has been accomplished by deceitful means. For a fortnight, the Governor and other people told a whole load of lies. And I am sorry that the Army Core Commander (Chief) was also enlisted to spread this false thing of inputs from Pakistan. It was all a falsehood. They have undermined the Army's non-political character. This is patently unconstitutional. Thing is that I had always predicted that they are out to fulfill their Saffron agenda: Uniform Civil Code, Ayodhya and Abrogation of Article 370. It remains to be seen how they accomplish the Ayodhya agenda.
Now this can go to the Supreme Court and no one knows how the Supreme Court will decide.
What do you think, in ideal circumstances, should the Supreme Court decide?
Well, strike it down as void. Of course, it is palpably void.
They seem to be saying that this could be passed with a notification signed by the President. That is their argument.
Listen, let them argue. It is palpably false.
Secondly, they are saying that the constitutional assembly of Jammu and Kashmir ceases to exist with this. What do you have to say about it?
After the dissolution of the Constituent Assembly in 1956, the power of abrogation of Article 370 vanished.
If you could elaborate and explain the importance of Article 370 for Kashmir and India?
See, Kashmir was a unique thing; it was the only state to accede under unique circumstances. My book on Article 370 contains a detailed explanation. Article 370 was meant to express the identity of Jammu and Kashmir because of the special circumstances in which it acceded to India. And that identity is sought to be destroyed. It got a special status because of the historical circumstances.
One of the arguments from the ruling dispensation and its supporters is that this unifies Kashmir with the rest of India. What do you make of this?
You know, it seems to me that you are unaware of Kashmir. It is already there. What they mean by integration is just to remove its identity.