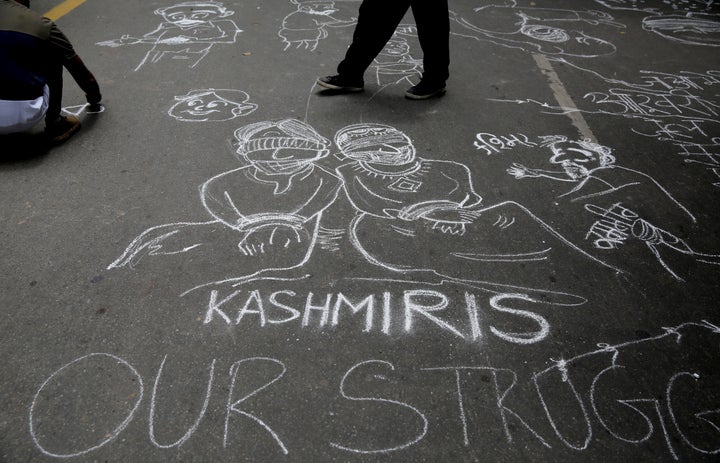 SRINAGAR, Jammu & Kashmir—The Modi government's decision to nullify Article 370 and divide Jammu & Kashmir into two Union territories has claimed its first civilian victim—a 17-year-old boy named Osaib Altaf, from Srinagar's Palpora area—HuffPost India has learnt.
Separately, a visit to Maharaja Hari Singh Hospital, and interviews with hospital authorities, revealed 13 additional cases of pellet injuries. At least some of these pellet injuries were to the eyes of these victims.
Altaf's family told HuffPost India that he was among a group of boys who were near a playground in their locality, when they were chased away by Central Reserve Police Force (CRPF) personnel, on the afternoon of Monday August 5 2019. The same day, home minister Amit Shah announced the government's plans to bifurcate the state in the Rajya Sabha.
The boys ran to a footbridge over a river, where they were cornered by the CRPF.
"All of them were cornered by CRPF men on a footbridge as they had come from two opposite sides of the bridge. Seeing no way out, the boys jumped into the river. While others were saved by the quick response of labourers extracting sand on the river, Osaib couldn't make it. He didn't know swimming. He remained in the water for 20 minutes," Altaf's father, Mohammad Altaf Marazi, said.
Two of the boys were admitted to hospital by local people, while Altaf's body was brought home, said Marazi.
A subsequent PTI report quoted unnamed officials who confirmed that one person was killed when he jumped into the Jhelum river after he was chased by the CRPF "because of confusion over curfew".
An India Today report, published late Wednesday night, said the person who drowned was a "protestor". Neither reports referred to Osaib Altaf by name.
The government's shock move to scrap the special status accorded to Jammu & Kashmir has been accompanied by an unprecedented communications clampdown on Kashmiris. Mobile, landline and internet services have been cut in many parts of the state, especially the Valley, and the social media channels and websites of ordinary Kashmiris and local publications have been silent for more than 2 days now.
Since Monday, the movement of civilians has been severely curtailed and most people have been staying inside their homes.
This reporter managed to reach Altaf's residence in Srinagar around midnight on Tuesday, after several unsuccessful attempts through the day.
Officials at Shri Maharaja Hari Singh (SMHS) Hospital in Srinagar said they were not authorised to speak to media over any incidents of violence involving government and police forces.
"We can't share the information with you as it creates problems for us," a senior official of SMHS hospital told HuffPost India on condition of anonymity. "We have been told to not to give any information to the media."
'We don't expect justice'
Marazi said his son had no idea about the government's decision to revoke Article 370, and there were no protests in the area at the time of the incident.
"He was just a Class XI student and loved to play cricket. He didn't know anything about this whole Article 370 issue. And we actually had no way of knowing about the centre's decision since we don't have a television or a radio at home," said Marazi, who works as a driver.
"The family is not aware if the police has filed any case in the incident. It also seems to have given up any hope for justice."
Marazi said he last saw his youngest son alive on Sunday afternoon.
"I left for work on Sunday afternoon and returned on Monday morning. I was sleeping until Monday afternoon and Osaib had left for playground in the morning," he said.
The family is not aware if the police has filed any case in the incident. It also seems to have given up any hope for justice.
"Who'll give us justice? We are under oppression. There's no justice in oppression," Marazi rued.
HuffPost India tried multiple times to reach Safa Kadal police station, under whose jurisdiction the case falls, for a comment on the incident. However, the security forces deployed on the way to police station didn't allow this reporter to move ahead.
So far, the government hasn't officially announced any casualties or injuries of civilians during the current crisis. Due to the communications blackout, it's hard to ascertain the actual figures of civilian casualties or injuries.
However, when HuffPost India managed to reach Shri Maharaja Hari Singh Hospital in Srinagar on Tuesday night, we found eight cases of bullet and pellet injuries admitted in the hospital.
"I was walking in the lane leading to my house when CRPF personnel fired pellets on me. It all went blank and I fell down. I don't know how I reached here," Owais Ahmad, a resident of Srinagar's old city's Nawa Kadal, told HuffPost India.
On Wednesday afternoon, SMHS hospital officials said that they have received 13 cases of pellet injuries on the eyes from district Srinagar and Ganderbal. "Two of them have got injuries on both their eyes. However, none of the cases are serious and they will not lose their sight," an official said.
This story has been updated on August 8 2019 to include inputs from a PTI report and an India Today report about the incident, and to make clear that the CRPF chased Osaib Altaf and his friends from a playground to a footbridge where they were cornered.
We will continue to update the story as more information becomes available.
Editor's Note On This Story
On August 2 2019, HuffPost India commissioned journalist Safwat Zargar with writing a series of stories on the situation in Jammu and Kashmir in the backdrop of the unprecedented (and at the time, unexplained) mobilisation of troops in the former state.
Two days later, the Indian government cut off the internet and severed all means of communication in the valley. This blackout, it has since been revealed, was a calculated strategy to silence Kashmiri voices as the Bharatiya Janata Party fundamentally altered the terms of Kashmir's accession to the Indian Union.
For two days, the government — and many sections of the Indian media — have launched a propaganda blitzkrieg extolling the virtues of this unprecedented decision while refusing to let the media access the voices of the people of Kashmir.
On August 6 2019, the Hindustan Times carried a report claiming people in Srinagar welcomed this decision. Their source? National Security Adviser Ajit Doval.
In this situation, which is clearly without precedent, Zargar sent us a report on the human cost of the Indian government's decision.
Given the absolute blackout on all news coming out of Kashmir, we are carrying this story to start a conversation. We anticipate questions from our readers — in fact, we welcome them.
We stand by Zargar's reporting, and call upon the government to clarify the circumstances around the death of 17-year-old Osaib Altaf, and to face the consequences of its decision by lifting the communications blackout in Kashmir.
Popular in the Community