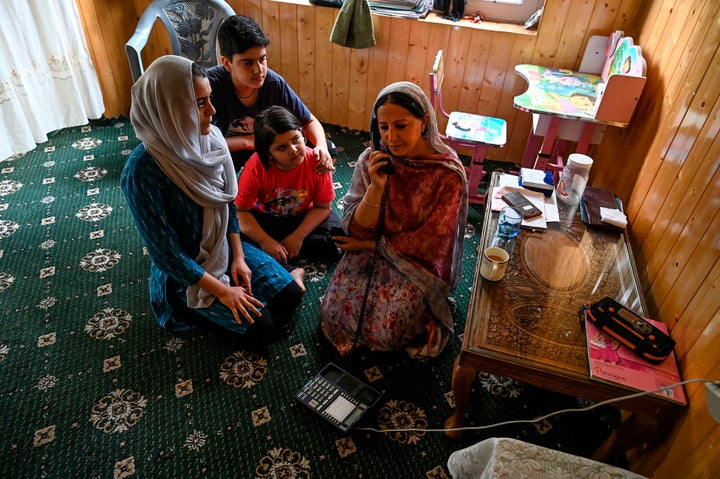 It could have been a scene out of the '80s. A few people wait in anxious silence as a shopkeeper tries to get the landline working. Their faces become tense as each attempt to place a phone call fails until, blessedly, there is a dial tone.
Except this was happening in 2019—last week, in fact—at a women's clothing store in an upscale neighbourhood in Srinagar, Kashmir.
"I never thought the landline would someday be the most valuable thing in my shop," said the shopkeeper, who added that the phone is currently his only source of income. Goods worth nearly Rs 100,000 have been covered with a large cloth to ward off dust, while multiple sheets of paper, bearing the acronym STD in large font, have been pasted on the shop windows.
Mobile and internet services in the region remain suspended almost a month after the Indian government withdrew Jammu and Kashmir's special status by abrogating Article 370 of the Indian Constitution through a legally questionable move.
While internet shutdowns are not new to the state, the unprecedented scale of the clampdown, enforced by lakhs of armed soldiers, has disrupted daily life and livelihoods. Even at the peak of the 2016 protests against the Indian government, considered to be the most intense of the three major uprisings in the state in the past decade, access to landlines and wired internet connections was curtailed only briefly. Civilians and soldiers have mostly been depending on news from satellite TVs and people travelling from outside.
International experts and human rights defenders have critiqued the government's communication blackout, which goes against the spirit of Article 19 of the Universal Declaration of Human Rights, but the government has continued to justify it as a reasonable measure. There is still no clarity on when some kind of normalcy will be restored in the state, soon to be divided into two union territories.
Amid the chaos, telephone booths, which had almost disappeared from public view in India in the mobile phone era, are back on the scene in Kashmir. In parts of Srinagar where landline connectivity has been restored, owners of wired phones have set up makeshift telephone booths. Telecom analysts are beginning to debate the rollout of 5G in India, but on Monday, Hindustan Times reported that many Kashmiris who shut down their public phone booth businesses after being hit by cheap call rates and the internet have reopened them.
Saima and Bashir, both in their late 40s, travelled more than 60km from Anantnag to reach the shop. It had been more than three weeks since they last spoke to their son, who is studying at a college in New Delhi.
"Before this, we were able to send messages to him through others," she said, her eyes welling up. "It is just so satisfying to hear my son's voice after such a long time."
While some landlines began functioning in pockets of Kashmir on 17 August, the couple could not venture out because of security restrictions and fear of violence. Before they hung up, the next phone call was scheduled for a week later. On Sunday, some more landline connections were restored in their district, besides some other parts of the Valley.
"I have spent more money on phone calls in the last week than on recharge (monthly phone bills) in the last few months," said one customer. "But at least I get to speak to my daughter (who is studying) in Mumbai."
At these phone booths, paramilitary soldiers from different parts of the country often outnumber the locals. Despite the hostility in the streets, there is compassion for everyone trying to send word to their loved ones.
"They are as worried as we are but I feel their families must be worried even more," said a shop owner who did not want to be identified. "Most of the times they call their parents or spouses to say that they are doing okay."
Garments, cosmetics, medical tests—no matter what a shop's normal trade is, it pales in comparison to the demand for landline phones. Some charge Rs5/minute, others Rs10.
"If I wasn't charging callers anything, I would be bearing more losses than what I am already incurring due to the shutdown," said one makeshift telephone booth operator.
The garment store is open every day from 7am-10pm. The owner said that many times, people who manage to speak to their families cry over the phone.
"Some receive late news of births while some have to inform or receive late news of the death of their relatives. Some are anxious to know about their children safely reaching their destinations outside and some run their businesses through our phones," he said.
The social media channels of Kashmiris based outside the Valley are full of offers of help to send messages home or carry important items such as medicines for those in need. But the shutdown has meant that even urgent news is delayed.
The news of her uncle's death reached a doctoral student in New Delhi long after his last rites were performed.
"I learnt about (it) from another relative who reached Delhi more than a week after he was buried. He suffered a heart attack and they couldn't call for an ambulance," she said.
She recalled a similar incident in her neighbourhood in Srinagar, where a man died while his family was on the Hajj pilgrimage. "They returned home just a day after his death, unaware of what had happened. It must have been doubly shocking for them."