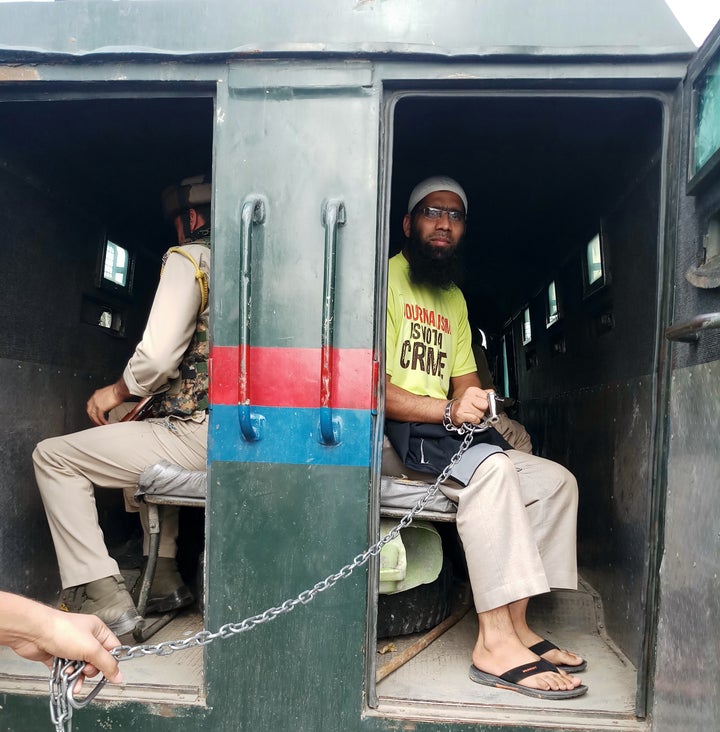 SRINAGAR, Jammu & Kashmir — A year ago, in July 2018, the editor of the Kashmir Narrator received an email from the "Media cell/ CID J&K". The email, purportedly from the Kashmir police, used two recent articles in the magazine on the popular slain militant commander Burhan Wani as the basis to accuse the Narrator of "eulogising terrorists".
Aasif Sultan, a journalist who wrote one of these articles, was arrested two months later on August 27 2018 on charges of providing logistical support to a banned militant organisation and has been in jail ever since. Sultan, his family members and editors say, has been repeatedly interrogated and has been pushed to reveal his reporting sources.
Today, on June 11 2019, ten months after his arrest, Sultan is finally expected to get his day in court, and his lawyers will get to challenge any evidence that the police may present.
Kashmiri journalists say that this case isn't just about Sultan; the freedom of Kashmir's increasingly embattled independent press is on trial.
"From Day 1, I have been saying that the charges against Aasif are cooked up, baseless and fabricated," said Showkat A Motta, the editor of Kashmir Narrator. "The message is clear and unambiguous: Toe the line."
Sultan's arrest and continued detention, Motta said, was part of a clear plan to suppress press freedom. "They are setting a precedent. It's part of a bigger design to gag the local media," Motta said.
Jammu and Kashmir Police spokesperson Manoj Sheeri declined to comment, stating he was "not in a position to speak on the matter."
Police Intimidation
Sultan's editor, Motta, recalls two articles that got his reporter into trouble with the Jammu and Kashmir security forces. The first, published on April 4 2018, was an account of a gun battle in which six militants were killed by security forces in Kachdoor village in the Shopian district in southern Kashmir.
The piece, headlined "When a dying rebel wrote 'Kalima' with his blood in Shopian's Kachdoora" and published with a photograph of the writing, gestured to an on-going debate on whether the Kashmir unrest is a political struggle, or an Islamic one. The Kalima, refers to six phrases intrinsic to Islam.
The Narrator's report was soon picked up by other Kashmiri publications.
"More than an hour after we published the report, I got a call from the office of Inspector General of Police, Criminal Investigation Department, (CID), Abdul Gani Mir," Motta, Sultan's editor said. "He told me that we are glamourising militancy by the publication of such stories. I told him we are just doing journalism."
Then two months later, in June 2018, Sultan published a 4000 word cover story on Burhan Wani, the telegenic young militant who was slain by security forces in July 2016. Sultan's article relied on extensive interviews with surrendered militants to understand Burhan's appeal amongst a section of Kashmir youth, and ask a simple question, "Why is Burhan proving more dangerous in his grave than in his living room?"
"It was one of my police sources who facilitated Aasif's meetings with those former OGWs of Burhan Wani's group. The details mentioned in that article were never reported before," Motta, the editor said. OGW, or Over Ground Worker, commonly connotes those who provide logistical support to the militancy but do not leave their homes and villages.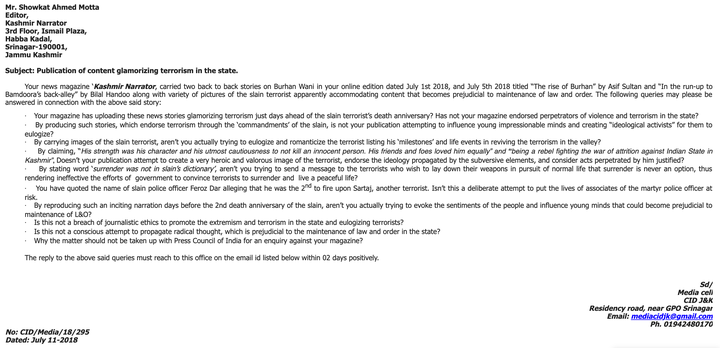 On 11 July, Motta received an unsigned email from a gmail domain, claiming to be from the Media Cell of the Jammu and Kashmir police's Crime Investigation Department.
"By carrying images of the slain terrorist, aren't you actually trying to eulogize and romanticize the terrorist listing his 'milestones' and life events in reviving the terrorism in the valley?" the email asked, demanding answers from Motta within two days.
"There was a telephone number mentioned at the end of the email. I tried that number multiple times but it didn't work," Motta explained. Huffpost India also made several calls on the number given in the email id. While the phone rang, nobody answered.
Then on the night of August 27 2018, Sultan was arrested by the police and implicated in an August 2017 encounter in which a policeman was killed by militants.
"Who'll dare to write about Burhan Wani now?" Motta said.
Legal Lacunae
Sultan's family say the sequence of events leading to his arrest was misrepresented by the police.
Sultan's father, Mohammad Sultan, told HuffPost India that his son was arrested on the intervening night of August 27 2018, but his arrest was formally shown on September 1 2018.
A police source said Aasif was "only summoned" to the police station for "questioning" before his formal arrest on September 1. "We let him go home in the evenings," the police officer claimed.
"If they let him go home during those days why don't they show us the CCTV footage of the police station and let us see if Aasif really did leave the police station," Motta asked.
In custody, family members said, Sultan was repeatedly asked to reveal the sources behind his stories.
"When he recalled his interrogation, he told me that policemen were continuously asking him to disclose his sources," Sabeena, Sultan's wife, said.
Pressuring Sultan for his sources appears to be part of a wider crackdown on the Kashmiri media. On Sunday March 10 2019, TheWire.in reported that Kashmir's biggest newspapers had published blank first pages "in protest against unexplained denial of government advertisements to Greater Kashmir and Kashmir Reader". Government advertisements form a vital part of the revenue streams of media organisations across the country.
At a meeting with Union Home Ministry in March, the Indian Express reported on May 3 2019, one of the key decisions conveyed to J&K state government included "sustained action against media houses involved in anti-national coverage" and enforcing ban on telecasting "unapproved channels in an effective manner."
Draconian Laws
The Jammu and Kashmir Police did not respond to HuffPost India's requests for comment. Speaking on background, a senior police officer said Sultan was not arrested for his journalism.
"We have not arrested a journalist but a person who's involved in a terror-incident," the police officer said.
"He was part of a Hizbul Mujahideen module led by Abbas Sheikh, a top militant from south Kashmir's Kulgam district," the officer continued. "During our investigations, we arrested several over ground workers of the module. Upon their questioning, they revealed Aasif's role in harbouring militants and taking care of their logistical needs."
Yet the chargesheet, filed six months after Sultan was arrested, offers little evidence to support these claims.
Adil Abdullah Pandit, Aasif's legal counsel, said the police was relying on the draconian provisions of the UAPA to prolong Sultan's incarceration without trial.
"Under UAPA, the time period to file the chargesheet can be extended up to 180 days depending on the status of police investigation," Pandit said. "In Aasif's case, the police filed charge sheet on 179th day."
It took another three months for the charges to be framed.
"In order to frame charges, all the accused need to be presented at the court same time," Pandit said, explaining that the police shifted many of the accused to different jails, and then claimed it was hard to present all of the accused in court together. "It was only after the court's intervention that the police presented all the accused before the court."
According to the chargesheet, examined by HuffPost India, Sultan's involvement in the case was based on the disclosures of one of the co-accused in the case. It was on the basis of this disclosure that police seized "some incriminating material" — which turned out to be 17 sheets of the letter pads of the Hizbul Mujahideen militant outfit.
"Further his role in circulating/posting/propagating the messages of banned HM outfit has also been established through incriminating material recovered from from Facebook account. The electronic devices seized/recovered from the possession of have been sent to the Forensic Science Laboratory Srinagar for expert opinion," the chargesheet reads.
According to Pandit, Aasif″s lawyer, till date, police hasn't submitted any such examination report before the court.
Anxious Family
Meanwhile, Sultan's family is anxiously awaiting his release. His 15-month-old daughter Areeba has had little chance to know her father. Since he was arrested, she has spotted him in the newspapers but not in person.
"Every time she sees her father's picture in newspaper, she shouts 'Baba'," said Sabeena, Sultan's wife.
His mother Harja has kept a vigil since the night he disappeared.
"When they took him along that night, I told them when are you returning my son?" Harja said. "A police officer replied that he (Aasif) will be back by 10:30 in the morning." She added, "I am still waiting for him."