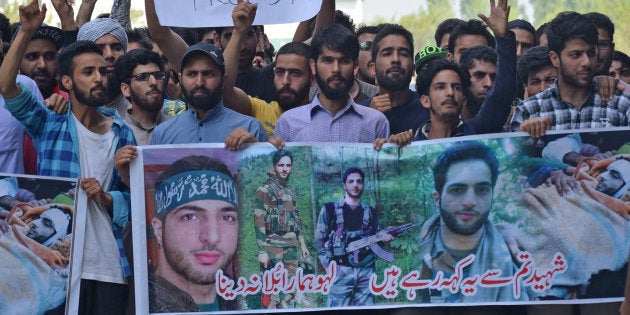 Sitting in a well-carpeted home in Shopian district, a 10-year-old Zeeran and her elder cousin sister Afsana, 12 years old, looked intently at a photograph. Their mothers and aunts were engaged in conversation over nun-chai, the famous salt tea of Kashmir. Those two girls of Shopian were about to reveal why Kashmir witnessed an unprecedented uprising in mid-2016 and why Burhan mattered so much. In the photograph that appeared on their Nokia handset screen posed 11 men, all in camouflage. Afsana recollected their names effortlessly and Zeeran smiled a shy smile. Burhan, Adil, Waseem, Saddam, Shanawaz... The photograph released online on 1 July 2015 had a young Burhan Wani sitting in the centre surrounded by 10 other men. Four of them—Adil Ahmed, 20; Waseem Ahmed Shal, 22; Saddam Hussain Padder, 21; and Shahnawaz Ahmad Peer, 21—were from Shopian, the girls' home district. The Commander and his peers had made headway into the living rooms of Kashmiri homes way before his death. The girls were bearing witness to insurgency of a different kind which Burhan mooted right after he dropped his school bag to take up a gun in 2010.
They were a generation apart, Burhan and his men. Unlike the militants from Pakistan, they were all from Kashmir and most were born in the late or mid-1990s. In contrast to the foreign militants who focused on North Kashmir, the young brigade set up base in the simmering South and their popularity grew from 2010 until 2016. The Hizbul Mujahideen, the outfit they joined, was home-grown; unlike the Pakistan-born Lashkar-e-Taiba which used to call shots in the valley before Burhan entered the scene. But most importantly, they left a blazing trail in the virtual world as they appeared in photographs and occasional videos for the youth to watch and identify with. Their unflinching presence before the cameras and their love for social media were a testimony to what the Hizbul Mujahideen—whose ranks swelled over three decades starting in 1990—had in mind: a team of Kashmiri youth who knew what it was to live and die for changing the bitter realities in their troubled lives. The recruitments which Burhan made revealed a glimpse of the Hizbul's game plan. The young Commander recruited local people, most of whom were young, educated, and tech savvy from well-to-do families. His recruits represented the cross-section of Kashmir's young, making it easy for them to communicate without an effort to a larger number of youngsters.
The 'local boys' brought in a sea change. From 2010 to 2015, they brought about a churning in Kashmir's youth pool which the Indian security agencies called the 'new-wave' of militancy in Kashmir. By mid-2015, owing to the Hizbul's efforts, for the first time in the conflict-torn land, insurgents from home outnumbered the foreigners, who were mostly from Pakistan. By that time, four districts in the South of Kashmir alone had the presence of 60 insurgents, all of whom were local men whose age ranged between 15 and 29. In the North, there were 25 local insurgents, and in Central Kashmir, three out of the 13 insurgents were locals.
The trajectory which the lives of two young men—Ishaq 'Newton' Parrey of Srinagar and Zakir Rashid Bhatt of Tral—took can best explain what the Hizbul achieved during Burhan's time. Ishaq was actually named Ishaq Ahmed Parrey; the boy was later known as Newton after the English Physicist Isaac Newton: one, because Ishaq was the Arabic equivalent of Isaac; and the other because he was a young prodigy. The lean sweatshirt-wearing teenager had surprised many. First, when he scored 98.4 per cent in the Class X board examinations, then when he bagged 85 per cent in Class XII, and finally, when he left it all to join the Hizbul in March 2015. Newton had taken a meagre Rs 1,000 from his father Mohammed Ismail Parrey before he left. The 19-year-old who wanted to become a doctor, came back home in 2016 wrapped in a shroud, and was buried in a martyr's memorial graveyard to the accompaniment of the wailing of his supporters.
In a similar tale, Rashid Bhat, an engineering graduate who studied in Chandigarh left his home in 2013 to join the Hizbul Mujahideen. The youth, who was a pampered child from an affluent home, used to get Rs 200 per day as pocket money, loved bikes, and had a sweet tooth. The fact that these two made it to the ranks of the Hizbul made it clear that the outfit no longer looked for the 'backward' in the state. It recruited young men who could inspire others: a band of vanguard troopers who offered a political message which was attractive. Through Burhan, the Hizbul made it clear that social change, with its trappings of better educational opportunities, employment, and earning was possible only if the youth mooted a battle of ideas which toppled the existing political structures that had failed to better their lives.
In a state where democracy was a choice between National Conference—which had made an alliance with Indian National Congress—and People's Democratic Party—which made an alliance with the Bharatiya Janata Party in 2014—the Hizbul Mujahideen's efforts to emerge as a political alternative bore rich fruit. Evoking a history of the torn land and defining insiders and outsiders, the outfit managed to create a sense of unity among Kashmiri youth. In Burhan's own words, which were relayed right before his killing, there existed a palpable enemy against whom Kashmiris should revolt. 'Kashmir's land belongs to its people...Look at the history of Kashmir and decide who is the terrorist, Indian army or the Mujahideen? All of Kashmir knows that Indian army is the terrorist outfit,' he had said, smiling his signature smile. It was only to be expected that Burhan would be seen as a hero; a David fighting for freedom pitted against the Goliath of the Indian State and its army. While this was a time-tested message that stalwarts of separatist movements in Kashmir—including Syed Ali Shah Geelani of Hurriyat (G), the 87-year-old veteran of separatist politics—had reiterated over six decades, the fact that these were the words of a 22-year-old mattered. In Burhan, the lofty ideals of valour, sacrifice, and freedom, which dwelt in every bleeding youthful heart in Kashmir, found expression. Geelani too was stunned by this. 'He was a Mujahideen who became the leader of the masses, perhaps the first after Salahuddin,' the man who had spent most of his life in house arrest said. Syed Yusuf Shah alias Syed Salahuddin, who hailed from Budgam, Kashmir, was the founder of the Hizbul Mujahideen. After Salahuddin, who created a flutter in insurgency scene in Kashmir, it was Burhan who had managed to make people call Hizbul Mujahideen's strikes 'a movement' instead of 'an operation'.
The Hizbul's messages, which spoke less of poverty and backwardness and more of oppression and occupation, created a political space—a comfort zone—which captured the imagination and support of many more youth than those actually recruited by the outfit. Addressing disillusionment and striking an empathetic note with youngsters, the Commander was able to show a new generation of young Kashmiris—most of whom were born after militancy abated in the mid-1990s—to dream a new dream that best translated into the slogan, 'There is only one solution ... gun solution, gun solution.'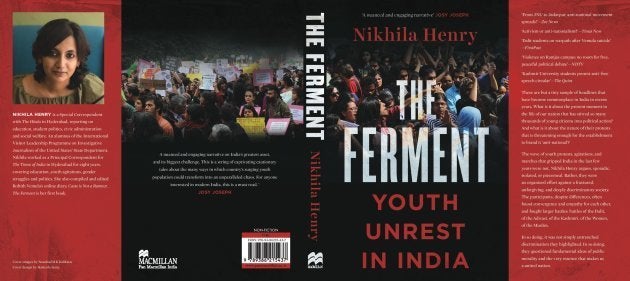 In Shopian, the girls who called Burhan their brother reflected upon the new dream and the ideals it evoked. 'He was brave,' Afsana said, as her nimble walnut-stained fingers zoomed in on Burhan's face. Zeeran was ready with a song, Chon Burhan, Myon Burhan, O Shesawar, Son Burhan...an elegy in memory of the martyr. Burhan was also a sentiment. In their textbooks of classes V and VII that were strewn around, one page read, 'We can never forget the people who fought to get us freedom from British rule. Rani Jhansi was one of them'.
The epic nature of his persona and the ideals he put forth had made Burhan, in popular imagination, a freedom fighter. Would anyone get attracted to that image, the air of which almost all Hizbul Mujahideen recruits carried? The girls smiled intriguingly as one of their young aunts played a collage of images on her mobile phone. In pictures that appeared on the handset screen they pointed at one; a screen grab of a clean-shaven Burhan with a red band tied around his forehead squatting on the floor, strumming on an AK-47.
In that remote village in Shopian, in a well-lit home, eight women and their children watched Burhan lip-sync along to a Kashmiri folk song, Mother what if I don't come home, silently appreciating his boyish charm and his effortless heroism. It was 8 September, exactly two months after Burhan's death. The song lingered in the room, Chui qasm myonui beyi maini maenzi hyund ('Be calm when they lower me into the grave'). Burhan had touched lives and what he offered was the promise of a new tomorrow that was too good to reject while living a deprived life.
Excerpted with permission from The Ferment: Youth Unrest in India by Nikhila Henry published by Pan Macmillan at Rs. 599, 284 p.