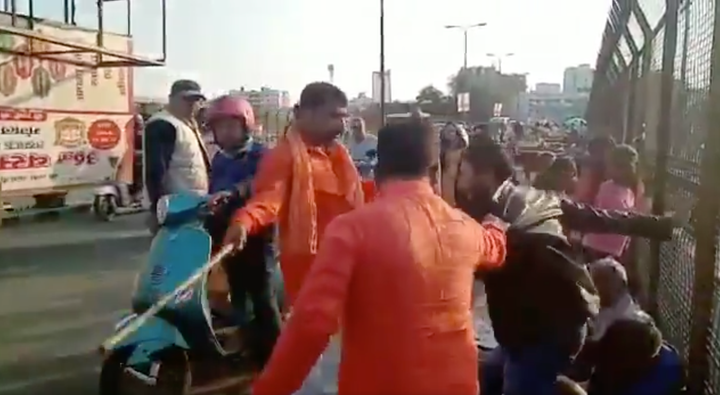 Saffron-clad men, reportedly from a right-wing, group beat up two Kashmiri dry fruit sellers in Lucknow's Daliganj Bridge on Wednesday, in another attack on Kashmiris in the aftermath of Pulwama.
ANI reported that one man seen in the video that went viral had been arrested.
The viral video showed two saffron-clad men attacking two Kashmiri fruit sellers on a busy roadside and ask them for their identity cards. They were seen beating up the men and hurling abuses at them.
In another video of the incident, locals were seen interrupting the men and asking them to not take law into their hands.
One man asks them "Why are you beating them up?" To which, one of the goons say, "Kashmiri hai yeh (He is a Kashmiri.)"
The locals are believed to have called the police.
Reports say that the men belonged to a right-wing fringe outfit.
Uttar Pradesh Director General (Law and Order) Anand Kumar told NDTV, "This is a very unfortunate and one-off incident which has happened. We will crackdown on such incidents with the entire force of the law. Nobody is above the law and nobody can target innocent citizens like this.... The strongest possible action will be taken to target innocent Kashmiris."
Former Jammu and Kashmir chief minister Omar Abdullah condemned the incident.
After the Pulwama suicide bombing on 14 February that killed 40 CRPF men, Kashmiris have been persecuted across India. There had been reports of Kashmiri students being targetted in Bihar, Uttarakhand and other northern Indian states.