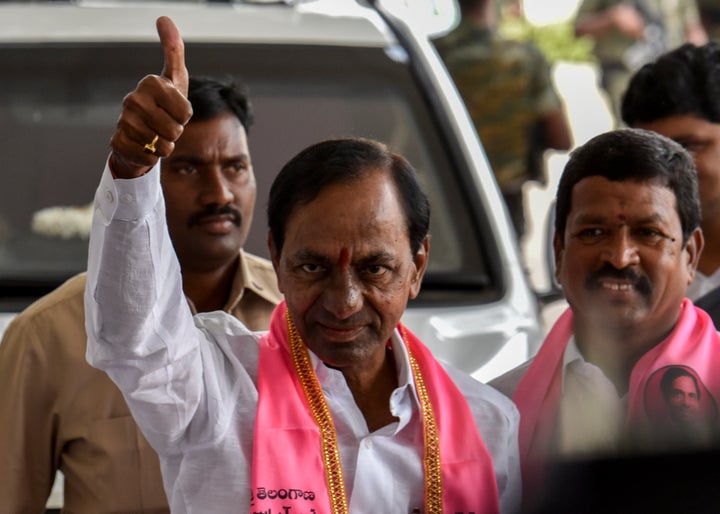 The turncoats account for two-thirds of the Congress's strength in the state assembly, implying that their defection can be considered a "merger" — and hence legal — under India's anti-defection law.
The defection has effectively robbed Telangana of an opposition as the Congress has been reduced to a mere six seats, meaning the TRS's ally Majlis-e-Ittehadul Muslimeen (AIMIM), with seven MLAs will now rise to the status of the main opposition party, in a house of 119 seats.
"Now, TRS is the only party which can command attention in the State because the Congress is decimated and AIMIM is a TRS ally," said K Lakshminarayana, a political scientist based in Hyderabad.
At a national level, the Telangana defections have added to the impression that, with Rahul Gandhi stepping down as the Congress President and no successor in sight, the Indian National Congress is falling apart. Earlier in the day, the party's Punjab unit was riven by dissent as state minister Navjot Singh Sidhu skipped a cabinet meeting and held a press conference instead.
Back in Telangana, the Congress's state president and MP from Nalgonda, Uttam Kumar Reddy sounded despondent.
"TRS and its leadership bullied, threatened and bought some MLAs," Reddy said. "Even if they leave, the Congress will survive."
The Congress's implosion is expected to favour the Bharatiya Janata Party (BJP) which improved its seat share from one (2014) to four (2019) in Lok Sabha polls, and has just one seat in the Vidhana Sabha.
KCR Triumphant
The decimation of the opposition has come as a shot in the arm for Chief Minister Rao. The TRS had suffered a setback in the Lok Sabha polls last month — winning only nine seats as compared to 11 in 2014. Significantly, Rao's own daughter lost her seat to a BJP candidate.
The Vidhana Sabha will not have a leader of opposition as no opposition party has the requisite 10 percent strength in the house. Members of the TRS's ally, the AIMIM, saw their party's role as the nominal opposition as major political victory.
"For the first time in the history of AIMIM which had its presence in the Assembly since 1962, the party will now be the main opposition," said Syed Ameen-ul-Hasan Jafri, an ideologue and an MLC of AIMIM.
Congress Implosion
The Congress's rout was in the making ever since the conclusion of Assembly
elections in November 2018, political observers said.
"KCR ensured Congress's ruin before Lok Sabha polls as evident by the fact that 11 Congress MLAs defected to TRS soon after the Assembly election results were announced," said Lakshminarayana, the political scientist.
Once Reddy, the Congress state president in Telangana, won a parliamentary seat, the party's strength fell from 19 to 18 — implying that 11 rogue MLAs needed just one defection to work around the anti-defection law.
Now, retaining its six remaining MLAs might prove difficult for the Congress.