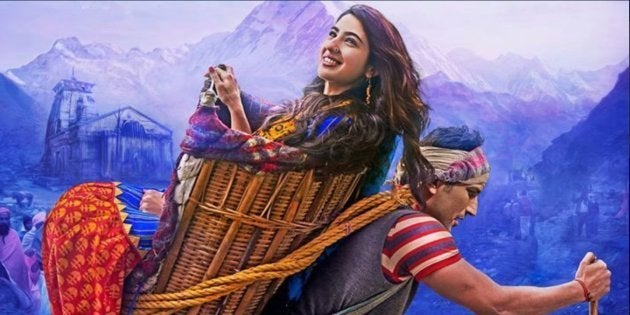 There's nothing quite like the initial euphoria of young love, a feeling so all-consuming that the head feels light and the heart feels giddy. And it's been a while since Hindi cinema saw a love story that owns up to being one, creates a universe where standing for love is about life and death, and one that uses conventional Bollywood tropes to make a vital point against the horrors of communalism.
Abhishek Kapoor's Kedarnath, a sweeping love story set against the backdrop of a catastrophic tragedy, gets the romantic moments right - moments so emotionally rewarding it makes it easier for you to forgive the film's flaws, which include a hyper melodramatic finale where the earth literally cracks open.
Set in the North Indian temple town, Kedarnath is the story of a Hindu girl (Makku) from a family of priests and a poor Muslim boy (Mansoor), whose job includes carrying pilgrims up and down the mountain temple. Divided by religion and class, cricket brings them together. She's spunky, he's shy. He literally lives on the margins, she is a raging rebel, calling out patriarchy at home and challenging staid notions of gendered behaviour outside.
The couple's love story, doomed right from the beginning has some achingly poetic moments, including a well-executed throwback to Lag Ja Gale which leads to what, in my book, appears to be one of the most memorable kissing scenes in recent film memory. Both Rajput and Khan share a quiet, understated chemistry and the tension heightens as the film progresses and moves to a darker territory.
Kapoor, who has always shown remarkable control over his craft, uses the natural catastrophe as a metaphor to depict the collapse of the leading couple's relationship. While the pairing of Sushant Singh Rajput and Sara Ali Khan is seemingly fresh, the issues that plague their romance are decidedly 80s. From an imposing father to a scheming sister to an evil fiancé, Kapoor, it appears is trying to weave in vintage oppression in a millennial module.
It works, for most part, largely due to Sara Ali Khan. The actress appears to be quite at ease in front of the camera. Her style of dialogue delivery doesn't ever feel rehearsed or laborious. Khan's particularly good in scenes where she's dropping wisecracks but there's definitely room for improvement in confrontational or the dramatic scenes.
Sushant Singh Rajput is reliably good, especially in the quieter moments, where his eyes fill in the silences with a mix of both, love and the helplessness it burdens him with.
Which brings us to the core of Kedarnath. The film critiques the subversion of religion but also honours the power of faith. It's a tricky, slippery slope, but Kapoor's direction and Kanika Dhillon's screenplay and dialogues, firmly tell us their stance on communal politics.
Kapoor even references the recent spate of lynchings in one scene where a mob of upper-caste Hindu men charge on to a Muslim character. Another scene, where Sushant Singh's character tells a Hindu man that he's 'always been from here', is a timely attempt in calling out the the divisive politics endorsed far-right religious groups and politicians.
At a time when communal tensions seem to be on the rise in the country, Mansoor-Mukku's ill-fated love story carries a sense of profound urgency with the natural tragedy acting as a metaphor for impending doom systematic and unchecked religious divide can trigger.
While the second half gets a bit tedious and over melodramatic, Tushar Kanti Ray's stunning cinematography manages to capture the hustling Kedarnath in all its chaos and calmness and the tragic climax actually manages to illustrate the magnitude of the real life 2013 Uttarakhand tragedy. Ray's brightly lit frames at the beginning of the love story keep getting increasingly dark, finally turning into an ominous shade of grey as the mountains and rivers reveal their rage against commercialisation.
If nothing, it's Khan's arresting performance and Ray's overwhelming visuals that makes Kedarnath worth a watch.