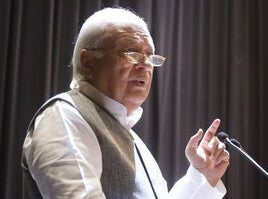 Kerala Governor Arif Mohammed Khan's entry into the assembly was blocked by Opposition MLAs on the opening day of the state's budget session as the lawmakers shouted slogans and held up posters against Khan and CAA.
The Watch and Ward, which handles security within the assembly, intervened to let the Governor in and escort him to his seat.
The opposition, which carried placards that read 'No To NRC', 'Go Back Governor' and 'Recall Governor', later walked out of the house and staged a dharna outside the assembly.
Khan wrote to Chief Minister Pinarayi Vijayan saying he had no legal obligation to declare the government's protest against CAA.
However, on Wednesday, during his address in the assembly, Khan said he would read the paragraph "to honour the CM's wish" eventhough he disagreed with it.
He read out the state government's objection to CAA, which said the law "goes against cardinal principals underlying the Constitution".
While Khan spoke in the assembly, the Opposition protested outside. Opposition leader Ramesh Chennithala decried the intervention of security in allowing the Governor in. He also claimed the chief minister had bent backwards in requesting the Governor to read out its opinion on CAA and slammed the state government.
Chennithala called the Governor an agent of the RSS, the BJP and the Centre.
In a first, the Opposition Congress-led UDF had moved a resolution seeking recall of the Governor for "violating all democratic principles and publicly questioning the pride of the legislature".
Speaker P Sreeramakrishnan told reporters on Tuesday that the UDF resolution was permissible under law. "The Opposition's resolution is permissible under law. We will take a final call in the matter after discussing it in the business advisory committee," he said.
Ahead of the assembly session, Opposition leader Ramesh Chennithala on Tuesday wanted the Speaker to publish the notice of the resolution in the assembly bulletin and circulate it among the members, PTI reported.
Khan, who has been at loggerheads with the government over not being informed before moving a petition in the Supreme Court against the Citizenship Amendment Act, has said he was not a "rubber stamp" and termed the state's act as "improper".
Kerala has been in the forefront of the anti-CAA stir and was the first state to pass a resolution in the assembly seeking to scrap the new law and move the apex court against it, saying it was contradictory to Constitutional ethos.
Punjab, Rajasthan and West Bengal assemblies also passed similar resolutions.
The state budget will be presented on February 7. The 10-day assembly session will conclude on February 12.