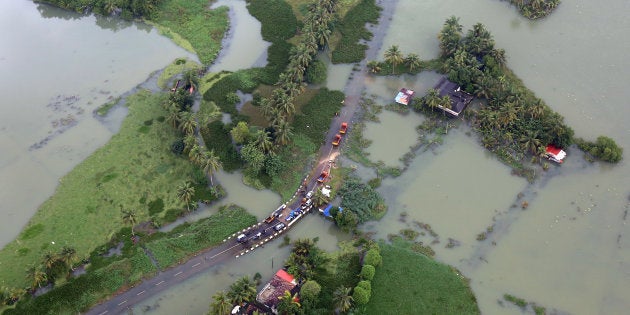 The Kerala government has told the Supreme Court that its neighbour Tamil Nadu is to blame for the floods that have hit it.
Kerala claims that Tamil Nadu suddenly released water from the Mullaperiyar dam and also refused to reduce the level of water.
The Hindu reported that the Kerala government has submitted an affidavit to the Supreme Court saying that Tamil Nadu ignored its repeated request for controlled release of water so that thousands of people living downstream could be evacuated in time.
The floods in Kerala have killed over 300 people and displaced thousands. Now that the waters have receded, the state government is looking at the herculean task of rehabilitation and rebuilding.
A News18 report says that Kerala's affidavit says it repeatedly requested Tamil Nadu to reduce the water level from 142 feet to 139 feet. The affidavit also states, says the report, that after the sluice gates were opened after huge rains in Idukki, the government was managing the situation by letting out a major portion of flood waters into the sea.
"The sudden releases from the Mullaperiyar Dam, the third largest reservoir in the Periyar Basin, forced us (Kerala) to release more water from the Idukki reservoir, downstream of Mullaperiyar, which is one of the causes of this deluge," Kerala chief secretary Tom Jose said in the affidavit.
Kerala and Tamil Nadu have fought over the Mullaperiyar dam for years. Here is what you need to know about the dispute:
— Tamil Nadu operates the dam even though it is located in Kerala.
— Kerala has claimed for years that the dam has developed leaks and its old structure is a threat to the people who live downstream from the dam.
— After decades of arguments, in 2014, the Supreme Court set up an advisory committee to look after all the issues regarding the dam and ordered the water level of the dam to be increased to 142 feet from 136 feet.
— Residents of Kerala have also petitioned the Supreme Court (hence the affidavit by the Kerala state government) over the structural safety of the dam built during the British era.
— While the dam is located in Kerala, the Tamil Nadu government controls it due to an agreement signed in 1886 between the British government, the Secretary of Madras State and the King of Travancore.
— The rent agreement was renewed between the two governments in the 1970s on the condition that Tamil Nadu would control the dam, use the water and had the right to the land while Kerala received rent.
— The dam is 123 years old.
Popular in the Community