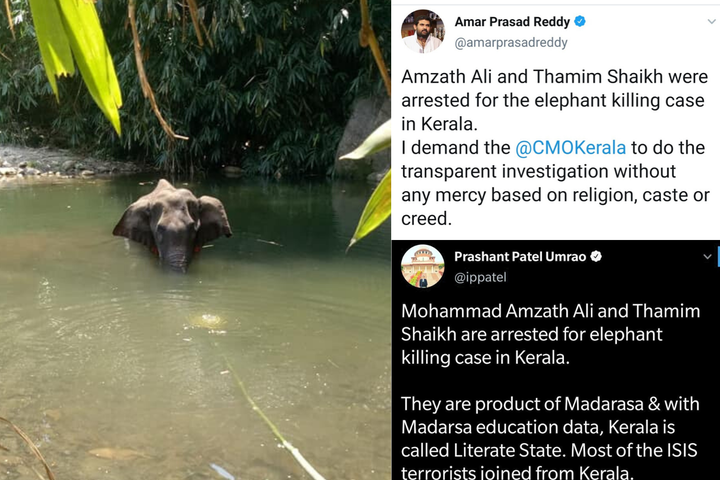 "One person was arrested today. There are more accused in the case and efforts are on to nab them", Kerala Forest Minister K Raju told reporters on Friday.
However, late Thursday night, hours before the information was made public, tweets containing two Muslim names and filled with anti-Muslim hate began circulating on Twitter.
The man actually arrested on Friday was identified as P Wilson, who works as a rubber tapper at a plantation, Palakkad Superintendent of Police G Siva Vikram told The NewsMinute.
K Raju told reporters that forest and police officials were conducting a joint probe into the elephant's death. According to TNM, the Forest Department identified three people suspected to be involved in the case, but let off two of them after interrogation.
The incident was communalised after BJP MP Maneka Gandhi's comments targeted the people of Malappuram district for the death.
On Friday, TNM editor-in-chief Dhanya Rajendran shared the screenshot of a tweet by Amar Prasad Reddy, a man who identified himself as media advisor to a minister of state from the health and family welfare ministry. (HuffPost India could not verify whether or not he was.)
AltNews found that Reddy had been one of the earliest to tweet the names, at 4.55 pm on Thursday, and it had gotten over 7.9K retweets and 12.1K likes.
The tweet tagged Prime Minister Narendra Modi and his office, but was later deleted.
Reddy on Friday said his previous post had not been about a "particular group or individual."
He also suggested the Chief Minister of Kerala was "targeting" him.
Both the government and the Opposition in the state had on Thursday condemned the hate campaign that was built using the outrage over the elephant's death.
Reddy's tweet was shared at midnight by Delhi-based advocate Prashant Patel Umrao, who AltNews says has a history of spreading misinformation. Umrao also deleted his tweet later. But hundreds of people copied the text and trolls posted it in replies to tweets by Pooja Bhatt, Shashi Tharoor and The Wire journalist Arfa Khanum Sherwani.
Alt News reports that the tweets led to news reports by Hindi language media such as Live Hindustan, Sudarashan News and News Nation.
The tweets were also posted and then deleted by BJP leader Varun Gandhi's secretary Ishita Yadav, VHP member Abishek Mishra and BJP UP member Richa Rajpoot, AltNews found.
The fake news that targeted the people of Malappuram had led to outrage in Kerala. A few members of the Malayalam film industry also rallied against the targeting of Muslims using this incident, sharing fact-checking posts and messages of solidarity on their social media pages.
Popular in the Community