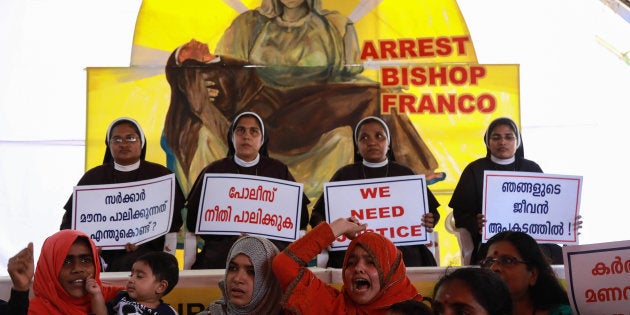 KOCHI -- Jalandhar Bishop Franco Mulakkal, who is accused of raping a nun, on Tuesday filed an anticipatory bail application in the Kerala High Court, claiming that the allegations against him were a "cooked-up" story to "wreak vengeance" against him.
The bishop moved the anticipatory bail plea apprehending arrest in the non-bailable offence a day before his appearance before the special investigation team of the Kerala Police on Wednesday in connection with the case.
The 54-year-old clergyman claimed that the allegations levelled by the nun, who was serving in a congregation under the Jalandhar Diocese, were "wholly concocted and cooked up only to wreak vengeance" for the actions taken by him on various complaints received against her.
Claiming innocence, the bishop also said the complaint was "nothing but a fictional story" by the nun.
The survivor had accused the senior catholic priest of sexually assaulting her repeatedly between 2014 and 2016. Nuns in Kerala have been protesting for days demanding that Mulakkal be arrested.
The bishop had, however, dismissed the allegations as "baseless and concocted", insisting she levelled those as the Catholic order had rejected her demand for favours.
Mulakkal had on Saturday handed over the administrative charge of the Jalandhar Diocese to a senior priest.