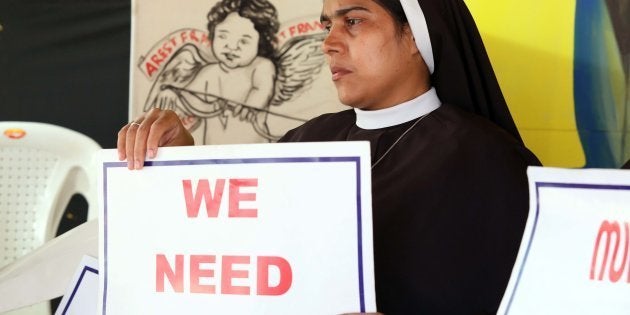 Four nuns who attended the funeral of Father Kuriakose, who was a prime witness against Franco Mulakkal, the former Jalandhar bishop who has been accused of raping a nun, were heckled and asked to leave by a group of people.
Mathrubhumi reported that the nuns were about the speak to reporters when a group of people, led by an official of the St Mary's Forane Church, Pallippuram, asked them not to do so there.
While the reporters stepped away, the group continued shouting at the nuns. Sister Anupama, who was at the forefront of the protests against Mulakkal, left in tears, reported Mathrubhumi, which also published a front-page photo of her.
The Times of Indiaquoted Sister Anupama as saying that Father Kuriakose died while standing for the truth.
"The Father had been treating me like his daughter since I joined the convent. I don't know why some people of my parish are speaking against me. We will stand for truth whatever it takes," she said, according to TOI.
Father Kuriakose, 60, a priest in the Jalandhar diocese, was found dead on 22 October. While his family has alleged foul play, reports said that a preliminary post mortem report suggested a natural death.
Father Kuriakose reportedly helped the nun who accused Mulakkal of rape and had taken a vocal stand against the bishop.
Mulakkal was granted a conditional bail by the Kerala High Court last week. On his return to the Jalandhar diocese, a large number of supporters gave him a "grand welcome".
The nun had accused Mulakkal of raping her at a guest house in Kuravilangad in 2014 and later sexually exploiting her on several occasions.
Popular in the Community