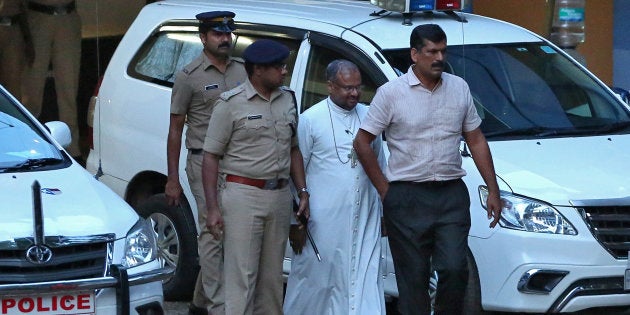 CHANDIGARH -- The Kerala Police on Thursday arrested Franco Mulakkal, former Bishop of the Jalandhar diocese, after conducting a month-long investigation into the allegations of rape and unnatural sex levied by a Kerala based-nun of the Missionaries of Jesus Congregation.
An anticipatory bail application filed by Mulakkal on Tuesday was pending before the Kerala high court.
The Kerala police, which had interrogated Mulakkal for over eight hours in the past three days, arrested him after taking legal opinion.
The Vatican, meanwhile, had divested Mulakkal of his pastoral responsibilities and instead appointed Bishop Angelo Gracias, auxiliary bishop emeritus of the archbishop of Bombay, as apostolic administrator of the diocese of Jalandhar with immediate effect.
Pope Francis had appointed Mulakkal as the Bishop of Jalandhar diosese in 2013.
The nun, who belongs to a convent in Kuravilangad in Kottayam district, had levied serious charges against Mulakkal, claiming that he raped her over 13 times while she was posted at the Jalandhar diocese. A medical examination conducted on the nun proves her claim.
She also accused Mulakkal of sending lewd messages to her over the phone. However, she claimed that her phone was lost.
Mulakkal, refuting charges against him, had claimed that anti-church elements were behind her.
A group of nuns held unprecedented protests in Kochi which gathered momentum with Christian bodies, activists, writers and locals joining in.
After conducting a month-long investigation into the alleged rape case, the Kerala police on Wednesday summoned Mullakal to Kottayam.
Popular in the Community