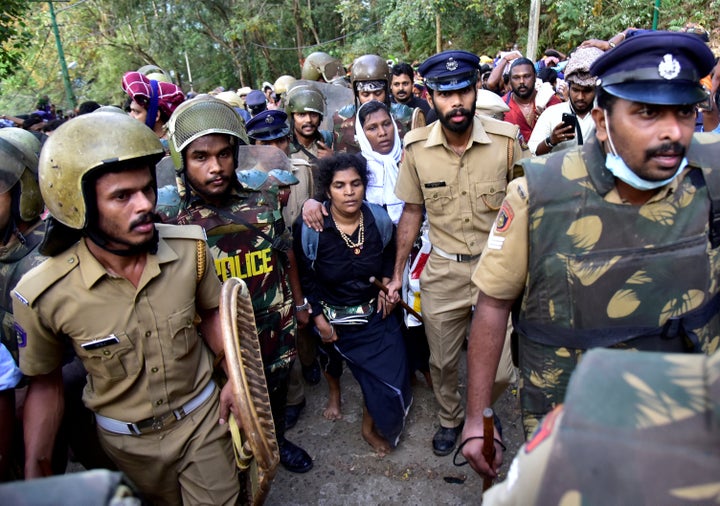 THIRUVANANTHAPURAM, Kerala —Forty two-year-old law professor Bindu Ammini and 44-year-old Kanakadurga, assistant manager of a state-run grocery store, first met online in October last year, on a Facebook page created by a mutual friend, to discuss the impact of the Supreme Court judgement allowing women of all ages into the Sabarimala shrine.
In the early hours of January 2 this year, the two women entered the shrine under heavy police protection, prompting a violent backlash from those opposed to allowing women "of menstrual age" entry into the shrine. The two women have since been moved to a police safe-house over fears for their safety.
The women, and the police party tasked with escorting them from the shrine to their hideout, had to navigate violent attacks from angry male protestors — particularly at the base camp at Pampa and several junctions en-route.
Ammini and Kanakadurga's quest to enter the temple, reveals that a wide cross section of Kerala women are determined to enter the shrine, not just an insular elite, as suggested by their detractors. As a conservative backlash across Kerala sought to silence women who wanted to visit Sabarimala, they turned online to find each other.
Ammini and Kanakadurga first connected on a Facebook page titled Navothana Keralam Sabarimalayilekku, roughly translated as When Kerala's Renaissance Enters Sabarimala.
The group, which has listed itself as a political organisation on Facebook, has 3054 followers. It tracks women attempting entry into the temple and their progress through links to news articles. Apart from these updates, the group also posts speeches by activists like Sunny M Kapikad, shares posters for protest meets and videos of protest songs. The group has frequently called for protection to be provided to women trekking to the temple.
On the day Ammini and Kanakadurga's first attempted to enter Sabarimala, the group posted, "Bindu and Kanakadurga are in (police) custody. They demand Sabarimala darshan. Renaissance fighters, support them for the freedom to worship, for gender equality."
The next day's post read, "The government has given assurance. Entry into temple will be possible in the Mandalam season (of the temple). Advocate Bindu and Kanakadurga end hunger strike. Congratulations."
On 26 December, the page shared a poster with a quote from Ammini. "Go to Sabarimala with the support and the protection of progressive movements and real devotees - Bindhu Ammini." Another poster on 28 December says, "Going to Sabarimala with Bindu Ammini"
The page shared Shreyas Kanaran's post with photos of Kanakadurga's medical report. "How much money was Indus Scroll News given to spread rumours that Kanakadurga was on her period? They will be made to answer," the accompanying text asked.
Before the women successfully entered the temple and offered prayers, the page shared videos of Kanakadurga posted by Kanaran on his Facebook page.
In the first video, posted on 28 December, Kanakadurga says she is staying with Ammini at a friend's house. "Due to certain health issues and threat to life we will not be able to return to our home immediately. It is our own choice to stay here." she says. In the second video, on 29 December, Kanakadurga refutes her family's claims she is absconding and says she and Ammini are under police protection.
In brief remarks to Manorama News from their police safe-house, Kanakadurga acknowledged the support she received from the Navothana Keralam Sabarimalayilekku page.
``The Facebook women collective had inspired me to undertake the pilgrimage.′ Kanakadurga said, adding that her pilgrimage was voluntary and devoid of any pressure from anyone.
Journey to the shrine
A lawyer by profession and mother of an eleven-year-old girl, Ammini has a long history of associating with movements aimed at social change. Before becoming an assistant professor of law with School of Legal Studies of Kannur University, Ammini was a state committee member of CPI(M) Red Flag, a left outfit with a significant following in Kerala.
Party state secretary P J James said Ammini joined the party through its students wing, the Kerala Vidhyarthi Sanghatana.
"She stopped all associations with the organisation ten years ago to look for a permanent job for living,'' James told HuffPost India. "Her husband Hariharan too was a party member but they two collectively decided to move out of the framework. Now they have no relationship with us."
Hariharan, who works with an insurance company, was not available for comment.
Bindu Ammini was born in Pathanamthitta in southern Kerala, and studied law at Kerala University, from where she has a Masters degree. She practiced briefly at the district courts in Koyilandi, before joining the Centre for Legal Studies at Thalassery in Kannur.
"Though not associated with any party in the last one decade, Bindu was always supportive of issues concerning basic human rights," said rights activist Bindu Thankam Kalyani, who made an earlier abortive move to enter the shrine. "She was always in defence of women in distress. She had also strong sympathies for Dalit and tribal movements across the country.''
On 24 December 24, Ammini made her first attempt to enter the shrine but was stopped by a violent barricade of protestors.
"I had attempted to use the legal and constitutional mandates received by the women of all ages to visit Sabarimala shrine," she said in a meeting with the press. "I have not violated any rule of the country and just tried to use my right for worship. Devotees cannot be subjected to any discrimination. The patriarchal notions must be exposed and those who prevented us from entering the shrine must be prosecuted for disobeying the Supreme Court.''
Kanakadurga, the other woman who entered the shrine, is an assistant manager at a grocery store run by Kerala State Civil Supplies Corporation at Angadippuram. She is part of a local cultural collective, the Valluvanad Koottayma. Residents in Angadippuram said Kanakadurga was an ardent devotee of Ayyappa, the presiding deity of the Sabarimala shrine.
When contacted over phone, Unnikrishnan, who works as an overseer at the Public Works Division, refused to comment over the present development saying he was hospitalised in distant Kozhikode for sometime and would make comments only after his discharge. However, he claimed that he was a strong believer in Ayyappa and the powers of the forest god.
It appears both women were careful not to reveal their plans to enter the shrine to even their families. While Ammini's brother registered a missing person complaint at a local police station when he could not trace his sister, Kanakadurga told her relatives she was traveling to Thiruvananthapuram for an official meeting. Nobody saw her thereafter.
People close to Ammini and Kanakadurga said the two women camped at Pathanamthitta till midnight on 1 January, reached the Pampa base camp in the early hours of morning, and sought police protection to enter the shrine at 3:30 am.
While the temple entry evoked widespread resentment from rightist groups, several women groups and leftist organisations have come out in support of both the women. Chief minister Pinarayi Vijayan has already declared that the state would ensure their safety and life with dignity.
"They had not landed in Sabarimala using choppers. They travelled through the same forest route like any other devotee,'' said Vijayan.
"The role played by the chief minister and the government must be appreciated. But these women who shown extreme courage deserve appreciation of all of us," said writer and social commentator TT Sreekumar. "Police had no option other than accompanying them to the shrine as they insisted for the entry. The development will have a lasting influence on Kerala society.''
Writing for Kafila, historian and feminist writer J. Devika called for Chief Minister Vijayan to muster the courage to support the women's movement to its logical conclusion.
"You have been brave to support the women who entered the shrine. That is remarkable — as the proverb goes luck favours not the timid, but the brave," Devika wrote. "And extending the proverb, some have pointed out, only the prepared can really seize a chance. Prepare yourself by opening up to a critique of patriarchy and casteist exclusion, prepare yourself by acknowledging women's inborn right to be free and equal."
Popular in the Community