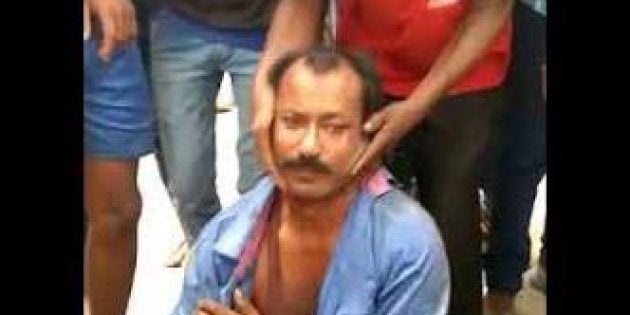 Warning: Images of violence ahead.
A year after taxi driver Alimuddin Ansari was dragged out of his cab and beaten to death by a mob of at least 30 cow-vigilantes in broad daylight at a busy marketplace in Jharkhand, nine of the 10 accused were granted bail last month. His family is moving the Supreme Court this coming week, challenging the Jharkhand High Court's decision to grant the convicts bail.
Ten people were convicted by a trial court in Jharkhand this March and sentenced to life imprisonment. They later appealed to the high court against the lower court judgment.
Md Shadab Ansari of the Human Rights Law Network, who is representing Alimuddin's family in the case, said that granting the convicts bail sent out a wrong message. He said the family will appeal to the Supreme Court to have the killers imprisoned again.
Ansari said that Alimuddin's lynching was not a spontaneous act of rage. Instead, the evidence presented — including call records, messages and witness testimonies — suggested that the gau rakshak group had meticulously planned the attack for at least seven days. A counter FIR was filed against Alimuddin and another person for carrying 'banned meat' or beef. The meat recovered from his taxi has been sent for testing to ascertain which animal it came from.
"How can people who have killed a man roam free? There are pictures and videos of them doing it," says Maryam Khatoon, Alimuddin's widow.
GARLANDING 'MURDERERS'
Forty-five-year-old Khatoon said that each day of the past year has been a challenge, but nothing prepared her to witness the 'murderers' of her husband being garlanded by a minister. "I thought nothing could be worse than my husband dying like that. But then you greet the murderers like they have done something brave and achieved a feat and garland them? I couldn't imagine that a minister could do something as horrible as that," Khatoon told HuffPost India.
Last month, union minister Jayant Sinha felicitated the eight men convicted of lynching Alimuddin after they were released on bail. He also garlanded them and took part in a photo op with the murder convicts. Following uproar on social media and in the political circles, Sinha 'apologised', an apology that did not go down well even with his own father, BJP veteran and Modi critic Yashwant Sinha.
Khatoon asked what message the party responsible for running the country wanted to send when one of their ministers publicly congratulated the lynching convicts. "Where does that leave us? Did he think how we may have felt? What my children are going through?" he asked.
Khatoon has seven children, most of them minors, the youngest being a 14-year-old daughter. They saw videos of Sinha garlanding the convicts and couldn't fathom what was going on. "They asked me why were men being praised for killing their father. I didn't have an answer," Khatoon told HuffPost India.
While there has been no political pressure or intimidation during the time the case has been fought, Ansari said that every court hearing had been highly tense making the victim's family uncomfortable and scared throughout the process.
"During the hearings, at least 60-100 gau rakshaks and Bajrang Dal members would be the courtroom to support their friends. After a point of time, the court banned their entry into the courtroom," he said.
The day the trial court convicted the ten men, there were at least 300 gau rakshaks and Bajrang Dal members at the court premises, dressed in saffron, Ansari said. "Immediately after the judgment came, they got agitated. They started shouting slogans against the judge and the government," he said.
In September last year, the Rajasthan Police gave a clean chit to the six men named by cattle trader Pehlu Khan hours before he died from being beaten up mercilessly by alleged gau rakshaks. Cases like these have added to the worries of Khatoon's family.
LIVING IN FEAR
On June 29, 2017 evening a group of neighbourhood boys arrived at Khatoon's doorstep asking her to look at videos on their phones. The homemaker, who barely socialised, was soon surrounded by a group of young boys thrusting mobile phones at her face. They wanted her to check if one of the men in the videos they were playing on their phones, was her husband.
"I couldn't figure anything at first. Too many people were talking and there were these videos on their phone where men are hitting a man with sticks and rods," she said.
Khatoon recoiled at the sight of such unbridled violence and almost pushed the phone away, when the man's shirt caught her attention. It was blue. Alimuddin Ansari had left that morning wearing a blue shirt.
"My heart stopped and I took a good second look at the video. It was him," Khatoon told HuffPost India. She said everything after that was a haze, some men soon came to tell her that Alimuddin was admitted in a Ramgarh hospital. "I barely remember the next few hours. It's all a blur," she said.
Forty-six-year-old Alimuddin had left in the morning as usual. He made a living out of driving a taxi around Ramgarh and would usually park himself around busy markets to get passengers.
Ansari told HuffPost India that one of the witnesses said that the Bajrang Dal members who assaulted Ansari had been making the rounds of the Bazaar Tand, asking people which Muslim men bought or sold beef. Call records showed that the accused had been communicating since six in the morning and they reportedly mentioned in their confession to police that they were targeting Alimuddin. Later in the day, some 30 people accosted Alimuddin as he was driving out of the market. They reportedly found 10kgs of meat in his cab. The car was set on fire and Alimuddin beaten up with sticks. He was kicked and punched as well for at least an hour by 20-30 people.
"A mob of around 100 people was standing around watching. Nobody stopped the men. But someone informed the police," Ansari said.
The police arrived and broke up the crowd and managed to extract Alimuddin. A team took him to the hospital. "The police couldn't say exactly when he died on the way to the hospital. Though they said that Alimuddin was still alive when they reached the spot. When they finally got him to the hospital in Ramgarh, the doctors pronounced him brought dead."
Ansari said that the convicts made videos of the lynching and also shared them widely, possibly trying to send out a message. While there were others taking videos of the lynching as well, the gau rakshaks and alleged Bajrang Dal supporters reportedly shared the videos themselves too. In between beatings, some of the convicts had sat a beleagured Alimuddin down and taken close profile shots of his face too.
'I AM ALWAYS SCARED'
Alimuddin was the sole earning member of the family. One of his daughters was married off recently and his other children attend government schools. Khatoon, who barely worked before his death, now takes up odd jobs to support the family. The family resides in a house they got through the Indira Awaas Yojana, now named Pradhaan Mantri Gramin Awaas Yojna.
"My eldest son is almost 18. Many people keep telling me that he should start working and quit studying. It will be good for the family. But his father never wanted them to stop studying. I take up cooking, cleaning and washing jobs to support the family. I want my children to at least finish their BA," Khatoon told HuffPost India.
Khatoon said that she always lives in fear and has almost stopped going to Ramgarh. "But often if I get work, I have to go. Or if the children go there for something, I am always scared. If they can kill a man in front of 100 people, they can do anything, right?" Khatoon said.
Popular in the Community