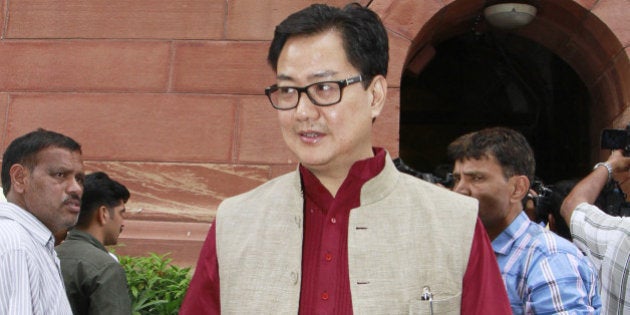 SHILLONG -- In a statement that is creating a great buzz on the social media, Union Minister Kiren Rijiju on Saturday said that it was the responsibility of the North Indians to "merge" with the people from the North East. He said the country begins from its borders and not the capital.
"Delhi is the capital of India but Delhi is not the beginning of India... We (people from North East) are the sentinel of this country, we protect and safeguard this country. Country begins from the borders. The country doesn't begin from the Centre," the Minister of State for Home Affairs said in Shillong.
The Union Minister also announced that the Centre is all set to come up with a stringent law against 'racial discrimination' besides introducing a subject on the North-East region from the primary to PhD level, to commence from next year.
"After long deliberation, for the first time we are sending this proposal to Cabinet to introduce a law that 'racial discrimination' will be penalised in this country in the strongest possible terms. It is going to be made a provision in the Indian Penal Code," Rijiju said.
Referring to people saying there was a need of bringing the North East to mainstream India, he said, "But I differ and disagree with that by saying if Delhi is the mainstream, the NE region is also the mainstream of this country and everybody must respect and adjust with each other."
"I need not adjust with the people of Delhi, because it is also duty of people of north India to merge with us (NE). It is responsibility of everybody," said Rijiju, who is a member of parliament from Arunachal Pradesh.
Time to time activists and academics have expressed their outrage over discrimination against people from the North East reported The Asian Age.
The Minister was addressing the Mega Arunachal Tribe Festival - 2015 cum cultural exchange programme in the city.